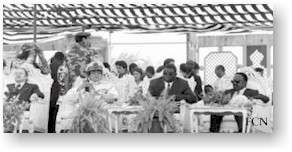 TRIPOLI—The diverse colors of Africa—its flags and its peoples—adorned this coastal city in northern Africa Sept. 1-10. In an historic display of African unity that would make the ancestors proud, 43 heads of state came to Libya to support one of Africa's premiere revolutionaries, Col. Muammar Gadhafi, whose nation has suffered seven years of international sanctions.

The occasion was the 4th Extraordinary Summit of the Organization of African Unity (OAU), a special session called by the Col. Gadhafi to discuss the urgent need to form a "United States of Africa" to insure survival of the continent in the face of increasing global competition. It also was the 30th anniversary of the September 1, 1969 (Al-Fatah) Revolution that brought Mr. Gadhafi to power in a bloodless coup.

Banners urging African unity and other inspirational phrases adorned buildings along the streets, as well as photographs of heads of state of Africa. Dancers and cultural troupes from sub-Saharan Africa performed nightly in the city's main square bringing added life to a city already vibrant with Afro-Arab culture.

On Sept. 7, the official observation of the anniversary of the Revolution, nearly two dozen heads of state and special guests witnessed a massive display of military might. Guests included Palestinian leader Yassar Arafat, Algerian freedom fighter Ahmed Ben Bella, former Zambian President Kenneth Kaunda, and a delegation from the Nation of Islam, including Chief of Staff Leonard F. Muhammad, Assistant Supreme Captain Mustapha Farrakhan, International Representative Akbar Muhammad and Minister of Health Abdul Alim Muhammad.

Most significant about the parade was the symbolic presence of military troops from more than 20 other African nations who marched before the reviewing stand, demonstrating the potential military might of a united Africa. Libyan jets piloted by females streaked through the sky performing acrobatic tumbles and military formations, and Libya's Navy, including a submarine and gunships, dotted the waters. The military parade also included long range missile units, tanks, anti-aircraft missile units and a huge contingent of Libyan ground forces.

The parade began with verses from the Holy Qur'an and a procession of the huge pipes used to build the Great Man-Made River which brings water from deep underground in Libya's desert to the metropolitan areas of the country.

Congratulating the Libyan people, Zimbabwe's President Robert Mugabe, who was one of the first heads of state to arrive to a festive, red-carpet atmosphere at the airport, said: "African unity cannot be defeated by any tyrannical force whatever its source might be. We the peoples of Africa have our objectives to develop our continent and we should with unity challenge all foreign interventions in the continent.

"All of us should celebrate this and commit ourselves to unity and solidarity against injustice in the future," he said.

President Jerry John Rawlings saluted Libya's 30-year history of supporting liberation struggles in other countries on the continent and abroad. He said more countries must shoulder the responsibility of struggle.

"Great levels of the liberation struggle have been achieved at the expense of the individual countries," he said. "What we need is for more countries to come on board to assist one another so the burden of helping one another will not be the sole responsibility of a handful of countries.

"I wish to put the record straight," he continued, "there are those who view our struggle for liberation as a form of terrorism. According to my information and knowledge … Libya has offered assistance for struggle for freedom in Africa and not for terrorist movements."

OAU Deputy Secretary General for Political Affairs Ibrahim Daggash described the military demonstration as "not a show of power (but) something Africa is showing to the world, that unity and solidarity is everywhere, including the military."

"There is no doubt that when you take all the human development indexes, this country has made one of greatest progress in Africa in the last 40 years, in fact, the world. It is an example for many of us in Africa to follow," said President Obasanjo of Nigeria.

Upon coming to power in 1969 after overthrowing King Idriss, Col. Gadhafi began to reform the country, nationalizing its oil and seizing control from foreign interests of other natural resources. He also put forth a style of governing—through Peoples Congresses—which is laid out in his "Green Book."

Congresses—which is laid out in his "Green Book."

Copyright © 1999 FCN Publishing
" Pooling our resources and doing for self "