Beethoven violin concert opens Saviours' Day in L.A.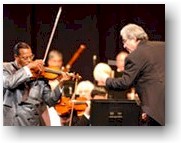 CERRITOS, Ca. (FinalCall.com)—"Bravo, Bravo" was the resounding chorus that rose to the rafters of the Cerritos Center for the Performing Arts as a crowd of nearly 1,700 people cheered the Honorable Minister Louis Farrakhan upon completion of a spellbinding performance of "The Beethoven Violin Concerto," a work of art so complex that experts say its like walking a tight rope without a net.
Dedicated as "A Musical Tribute to Humanity," the Feb. 13 event opened World Saviours' Day 2002 festivities. The proceeds from the concert will benefit the Muhammad University of Islam in Chicago.
Min. Farrakhan's performance overwhelmed many in attendance who were witnessing their first classical symphony. Ever the master teacher, Min. Farrakhan used his performance to encourage his audience to seek challenges seemingly beyond one's ability, as a mechanism "to allow Allah (God) a chance to assist you."
"So I reflect on the words of the Most Honorable Elijah Muhammad, who said that when Allah created the universe from nothing, He destroyed the impossible," Min. Farrakhan said during brief remarks following his performance.
He told the audience that he intends to perform future concerts in key cities as a way to inspire young Black people in America, and all over the world, to classical music and the stringed instruments.
As he introduced two young Black violinists—Tai Murray, 19, and Derek Reeves, 29, handpicked to be a part of the New World Orchestra assembled especially for the performance—Min. Farrakhan noted he is determined to defeat racism and bring Blacks in front of orchestras.
"I hope in some way that I can be useful in breaking down the barriers that impede the great genius of Black classical artists and virtuosos from playing in orchestras and performing in front of the orchestras of the world as soloists," he said. "We would come to concert halls and ballets to hear them. We would feel duty bound."
In a wide ranging press conference that followed his performance, the Minister further elaborated on the important theme that ran through the concert—the capacity of music to transcend artificial human barriers such as racism and nationalism.
This point was seen clearly in the composition of the orchestra that included some of the finest professional musicians in Southern California, representing varied racial, ethnic, cultural and religious backgrounds.
"The violin has allowed me to express what is within. It is a tool that God is using to expand my breast so that I might fulfill the mission of my teacher, the Honorable Elijah Muhammad. That violin, you can't play it and be narrow in focus. My music made me hurt when any human being was hurt. My music made me sensitive to pain and suffering, not only of Black people but anybody that suffered," Min. Farrakhan said.
Dignitaries in the audience included Imam Warith Deen Mohammed, leader of the Muslim American Society, singer Jermaine Jackson, entrepreneur Karl Kani, actor Michael Colyer, Martin Luther King III, L.A. Police Chief Bernard Parks and former D.C. Mayor Marion Barry and wife Cora.
In an interview with The Final Call, Imam Mohammed said, "This is heavenly right here. I am really proud to be a friend and a brother of Minister Farrakhan. I'm not one to judge when it comes to the classics, but what came across to my ears tonight sounded beautiful."
Sylvia Lee, a long time listener who appreciates classics had this to say to The Final Call. "I have been in music since the age of 5. Minister Farrakhan is one of the most gifted artists I have ever heard and he did all of Beethoven very well."
"The shadow of Beethoven was hovering over the Minister," said Rev. Al Sampson from Chicago. "Generations yet unborn will always remember that this leader has moved with a new instrument of liberation. What he has been saying with the instrument of his voice, now he's doing it with the instrument of the violin. It's a great day during Black History month."
For Black violinists Karen Briggs, Tai Murray and Derek Reeves playing with the Minister was inspiring. "Music can only be a healing, because he's so happy doing this and he enjoys it so much," added Ms. Briggs, who plays with the musician Yanni.
"The sincerity and love that the Minister has for music is not only evident, but it's deep and it touched us all," said orchestra conductor David Warble. The musicians felt honored to play with him, said Mr. Warble, who currently is principal guest conductor for the Long Island Philharmonic and music director of the Orange County Symphony.
As he concluded his performance, Min. Farrakhan acknowledged his mother Mae, whom he characterized as a strong disciplinarian who encouraged his musical pursuits; Jascha Heifetz, a classical violinist whose genius Min. Farrakhan called divine; Ludwig von Beethoven, a Black man who proved that adversity is the mother of creativity; and the Hon. Elijah Muhammad, whom he credited with helping him to develop the right mental attitude. Elaine Skorodin Fohrman, Min. Farrakhan's violin trainer, also joined the orchestra. Ayke Agus, a concertmaster and student of Jascha Heifetz, said Min. Farrakhan's playing was warm and passionate. The music reflects who he really is, said Ms. Agus, who also played in the orchestra. She noted that her mentor was also misperceived, just as the Minister is often miscast.
The Minister is very talented and maybe music will help bring greater understanding as he speaks to people in a different medium, said Martin Luther King III, who greeted Min. Farrakhan at a post- concert reception.