The Final Call |
National News
Who do you serve, who do you protect?
By
by Bryan Crawford
-Contributing Writer- | Last updated: Jul 31, 2018 - 11:13:44 PM
What's your opinion on this article?
In shooting after shooting, police lies fuel Black trauma, anger
CHICAGO—
For Black people it has become increasingly difficult—if not impossible—to believe authorities when it comes to police-involved shootings.
With the advent of cell phone, surveillance and body cameras worn by police, too often pictures don't corroborate official stories used to justify the use of deadly force. Such is the case of 24-year-old Maurice Granton, Jr., who was shot and killed by police in the Bronzeville neighborhood on Chicago's South Side on June 6, 2018.
The Chicago Police Department insisted Maurice was shot after an "armed confrontation" with police and from its official Twitter account, the department tweeted out a photo of a handgun. They said it was found 20-30 feet away from where the young Black man was shot.
Two days later, the Cook County Medical Examiner's Office stated that Maurice was shot as many as four times in the back and ruled his death a homicide.
But, a little more than a month after the shooting, the Civilian Office of Police Accountability July 25 released seven video clips and three audio clips. They gave a much clearer picture of what happened in the moments leading up to Maurice's death. None of it fit the original police story that Maurice was armed and acted in a violent, aggressive manner toward police officers.
Maurice was running from the cops.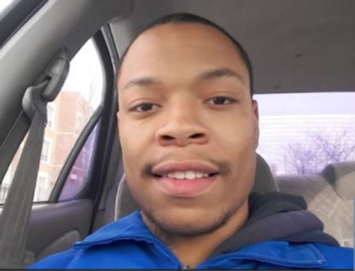 "I saw my son, Maurice Granton, Jr., my DNA, my blood, just get murdered in cold blood by a Chicago policeman," Maurice Granton, Sr., said during a press conference held outside COPA offices after the family was allowed to see the videos before images were released to the public. "It's the most terrible feeling you could ever feel. To see one of your children killed, especially by a policeman who is supposed to serve and protect." The mother of Mr. Granton's two children filed a lawsuit against the city July 30, saying he was shot in the back and cannot be seen with a weapon in police bodycam video. "Because city policy is to control the narrative of officer-involved shootings of our citizens, Maurice Granton Jr.'s death leaves more questions than answers because of the piecemeal approach at which evidence has been released by the city of Chicago and its police department," said Attorney Antonio Romanucci, who is representing the family. He questioned where a gun police say was found on the scene came from—and whether a cartridge or bullets from the gun was found. The lawsuit cites the city of Chicago and the officer who did the shooting as defendants.
The videos, when watched in succession, show Maurice fleeing a lone police officer and jumping a wooden fence. That officer injures his foot and stops pursuit.
Additional bodycam video and audio of the foot chase captures the sound of a single gunshot, followed by four or five more shots. That video and audio came from a second officer, Sheldon Thrasher, who was in pursuit from a different direction and who fired the fatal shots.
Off. Thrasher, who has been on the force since July 2013, finds Maurice attempting to scale a wrought iron fence with both hands. The officer fires his weapon.
"[The Chicago Police Department] claim there was an armed confrontation that day. Well, tell us what that confrontation was so this family can have some peace," said Atty. Romanucci. "Maurice did not have a weapon in his hand when he was shot. We don't know anything about the gun except the narrative that the Chicago Police Department issued on the day of the shooting."
Adding to the agony are images after Maurice was shot, he writhed on the ground in pain and, perhaps, was left to succumb to his injuries as no call for paramedics or emergency responders was made by Off. Thrasher or any officer on scene. Off. Thrasher appeared to be more concerned with showing other cops the spot where the alleged weapon was supposedly laying, and telling those gathered that Maurice had fired a gun at him.
The official police report states Maurice "fled," "did not follow verbal directions," posed an "imminent threat of battery with a weapon," committed a "physical attack with a weapon," and "used force likely to cause death or great bodily harm." The report also stated that Maurice fired the first shot.
None of this happens on camera.
"Based on the facts presented at the time of this review, combined with the videos reviewed … the  (officer) gave verbal directions, took evasive actions after being fired upon, and returned fire under duress in fear of his life," the police report reads. It declares the "use of force was in full compliance with departmental policies and procedures."
'A Black man running for his life'
"Seeing the video created an entirely different narrative than the one put out by the police, and unfortunately, it's a narrative that we're all too familiar with, which is a Black man running for his life from police and is literally gunned down," Kofi Ademola, community activist and a family spokesman, told The Final Call. "The Chicago Police Department lied and completely fabricated everything, and it just goes to show how time and again, the police show a disdain for Black life. They don't value us, they don't see us as human beings, and they always try to justify our execution."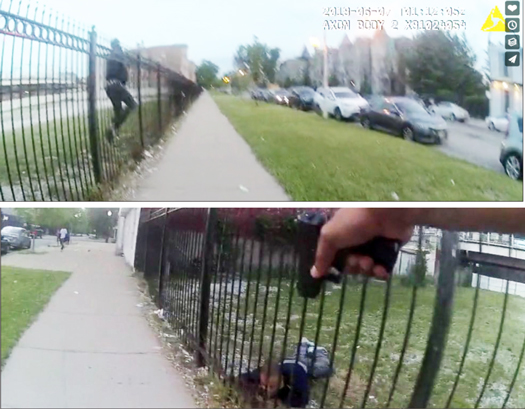 The Granton video was the second Chicago police shooting video released in a span of 10 days. On July 16, 2018, the Chicago Police Department released bodycam video of the moment Harith "Snoop" Augustus, a barber, was shot and killed by a White, female, rookie police officer. The video shows him apparently carrying a handgun and extra clip in his waistband, underneath his shirt, implying he was armed and posed a threat to officers after a brief encounter in front of a convenience store.
Within 24 hours of that shooting—an unprecedented amount of time for the city—the Chicago Police Department released some footage of Mr. Augustus's encounter with several officers. To many, however, what the police chief called "transparency" was an effort to calm protests, and a PR move to justify the officer's actions—actions which essentially increased tension in a community no stranger to heavy handed and oftentimes, fatal policing. The released video was only from one police bodycam and had no sound. Some suspected it was doctored.
"This is the fourth or fifth fatal, officer-involved shooting in the past couple of years. We had Alfontish Cockerham in 2015. He was shot on 71st and Merrill, two blocks away from where Snoop was shot. Then you had Paul O'Neil in 2016. The police killed him in South Shore not far from 73rd and Merrill. Those were the most known incidents, but there have been others," activist Will Calloway observed. South Shore is a Black neighborhood on Chicago's South Side, just like Bronzeville. Police officials say Mr. Augustus had a firearm's card allowing for weapons ownership but not a concealed weapon permit.
Sydney Roberts, chief administrator of the Civilian Office of Police Accountability, said she released the video as soon as possible when it did not interfere with her office's investigation. Under city policy, police shooting videos are supposed to be released within 60 days of the incident.
"We're continuing to see the shooting deaths of Black men by the police, and a lot of us feel that after the videos come out, these are unjust shootings and they're very traumatizing," Mr. Calloway, who is also a Granton family spokesman, told The Final Call.
Mr. Calloway partnered with grief counselors and mental health professionals to try and offer help to those troubled by what they saw in the death videos of Mr. Augustus and Maurice Granton.  As Maurice lay on the ground shot, members of the community, many of whom were with Maurice just before he fled and was shot and killed, voiced anger and frustration at officers over another Black man losing his life at their hands.
"I believe in nonviolence, civility, and I believe in peaceful assembly, but when I saw Snoop laid out dead in the streets, it triggered something in my head and instantly, that civility went out the window. I instantly became aggressive and I wanted to do something," Mr. Calloway admitted. "That's the story of a lot of Black people when we see these police shooting videos, back-to-back-to-back. It's not natural to see so much Black death, but it's especially worse when it happens because of the police."
The Granton police shooting also captured a Black man shot by a Black officer. In many of these situations, the shooting officer has been White.
To see a Black man lose his life at the hands of another Black man adds another layer of pain, anger and frustration to an already tense relationship between the Black community and the police.
"In order to be a police officer, you have to be indoctrinated into what we call 'Blue' before Black," Mr. Ademola explained. "We've seen [Chicago Police chief] Eddie Johnson shed his Blackness as a police officer in the highest position of power and authority, when he's justified the murder of other Black men and boys by officers under his command. Policing is inherently violent and is an institution of White Supremacy. If you are a Black officer, one of two things happen: You have to shed and discard your Blackness to uphold White Supremacy, or, if you're one of those officers who truly loves the people of the community and want to be there for them, you have to be prepared for internal attacks by your fellow officers in the form of microagressions, prejudice and bigotry. This causes many Black officers to circle back to the first point of shedding their Blackness and putting 'Blue' first, above all else. So for us, it's not really about individual cops being the problem, but the institution of policing itself."
The Granton family is expected to file a civil suit against the city of Chicago and the Chicago Police Department. Officer Thrasher was placed on standard 30-day administrative leave following a shooting, but has returned to street patrol. The investigation is still ongoing. According to a police department statement, "As of this time, COPA has not requested that any of the officers involved be relieved of police powers."
Attorney Romanucci delivered a dire warning to Black men in Chicago when it comes to encounters with police.
"If you're a young man in the city of Chicago," he said, "do not run from the Chicago police."