The Final Call |
National News
Will reopening of Emmett Till murder case yield any justice?
By
by Bryan Crawford
-Contributing Writer- | Last updated: Jul 17, 2018 - 12:14:28 PM
What's your opinion on this article?
CHICAGO—
Why now? That has been the central question asked when, citing "new information," when after 63 years the United States Department of Justice, quietly and unceremoniously, re-opened the case into the brutal August 1955 murder of 14-year-old Emmett Till. The Chicago youth was visiting family members in Mississippi and was accused at the time by a 21-year-old White woman, Carolyn Bryant Donham, of whistling at her and touching her. Less than a month after Emmett Till's death, the men accused of killing him, Roy Bryant—Ms. Donahm's then husband—and his half-brother, J.W. Milam, were both acquitted of the crime in the Jim Crow-era South by an all-White jury. A year later, in 1956, the pair admitted to killing the teenager in an interview with Look Magazine, knowing that under double jeopardy rules, they would not be made to stand trial for murder after publicly stating their involvement and guilt in Emmett Till's death. They were also paid $3,000 by the magazine for their story. Emmett Till's open casket funeral, insisted upon by his mother, showing his badly disfigured remains is seared in the psyche of Black people.
Although it happened more than 60 years ago, the story of Emmett Till's death has never left the memories or the consciousness of Black people in America. It has been passed down for generations as both a cautionary tale, and proof of the anti-Black racism that has existed in this country going back centuries. His brutal slaying was the spark that lit the civil rights movement.
The Final Call contacted the Justice Department about the re-opening of the Emmett Till case, specifically to inquire what the new information was that caused them to take a renewed and deeper look into this situation. While the Justice Department did not offer any comments or concrete details, they told The Final Call in a statement, "The Department has re-opened Emmett Till, a case which had been listed as closed on prior reports, after receiving new information. Because it is an active investigation, the Department cannot provide any additional information at this time."
The department had begun looking into racially motivated killings of the past and since 2006, the department has successfully prosecuted five people, the most recent occurring when Alabama State Trooper James Fowler was indicted in 2007 and later charged with first- and second-degree murder in 2010, for shooting Black civil rights activist Jimmie Lee Jackson during a voting rights march in 1965.
It was 2004 when the Justice Department last reviewed the Emmett Till case, but prosecutors at the time stated that the statute of limitations prevented them pursuing charges in federal court. The FBI also conducted an inquiry, going so far as to exhume Till's body for two years to determine if there were any crimes that could be prosecuted at the state level, to no avail.
However, in a 2008 interview with Duke University, professor Timothy Tyson for his book "The Blood of Emmett Till," Carolyn Donham Bryant admitted that she'd lied about the events that were later sensationalized—such as the hand grabbing and lewd comments—in the media as a justification of why Till was killed.
"That part's not true," Ms. Bryant said, adding, "Nothing that boy did could ever justify what happened to him."
Still, for those who have committed much of their lives to ensuring that Emmett Till, his mother, Mamie Till-Mobley, and the rest of his family who have lived with the horror of this injustice for more than six decades, there is no information that is new or unknown about the intricate details and specifics of this case.
"Emmett Till was killed because of racism, not because of anything he said or did. All of the extra stuff was built up to further incriminate him in the courtroom. [Carolyn Bryant Donham] elaborated in court because her attorney elaborated for her, and all she had to say was, 'Yes sir,'" Dr. Clenora Hudson-Weems, an English professor at the University of Missouri, and author of the book, "Emmett Till: The Sacrificial Lamb of the Civil Rights Movement," told The Final Call. "I would suspect somebody paid her to sit up there and sensationalize what happened, because they love to sensationalize stuff like that."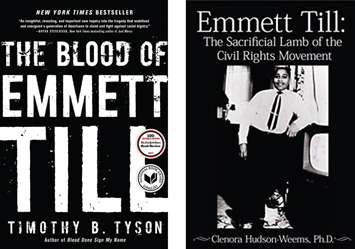 The larger question surrounding the federal re-opening of this investigation is what does it all mean? Jeff Sessions, the current attorney general and head of the Justice Department, has long been accused of harboring anti-Black sentiments and being an unabashed racist. Can his department be trusted to not only do an intensive and thorough re-investigation into this case, but also bring charges and convictions—even posthumously—to those who were involved? Dr. Weems certainly hopes so.
"I am so happy this case is being re-opened because it needs to be properly handled," she said. "To keep overlooking it just gives them a pass to not only do it then, but to keep doing it now. They need to know that a mistake was made in 1955 and it needs to be corrected. You can't move forward if you don't correct the past because it sets the stage for the future."
As for Ms. Bryant's admission that she lied, under oath, on the stand, Dr. Weems feels that as one of the last survivors of those responsible for Emmett Till's death, she should be held accountable for her actions.
According to media reports one of Till's cousins, Priscilla Sterling said she hopes that Ms. Bryant at least faces charges for obstruction of justice.
"She was the one who told her husband what happened. … She needs to be charged for lying. Aren't you supposed to go to jail for perjury?" Dr. Weems asked rhetorically. "She lied in the court, under oath. She was a part of the decision to kill Emmett Till and even though they said she wasn't an accomplice back then, she needs to go to jail because of what she said under oath. Send her to jail for the lie."
Carolyn Donham Bryant is 83 years old and her whereabouts have been kept a secret from the public by her family. However, a manuscript of her memoirs is currently being housed at the University of North Carolina-Chapel Hill library in the Southern Historical Collection, but will not be available for public view until 2036.