The Final Call |
National News
Trump, Israel igniting explosive conditions in the Middle East
By
Askia Muhammad
-Senior Editor- | Last updated: May 22, 2018 - 12:43:15 PM
What's your opinion on this article?
WASHINGTON—
On the 70th anniversary of the Palestinian "Nakba"—the "catastrophe" when more than 700,000 Palestinians were driven from their homes by European settlers to found  the state of Israel in 1948—President Donald J. Trump and Israeli Prime Minister Benjamin Netanyahu may have lit the fuse to ignite explosive conditions in the Holy Land.
In the besieged Gaza Strip, the Israeli Defense Forces killed 110 Palestinians and wounded 3,000 more. They were among tens of thousands who marched protesting the May 14 opening of the U.S. Embassy in Jerusalem, the ongoing Israeli occupation and demanding the right to return to their homes in what is now Israel.
There was loud, worldwide diplomatic condemnation and protest. Palestinian leaders accused Israel of committing war crimes. "We witnessed today the killing and slaughtering of dozens of our people in the Gaza Strip at the hands of the Israeli army," Palestinian chief negotiator Saeb Erekat said according to a broadcast report, "an act that's tantamount to a war crime, which we condemn with the strongest possible terms, and urge the international community to move to provide international protection for our people.
"At the same time, we witnessed the movement of the American Embassy to Jerusalem, which is an act that's tantamount to putting the cornerstone of a new settlement outpost in the occupied Palestinian land. Moving the embassy, now we have a new settlement outpost called 'American Embassy,' " said Mr. Erekat.
South Africa recalled its ambassador to Israel. Turkey recalled both its ambassadors to Israel and the United States and declared three days of mourning.
After the violence played out in Gaza, Pope Francis told thousands of people at his general audience: "I cannot keep quiet about my deep worry about the situation that has been created in the last few days," according to a published report. He said he hoped "wisdom and prudence prevail, in order to avoid adding new elements of tension to a global panorama that is already convulsed and marked by so many and cruel conflicts."
At the United Nations, "We've been seeing the shocking killing of dozens of protesters and the injury of hundreds of others in Gaza today by Israeli live fire," Ravina Shamdasani, a spokesperson for the UN high commissioner for human rights told reporters. "These outrageous human rights violations must be brought to account.
"Those who are responsible must be brought to account. And there must be justice for the victims. The high commissioner for human rights is calling on the international community to ensure that the victims of these human rights violations receive justice."
In the United Kingdom there was a condemnation of the U.S. policy in Parliament. "What makes yesterday's events all the worse is that they didn't come as the result of some accidental overreaction to one day's protest, but as the culmination of six weeks of an apparently calculated and deliberate policy to kill and maim unarmed protestors who pose no threat to the forces on the Gaza border," Member of Parliament Emily Thornberry said in a May 15 speech. "Many of them shot in the back. Many of them shot hundreds of meters from the border, and many of them children," she said in her appeal for British support for an investigation by the United Nations. The world body could "hold those responsible to account. A statement that no country could reasonably object to, not even the United States, unless they are prepared to make the case that there is one rule for the government of  Israel, and another one for everyone else."vThe militant response on the Gaza border with Israel provoked a gross, but intentional overreaction on the part of the Israeli Defense Forces, and may represent a decisive moment not only in resistance among Palestinians, but also increasing worldwide opposition to Israeli policies, particularly among Jews in the U.S.
"You have this spectacle of Israel gunning down unarmed Palestinian protestors, demonstrating for the basic human rights to return to their homes, from which they were expelled 70 years ago when Israel was created," Joshua Ruebner, with Jews for Peace in Palestine and Israel told this writer in an interview.
"I think what we're seeing, the reaction, not only among the Jewish American community, but among lots of communities in the United States right now, is not only an aversion to what Israel has done in the Gaza Strip, but a fundamental reaction against this.
"So that this may go down in history as the 'Sharpeville moment' for Palestinian liberation; in other words, a cataclysmic event that really opens up and changes peoples' minds and attitudes about the oppressor in a very fundamental way," said Mr. Ruebner.
About 100 demonstrators, many wearing yarmulkes and T-shirts that read "young Jews reject Trump's embassy of occupation," rallied outside the Trump International Hotel in Washington to protest the U.S. embassy move to Jerusalem, according to The Jerusalem Post. With traffic blocked by police, they chanted "we will build this world with love" and "we support freedom and dignity for all, Israelis and Palestinians."
"We're here building an embassy of freedom," marcher
Sara Sandmel
said, according to "Democracy Now!" "to show that we, as young American Jews, do not stand with the embassy move from Tel Aviv to Jerusalem. We believe that that's an embassy that represents endless occupation. And we want to stand together for freedom and dignity for all Israelis and Palestinians."
Jewish Voice for Peace declared via social media: "NO SLAUGHTER IN OUR NAME! Freedom to the Palestinian People! Free Gaza!! Proud 0f protests across the US!!"
In addition to the U.S. embassy move being bad politics, and thought of by Palestinians as the newest "settlement outpost," in the 70-year history of Israeli settlements usurping the Palestinian homeland, the optics of the dedication of the embassy by Mr. Trump's envoys—his daughter Ivanka Trump and her husband Jared Kushner, both White House advisers—the optics caused even more negative feedback.
During their visit, Ms. Trump and Mr. Kushner were blessed by Sephardic Chief Rabbi Yitzchok Yosef, the same rabbi who compared Black people to monkeys, and who said everyone living in the apartheid state of Israel who is not Jewish should be "ethnically cleansed."
"I think it's very clear that for the past seven decades Israel has established itself and maintained itself as a majority Jewish state only through the oppression of the majority, indigenous Palestinian population," said Mr. Ruebner.
"Now that the 'two state' framework has manifestly failed through the policies of the Trump administration, which has put to death the hopes of a negotiated peace. Now, people are coming to terms with this new reality that Israel has been exercising this apartheid control over all of Palestine for 70 years, and that Palestinians exist only under separate and unequal conditions in which they have little, if no rights. And that type of understanding is changing the dynamics of the conversation in the United States in a profound way," Mr. Ruebner continued. The cruelty of the Israeli response contributed to the international outrage.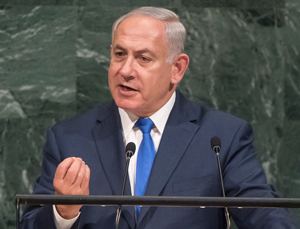 The Palestinians who were killed by the IDF while protesting the Nakba, and marching to the border demanding their right to return to their homes on May 14, were armed only with slingshots, Molotov cocktails, and sometimes burning tires. The victims were shot on orders, by snipers, hundreds of yards away, according to an Israeli general. The protesters were no threat to the Israeli border or to the soldiers.
Among the victims shot dead by an Israeli sniper was 30-year-old Fadi Abu Salmi, who used a wheelchair and had both his legs amputated. Another victim was eight-month-old Laila al-Ghandour, who died after inhaling tear gas fired by the Israeli military, including being dropped by drones, according to Democracy Now!.
Another victim was Canadian physician Tarek Loubani was shot in both legs by Israeli forces. One medic on his team, Musa Abuhassanin, was killed while attempting to provide care to Palestinian protesters. Dr. Loubani published an account that noted he and the medical staff members were wearing "high visibility clothing" and when they approached injured Palestinians, they did so with their hands raised as to show soldiers they were unarmed medical professionals.
"Despite our efforts to clearly identify ourselves as first responders, several of our medical team were wounded by Israeli live fire," he complained.
"Canada deplores and is gravely concerned by the violence in the Gaza Strip that has killed dozens and injured countless people, including a Canadian citizen," Canadian Prime Minister Justin Trudeau said after the bloody Monday.
The Israelis and their U.S. ally have been unapologetic. An Israeli general confirmed that when snipers stationed along Israel's boundary with Gaza shoot at children, they are doing so deliberately, under clear and specific orders. In a radio interview, Brigadier-General (Reserve) Zvika Fogel described how a sniper identifies the "small body" of a child and is given authorization to shoot, according to a report by Friends of  Syria News.com.
During the protest march, an Israeli sniper shot dead a 14-year-old. The boy, shot in the head, was the fourth child among the more than 30 Palestinians killed during the Great March of Return rally.  Eyewitnesses and video confirmed the child, Muhammad Ayyoub, posed no conceivable danger to heavily armed Israeli occupation forces who were stationed dozens of feet away behind fences and earthen fortifications on the other side of the Gaza boundary, when the boy was killed. United Nations peace envoy Nickolay Mladenov publicly declared that the slaying was "outrageous."
General Fogel was interviewed by Ron Nesiel on the Israeli public radio network Kan. He is the former chief of staff of the Israeli army's Southern command, which includes the occupied Gaza Strip. The host asked if the Israeli army should "rethink its use of snipers," and suggested that someone giving orders "lowered the bar for using live fire," according to a translation for The Electronic Intifada by Dena Shunra, Friends of Syria News reported.
Gen. Fogel adamantly defended the policy, stating: "At the tactical level, any person who gets close to the fence, anyone who could be a future threat to the border of the state of Israel and its residents, should bear a price for that violation. If this child or anyone else gets close to the fence in order to hide an explosive device or check if there are any dead zones there or to cut the fence so someone could infiltrate the territory of the State of Israel to kill us... ."
"Then his punishment is death?" Mr. Nesiel interjected. "His punishment is death," the general responded.