The Final Call |
National News
Anger in the streets, demands for justice in hearts
By
J.A. Salaam
-Staff Writer- | Last updated: Apr 9, 2018 - 10:56:05 AM
What's your opinion on this article?
SACRAMENTO, Calif.—
The daily protests, the anger, the pain, the feelings of resolve and the chants echo through the streets of the state capitol as mostly peaceful demonstrations have morphed into confrontation with police at times, as frustration of officers seem to overflow.
But any frustration in blue is no match for the frustration and outrage over the death of 22-year-old Stephon Clark, shot unarmed in his grandparent's backyard. Making sense out of a senseless loss of life doesn't appeal to those who knew the young father. What they want and what they have vowed to stay in the streets for is justice.
"I knew Stephon. We graduated together; I was a cheerleader and he played football. He's an amazing person. I'm here to say that the mayor and the governor must do better and I'm not fond of them at all," said Jazzenna Davis, who marched with demonstrators through the city's downtown area. "I want them to change things and that's why we are protesting every day, we are at the DA's office, that's why we are at the mayor's office and we're trying to shut things down so that they can understand and help us just a little bit. I do think justice will be served, I pray and I'm going to be out here with my team until something happens," she vowed.
Instead of working her job at the NBA Sacramento Kings' Golden 1 Arena, the 29 year old is in the streets. She felt it was a conflict of interest to work at the basketball arena, which has been the target of some protests. The Sacramento Kings have committed to creating an education fund for Stephon's children and partnering with activists.
The family's independent autopsy reported that Stephon was shot eight times mostly in the back. That news infuriated protestors, who shut down major city streets and intersections.
"Even in our home is it safe?" asked Asa Simien of the Build. Black. Coalition.
"Because the police are getting bolder and bolder. Can't even go anywhere now, whenever you see cops now you don't think, protect or safe. You think he's going to do something or start something. You don't think of them as protectors," she said. The Build. Black. Coalition is a  group of Sacramento community leaders organized in the wake of Stephon's shooting.
"I feel that people can protest but nothing changes, the cycle just keeps  repeating itself. But the best thing to do is to affect them financially, then they will have to change. And don't keep having the same politicians in office when you can vote them out and then they will change," she argued.
A peaceful March 31 vigil got heated as demonstrators surrounded two sheriff's SUVs, while blocking traffic in south Sacramento.  An officer in a second vehicle ordered angry protestors to step away from the SUVs. After several warnings, the officer drove into the crowd March 30, hitting a woman crossing the street. Water bottles were thrown as protestors screamed and cursed the fleeing police vehicle. There was panic as the elderly woman lay in the street, moaning in pain. "Give her some air, step back," shouted several people. The woman was identified as Wanda Cleveland, an activist in Sacramento. She was taken to a local hospital and, according to reports, was released the next day with bruises to her arm and back of her head.
"I caught it on video. I just knew something was about to happen. I've been out here many times and can tell when [police] get frustrated. This is what they do, and they don't care at this point," said legal observer and attorney Guy Danilowitz.
Stephon was shot and killed March 18 after two Sacramento police officers responded to reports of alleged car vandalism in the neighborhood. Over 20 shots were fired at Stephon, who was unarmed. The two officers, one Black and the other one White, said they thought Stephon had a gun in his hand. Only a cell phone was found at the scene.
Funeral services were held at the Boss Church in Bayside Sacramento. Several hundred friends and supporters attended the memorial. Rev. Al Sharpton delivered the eulogy as Stephon's grieving brother Ste'Vonte Clark stood next to him, hugging the civil rights leader.
When a family member carried Aiden, Stephon's eldest son, into the church sanctuary, the little boy called out, "Daddy, daddy." He held an Incredible Hulk action figure in his small hand. Sacramento Kings former player Matt K. Barnes attended the service and afterwards the Muslim prayer service was performed for the young Muslim outside the church. "About three years ago he converted to Islam and his father in law helped him through that journey. I was told by the family that he fasted and tried to the best of his ability to follow the deen of Islam," said Basim Bulkrra. 
Terrence Muhammad of the Nation of Islam study group in Sacramento was asked to be one of the pall bearers for Stephon's casket. "We've been working closely with a member of the family, Rahseed Sadiq, and staying plugged into what's going on regarding the family," said Mr. Muhammad. "We've also been meeting with community organizations to establish a better relationship, so we can begin to work together to help solve the problem that's plaguing our community, Black men are being shot down, and, we have to do something about it."

Protests and partnerships
Two solid weeks of protest and unrest have shaken the city of Sacramento. Many downtown businesses have lost revenue because of demonstrations. At the sports arena, two home games were interfered with and fans were not allowed to enter the arena. The Kings' organization has pledged to work to improve conditions in the city and expressed solidarity with calls for justice in the shooting death.
The Kings, who are partnering with Black Lives Matter Sacramento and Black. Build., hosted a youth forum March 30 at the South Sacramento Christian Center. The NBA franchise has said it wants to invest in a positive future for Black youth in Sacramento.
The Kings and Queens Rise was a youth forum for healing and panel discussion with NBA stars Vince Carter, Garrett Temple and retired basketball star Doug Christie. Youth were able to ask the players questions about issues affecting their community, police brutality and racism in society. 
The Sacramento Kings are creating a multi-year plan in partnership to support the education of young people, workforce preparation and economic development.
"We are out here supporting the youth, trying to allow them to be heard, to speak on what they feel right now, to understand that they're not alone," said Mr. Temple. "What's happening in Sacramento is not just happening in Sacramento. It's happening across America and has been happening. I think it's something that needs to change and hopefully this push is a way for it to change, not only obviously, in Sacramento but across America."
Matt Barnes, at a rally, held up one of Stephon's sons and spoke to the crowd about the importance of not giving up the struggle against injustice. He promised to stand with and support the family in the quest for justice. "You know, that's why we're here. Today is just the beginning. I'm sitting down with the mayor in the next week or two. I'm continuing to stay close to the family to make sure that not only cops in Sacramento, but cops across the country are being held accountable for their actions," he said.
Police Bill of Rights, policy changes needed
Alongside the protests are calls for changes to state laws, some of which activists say offer too much protection for officers, greater activity and prosecutions from state attorneys when cops are involved in bad shootings and a greater sense the police must be held accountable.
 "Yeah, here in California, we have a thing that's called the Police Bill of Rights. Basically, what it does is it tells all the police chiefs, basically what he can do and it's a bill that protects the cops. They can do pretty much whatever they do and as long as they can say that they feared  for their lives and things like that, then shootings can be justified," said Rev. Ashiya Odeye.
The National Action Network's California representative, Rev. Shane Harris, said, "Something's got to get done in the legislative infrastructure on the state and federal levels that requires, particularly, shootings of controversy, like Stephon Clark's, to be independently investigated." "Because a local prosecutor investigating local police is a conflict of interest," he continued. "I do think that paid administrative leave should be stripped during that period."
"I'm committed as a next generation civil rights leader to go after this Bill of Rights issue. Because if this Bill of Rights is not changed then officers keep being justified in these shootings," he said.
Many of Stephon's friends are determined to protest until they see change in current political leadership, from the governor's office down to the mayor of Sacramento. California Attorney General Xavier Becerra announced March 27 that the California Department of Justice will be stepping in to provide independent oversight of the investigation into Stephon's death.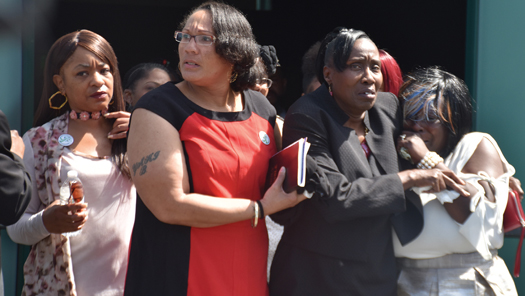 "We are fighting at the city, county and the state level. At the city level, the city manager needs to fire the officers. They also need to change our use of force policy so that it doesn't have subjective language in it. And they need to start building a commission that has more power in it so that they have the power to do these investigations, and that the community has more power over what happens when the police kill us," said Sacramento Black Lives Matter founder Tanya Faison. "At the county level, we want the DA Anne Shubert, who has never convicted anybody, we had Nazi's come to stab us at the Capital.  He's on a picture with the bloody knife, and she did not convict him, so she stands behind White supremacy. We want her to file charges.
"She's up for election.  If she doesn't then we are hoping that she gets the boot, we're going to push for that. At the state level we want the Bill of Rights to be changed. Because a lot of the California law enforcement agencies where use of force is based on the Bill of Rights now doesn't have any words in there about accountability or transparency. It also allows them to use subjective language so that they can get away with killing us."
"The final is that we want a conviction," said activist Faison. "We don't want this to happen again, and if it does happen again, we want the community to oversee what happens to those officers. I'm not optimistic. I'm hopeful but not optimistic," she admitted.