The Final Call |
National News
Unity Day program aims to connect with Black youth
By
Bryan Crawford
-Contributing Writer- | Last updated: Dec 12, 2017 - 2:29:01 PM
What's your opinion on this article?
CHICAGO—
With Chicago continuously portrayed in media, and oftentimes by the current president, as being hopelessly crime-ridden and practically irredeemable, those sentiments cast a dark and frightening shadow over young Black boys and girls across the city, many of whom are unaware of the plot being carried out against them by overt and covert forces. 
Many Black youth don't understand the language of dog whistle politics when words like "inner cities," "thugs," and "criminals," are used to describe them individually, as well as the condition of their neighborhoods and communities.
In an effort to present an alternative to what is portrayed in media and to provide a positive and uplifting gathering for local Black and Latino youth, The National Center, headquarters of the Nation of Islam was the location of a recent Chicago Youth Unity Day themed, "Increase the Peace." Hundreds of children, teens and young adults attended the daylong Dec. 3 event that began with a spiritual and practical message delivered by Ishmael R. Muhammad, Student National Assistant Minister to the Honorable Minister Louis Farrakhan.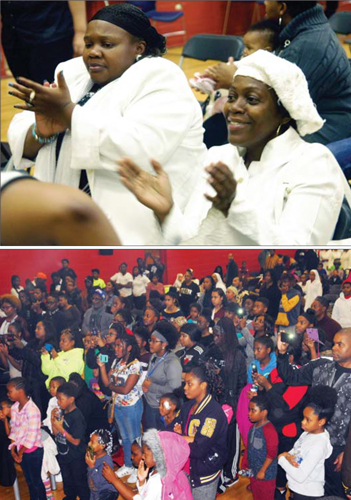 "Who are you?" asked Min. Ishmael Muhammad to the youth in attendance during the Sunday morning program at Mosque Maryam situated on the grounds of The National Center. "You are the descendants of the originator of the heavens and the earth. You are a reproduction of the originator. You are—as the Honorable Elijah Muhammad taught us—the original people of the planet. You are the original man. Everything you see, you made. You are the makers and the owners and the cream of the planet earth. And you are gods of the universe."
Min. Ishmael Muhammad explained in no uncertain terms why the government of America, and White people in general, have a fear of this generation of Black youth, who are much different from their foreparents.
"There is a problem with our youth, and a conspiracy against them," Min. Ishmael Muhammad explained as images of Philando Castille, Walter Scott and Alton Sterling, all shot and killed by police, flashed on the screen behind him.
Min. Farrakhan teaches that at the root of this conspiracy is fear that Black youth are not afraid and there is nothing the enemy has devised that can control Black youth, he continued. "Fear because the enemy understands the nature of the youth. It is not an accident that you have the spirit that you have. That is the spirit, not from the enemy, but from God Himself. … A generation has to be born that is fearless. … This generation, you don't have a fear of the giant in the land. You don't fear nobody, and you darn sure don't fear the White man. And because of that, because you don't fear him, that's what has him so upset and afraid," Min. Ishmael Muhammad continued.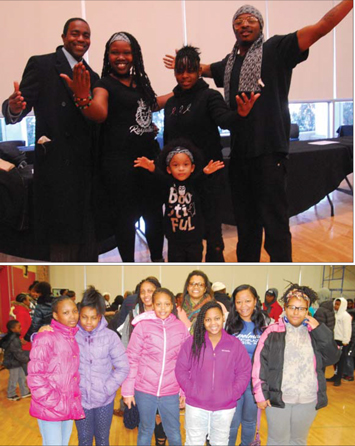 He went on to explain to the young men and women, the depths of tactics being used against Black youth, from the way police are used to keep them confined to their neighborhoods, to the illicit drugs they use, fast food they eat, and the birth control pills that are pushed on young girls at even earlier ages than before. He used Biblical references to illustrate his point.
"Now you can put in better perspective the conspiracy in the Bible of Pharaoh and his plan to kill all the male babies," he said. "The Minister [Farrakhan] has exposed their plan and the Honorable Elijah Muhammad has revealed to him and now to us the war that is being planned from the White House to the Congress to many departments of government, on how to destroy Black people," said Min. Ishmael Muhammad.
"This is a real conspiracy. And why are we sharing this with you? So, you can see the bigger picture and see that your brother and sister are not your enemy. We are being used and manipulated out of ignorance of self to do the things we are doing to each other."
Youth outreach and a positive message
After the spiritual message, the young people then assembled next door in the Muhammad University of Islam gymnasium for the afternoon festivities. This included live music, spoken word artists, a talent and dance showcase and competition and free food.
Many youth organizations participated and Prime Time from Gary, Ind. won first place during the talent show.
Youth in attendance also got to see Black commerce up close as vendor tables offered books, t-shirts, soaps, pastries and more, all from Black-owned businesses and underscoring the importance of the Honorable Elijah Muhammad stressing to Black people that we must do for self.
The program was coordinated and organized by Sondra Muhammad and additional volunteers from within and outside the Nation of Islam.
Sponsored by Parents United to Build a Future For Our Children and coordinated by Sondra Muhammad, the event was a great opportunity for youth to learn and also display their gifts and skills. She was very pleased with the turnout and was very glad youth had an opportunity to showcase their talents and practice entrepreneurship.
"The event was a thank-you to my mother and the Minister (Farrakhan) who love the youth. We had a lot of youth organizations participating. The aim and purpose was to get the youth acquainted with the teachings," she said, referring to the teachings of the Honorable Elijah Muhammad, patriarch of the Nation of Islam.
There was also a lot of helpful information on resources available for not only youth, but parents of those trying to keep their children on a positive path and out of harm's way.
One of these resources is DuSable Union Works, a program that aims to help the Black community in Chicago become, "economically self-sufficient and independent," by building a union that is, as rich and politically powerful as the Teamsters and other unions.
"We are a membership program where two-family members per year are able to receive apprenticeship training in trades such as landscaping, CDL truck driving, home daycare and marketing at no cost," Krissy Williams, a representative of DuSable Works, told The Final Call. "We also offer entrepreneurship training, business startup loans, job placement, mentoring and even a think tank membership, which is very important."
Imagine Englewood is another helpful resource for Black people who live in homes where lead is present, but they may not know about it. Many children across Chicago and Cook County have been poisoned by lead for decades, especially  those that live in old properties built prior to 1968, or in properties owned by the Chicago Housing Authority.
In 2014, more than 4,500 children tested positive for elevated levels of lead in their bloodstream, but that number was likely to be much higher because not all children are tested. Imagine Englewood does free home inspections for lead, sends their findings back to the Chicago Board of Health and provide a more thorough inspection. If it is determined that lead is present in the home, families are offered the opportunity to enroll in a program sponsored by the city to have the lead in their home removed and replaced.
To qualify, a family must earn less than $60,000 per year and have someone 70-years-old or younger who either visits or lives in the home.
"Over the past three years, we've had more than 29 houses get new windows and doors," said Howard Kendall, an Imagine Englewood representative who also runs a lead-free gardening program for youth and families. "We also had two homes receive brand new porches because the lead inside the home was tracked in from the outside porch."
CEO, or Cousins Empowered Optimists, is a program started by Raimonda Pierce, which aims to bring back the sense of family and community that commonly existed in Black neighborhoods prior to the late 1980s. CEO offers programs for Chicago youth in photography, martial arts, soap making, multi-media, and general life skills.
Ms. Pierce was inspired by her father and other men in the neighborhood who wrapped their arms around the children and helped steer them in the right direction, keep them on that path and build a family-like bond in the process.
"They used their time and their money to be mentors in the neighborhood. So, we became like a big family and we called ourselves cousins. You know how as Black people, we call people our cousins that aren't actually related to us," Ms. Pierce told The Final Call. "So now that we're older, and as our parents have gotten older or passed away, we noticed that in the Morgan Park neighborhood, we have a lot of kids out there who just need some direction," she explained. 
There was also a number of books on display at Chicago Youth Unity Day, as promotion for the upcoming Soulful Chicago Kwanzaa Book Fair on Saturday, December 16 at the AMC Center in Chicago. The goal of the book fair is to expose Black youth to Black authors of non-fiction, fiction and children's books, while at the same time, helping to expand and grow the Black literary marketplace.
Christian West, an 18-year-old student from Harold Washington Community College thought the day was very inspiring and that Student Min. Ishmael Muhammad gave an accurate and powerful message.
"I see what he is saying and that everything the Honorable Minister Louis Farrakhan is saying comes to life, it's true what he says," he told The Final Call.
His hope is that more events like Chicago Youth Day will take place in various locations around the city.
Mariama Pilcher, is 12 and stated that Student Min. Ishmael Muhammad's address uplifted younger audiences and told the necessary truth.
"It was really cool and inspirational. When he said we're all children of God, it made me think a lot, it made me feel good about myself," she said.
 "Overall, I think it's wonderful," 15-year-old Kamille stated. "I'm enjoying it. We should definitely have more."
Sondra Muhammad wants youth organizations to keep promoting youth entrepreneurship. "I would like to see Parents United promote Muhammad's Economic Blueprint. That's why we highlighted the entrepreneurship." 
"The children are tired of working for people. You bring them to the knowledge of self and then entrepreneurship, and they'll start their own business," said Sondra Muhammad.
"They want the Black community to be like a Black Wall Street. The children are looking for that right now. Allah (God) is preparing them for that right now."
Chicago Youth Unity Day was a much-needed day of spiritual and mental upliftment, while also helping to provide young Black men and women a sense of community and family in a world where oftentimes, they feel like they're all alone.
Parents United to Build a Future For Our Children is a youth-oriented organization with an aim to promote peace in the community. For more information call (773) 269-1587 or email parentsunited3@gmal.com.
(Tariqah Shakir-Muhammad contributed to this report.)