The Final Call |
National News
Broken promise: U.S. looks to deport 59,000 Haitian immigrants
By
Barrington M. Salmon
-Contributing Writer- | Last updated: Dec 4, 2017 - 5:36:48 PM
What's your opinion on this article?
WASHINGTON
—During his 2016 campaign for president, candidate Donald Trump told a crowd of Haitian-Americans in Miami's Little Haiti that he'd be their champion.
Elaine Duke, acting secretary of the Department of Homeland Security, announced Nov. 20 that the administration has revoked the Temporary Protected Status for tens of thousands of Haitians in Miami and around the country.
Former DHS Secretary John Kelly had hinted broadly that the administration might move in this direction after a review earlier this year, but the decision left Haitian- Americans dismayed, angered and concerned about the future.
The administration plans to forcibly return more than 59,000 Haitian-American families— some of whom have lived in the U.S. for more than a decade—and 27,000 American-born Haitian children. The decision comes two weeks after DHS officials announced that the agency was terminating TPS for 2,500 Nicaraguans and delaying an evaluation of 57,000 Hondurans. The delay gives Hondurans an automatic six-month extension.
Marleine Bastien, the voice of Haitian women and the unofficial spokesperson for the Haitian community at large, expressed disappointment.
"It was somewhat expected but people have been thrown into a complete state of shock. They are anxious with good reason," said Ms. Bastien, founder and executive director of Haitian Women of Miami, Inc. (Fanm Ayisyen Nan Miyami). "Trump started a witch hunt and has been criminalizing immigrants," she said. "He said he would be our champion but that was a lie. I wonder how he would do it if it were Europeans?"
"There's no way to prepare people living here for eight to 20 years to return. We have 58,000 Haitian families who have deep roots in their respective communities. They're business-people, homeowners, professionals, individuals who are gainfully employed. It will be very difficult for them to pick up and leave. We're talking about people's lives. We will continue to advocate on their behalf," she added.
Winston Barnes, a Jamaican vice mayor of the city of Miramar and news director of WAVS, 1170 AM radio, said there's real sadness in Haitian-American circles in South Florida.
"There's a lot of pain in the Haitian community. There have been actual tears that have been shed," said Mr. Barnes, a longtime radio veteran and talk show host of Taking Care of Business. "Young people realize that their and other people's lives are going to change. I thought this was going to end because this is not an administration that cares about immigrants, especially Black people. This group is the easiest to target.
"When candidate Trump came to South Florida, he went to Little Haiti. That's all they needed. That was a ploy of a politician and they played right into it."
Ms. Bastien, who was born in Haiti but has been an outspoken advocate on immigrant and women's issues for the last 30 years, said Mr. Trump's decision to deport the affected Haitians is political. She and other critics castigated administration officials for acting as if conditions in Haiti have returned to normal.
She was part of a delegation that traveled to Haiti on a fact-finding mission Aug. 14-21.
"The government can't absorb the 60,000 Haitians poised to be sent back to Haiti and since 2013, 65,000 Haitians have lived on the Haiti-Dominican Republic border," Ms. Bastien explained. "Haiti still has not recovered from the 2010 earthquake which killed 250,000 people. Even the most powerful country in the world still hasn't recovered from Katrina."
"Haiti has been reeling from natural disasters. Ten thousand people have died from a cholera epidemic and 1.2 million Haitians are contaminated and are still sick. The United Nations promised to pay $400 million to pay the victims. The U.S. has refused to contribute. Hurricane Matthew killed 2,000 people in the worst storm in 50 years. It left the entire South Peninsula in ruins. Then Maria hit earlier this year–Haiti has had its share of calamities and disasters, she said.
Fabienne Josephat, a South Florida-based writer, echoed the anguish that is racking Haitian communities around the U.S.
"I'm very distraught. The announcement was heartbreaking," said Ms. Josephat, who grew up in Haiti, emigrated to the U.S. at age 18 and is author of the novel, Dancing with the Baron's Shadow. "I realize that it was temporary, but this was just cruel. I feel like it's just cruel, not just for Haitians but anyone seeking refuge but is being thrown out of the country. What hurts most is administration officials acting as if everything is normal in Haiti."
M.J. Fievre, a Haitian-born writer, teacher, publisher and interpreter, said some of her friends on temporary protective service had been bracing for the coup de grace, but they're still overwhelmed by the news.
"We know that TPS was not meant to be permanent, but the situation in Haiti is still extremely difficult. What are these people going back to? Some say that Haiti is back to normal. Unfortunately, 'normal' in Haiti includes perpetual political turmoil, 80 percent unemployment, teachers on strike. Recent natural disasters have fueled the ongoing famine and poverty crises," she said.
"Everyone is disgusted. What mental health care will be available for the returnees? During the earthquake, during the storms, people lost their friends and family. The healing process is long– and it will be made even longer by the relocation. Haiti does not offer the kind of counseling that my fellow Haitians will need."
Tom Jawetz, vice president for Immigration Policy at the Center for American Progress, called removing the protections for the 50,000 Haitians unprincipled and heartless. In New York City, many of the Haitians are in childcare, elder care and health care, he said, and the impact felt because of this decision will have implications of an economic and domestic nature. Sending these families back will also dry up remittances, he added.
"The administration's position to eliminate Haiti's TPS is completely insensible," he said. "When Duke sat down, she wasn't working in a vacuum. Six months ago, John Kelly said that conditions on the ground met the statute to continue TPS. There were two additional hurricanes which left damage to roads, flooding and other problems. The idea that Duke looked at things on the ground and came to a different conclusion is ludicrous. This is in many ways a war against immigrants."
According to the Center for American Progress, the secretary of homeland security, in consultation with the secretary of state, has the discretion to grant TPS to individuals from countries where armed conflict, environmental disasters, or other extraordinary and temporary conditions make it impossible to return without jeopardizing their lives. Estimates show that more than 320,000 people in the United States hold TPS from 10 designated countries: El Salvador, Haiti, Honduras, Nepal, Nicaragua, Somalia, Sudan, South Sudan, Syria, and Yemen. By statute, TPS is granted for set periods of time, ranging from six to 18 months. The Trump administration recently revoked Nicaragua's TPS and officials are in the process of deciding the fates of citizens from El Salvador and Honduras.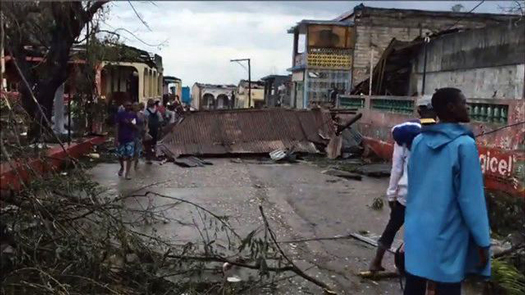 Research by CAP's Nicole Prchal Svajlenka, Angie Bautista- Chavez, and Laura Muñoz Lopez show that TPS holders are long-term, integrated members of communities across the United States. On average, recipients from Honduras have lived in the United States for 22 years, recipients from El Salvador an average of 21 years, and recipients from Haiti an average of 13 years. Nearly one-third of households with Salvadoran, Honduran, and Haitian TPS holders have mortgages. This measure is indicative of TPS holders' active pursuit of home-ownership, which brings along with it important contributions to their local economies in the form of sales and property taxes. Ending TPS, and thereby removing the ability of recipients to work legally, would likely increase the risk of foreclosure for families with TPS members. And given the spatial concentration of TPS holders, eliminating TPS could have negative economic reverberations for entire communities.
In addition, several estimates point to potential negative economic effects facing TPS holders and the United States as a whole should the program be eliminated. CAP analysis shows that if Salvadoran, Honduran, and Haitian workers with TPS were removed from the labor force, the United States would lose $164 billion in gross domestic product over the next decade.
Furthermore, if TPS holders lost their work authorization, it would result in a $6.9 billion reduction to Social Security and Medicare contributions over a decade, as calculated by the Immigrant Legal Resource Center. Finally, if TPS holders could no longer work in their current jobs, employers would experience $967 million in turnover costs.