The Final Call |
National News
Black politics and challenges in the Age of Trump
By
Barrington M. Salmon
-Contributing Writer- | Last updated: Sep 27, 2017 - 1:02:41 PM
What's your opinion on this article?
WASHINGTON—
During the week of Sept. 19-24, an estimated 10,000 people attended this year's edition of the Congressional Black Caucus' Annual Legislative Weekend. The CBC was created to provide a space, a collective voice and a bully pulpit for Blacks in Congress to advocate and advance the interests and agenda of Blacks in America.
For years, the voices of Shirley Chisholm, Ron Dellums, Charlie Rangel and other stalwarts served as the Conscience of Congress.
In 2017, however, with Blacks under siege from an overtly hostile administration, and a half-century of social gains at risk, both critics and supporters wonder if, and how much progress the CBC can make with Republicans in control of both houses of Congress and the White House?
President Trump has spent much of his 200-plus days in office systematically rolling back the policies and programs enacted by the Obama administration. The Department of Justice has embraced a "law and order" agenda that is focused on rigorously prosecuting any drug offenders; is working with private prisons to place those convicted, as well as undocumented immigrants awaiting deportation, and plans to significantly increase the number of Blacks, Latinos, men and women behind bars.
Meanwhile, Mr. Trump has given the green light to police departments to brutalize people officers arrest, has backed law enforcement while ignoring the obvious cases of police profiling, harassment, brutality and the state-sanctioned murders of Black men, women and children and he recently rescinded the Obama policy of sending military weapons to police departments around the country.
Add to that Mr. Trump's 2017-18 budget which slashes the social service safety net that potentially could affect millions of vulnerable Americans of all colors and classes.   
At the CBC's signature event, attendees offered a range of views about the efficacy, viability and effectiveness of the organization.
Mel Foote, founder and president and Constituency for Africa, who said he's been coming to these gatherings since 1984, explained that the CBC has had its shares of ups and downs, and called into question the CBC's present role.
"I have a problem because the CBC doesn't speak to the people. It should be the leader of the resistance but the CBC is asleep," he said soberly. "All what we're seeing is a reaction to Barack Obama. That's why they're talking about taking the country back. Why are we surprised about Trump? There's nothing new. There's no secret that he's racist. We have to resist, we must resist every day."
"The CBC should be focused and developing an active agenda around education, trade, youth development and other important issues. The Caucus should be organizing. Instead, they wait until September, dust off some papers and hold meetings. I don't even know who the chairman is. I couldn't tell you. I've never sat down with him, never shaken his hand."
Mr. Foote, who has worked in Africa and has been deeply involved in creating, assisting with and helping shape Africa programs and policies and informing and educating Americans for more than 40 years, said that any discussion, dialogue and gathering of the minds must be accompanied by a plan of action.
Throughout the legislative weekend, in policy forums, a national town hall, breakout sessions, and in the hallways of the Washington Convention Center in downtown Washington, attendees talked about the Trumpian political climate, where the president uses overt and coded language to signal to his base that White nationalism is the new American reality. Some lamented the aggressive and hostile attack on education, the social-safety net and affirmative action but the overall tone was one of resistance.
At the various sessions, panelists engaged in a lively, sometimes combative discussion as they moved through a palette of issues that continue to roil Black communities nationwide. They dissected issues including mass incarceration, domestic violence, empowering women, leveraging legislative power, financial and economic self-sufficiency and independence, gaining access to mental health and general healthcare, and Blacks forcing their way to the table when critical decisions affecting Black people are made.
One of the CBC's fiercest critics has been Color of Change, an advocacy organization that designs campaigns, programs and projects designed to end practices that hold Black people back and champions solutions that move the country forward.
For more than a year, the organization has been fighting to, in its own words, "restore the reputation of the CBC." The Congressional Black Caucus Political Action Committee is a target. The group accuses the PAC of claiming to speak for Black people but actually acting as mouthpiece for corporate power. 
"For decades, the Congressional Black Caucus has been known as the 'Conscience of the Congress.' Representing the interests of Black communities across the country, the CBC has often pushed the country in the direction of equality and inclusion. Sadly, that reputation for moral leadership has been tainted by the work of the CBC Political Action Committee (CBC PAC), its board is dominated by corporate lobbyists and funding from some of the worst industries for Black people, including private prisons," said the group.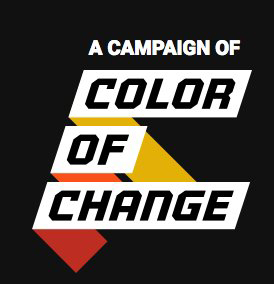 Color of Change activists say that although the PAC bears the name of the Congressional Black Caucus, the CBC PAC's 21-member board only includes eight of the 46 Black Caucus members. Further, they assert, the majority of the board is made up of lobbyists representing various corporate interests. A significant portion of PAC funding comes from corporate lobbyists and political action committees which allows corporate power to masquerade as an institution representing the interests of Black people, they charge.
Color of Change adds that the lobbyists funding and sitting on the CBCPAC's board represent companies that are notorious for mistreatment and exploitation of Black people, including private prisons, Big Tobacco, and the anti-worker companies that make up the National Restaurant Association.
"With so many issues facing Black communities, we can't afford for our most powerful Black politicians to be in bed with businesses that are damaging to the well-being and financial state of Black people," Color of Change said in a letter to the CBC. "Black people and our allies in the fight for racial justice are in an unprecedented moment where we are building power and holding elected officials and candidates accountable in very real ways. Whether it be protesters in the streets, online activism or Black voters turning out in historic numbers in recent elections, Black folks are speaking clearly and using our voices to call for change but corporate forces are trying to invade our political institutions and drown out the voices of the people." 
Several participants pointed to the CBC being in bed with corporate interests as perhaps the primary reason the CBC's voice has been muted in its advocacy of vital Black issues.
People at the conference spoke of the hunger of rank and file Black people for accurate information and more importantly, direction and what to do when they leave. One man, who voiced his frustration at how little gets done once people leave, likened the caucus activities to congregants going to church, hearing a stirring message but not knowing how to translate those good feelings into action.
Dr. Avis Jones-DeWeever, women's empowerment expert, diversity consultant and career reinvention strategist, said the best part of the CBC weekend is having a place to meet the best and the brightest America has to offer.
"I've been coming here for more than 10 years, so after a while, it's easy to get jaded. But there is an array of people that you will not find under one roof anywhere," said Dr. DeWeever, president of Incite Unlimited, LLC, a Washington, D.C.-based boutique consulting firm specializing in diversity consulting, communications strategy and the development and implementation of impactful research. "It's a public place to meet, connect and move with them. You come to grow old relationships and nurture new ones. The over-representation of Black excellence  is mind-blowing.
"I see the CBC's function being beyond the person in office. In the role they play, they're unique. They're a magnet for Black people to come together. This is where corporate America intersects with activists, academics and others."
She said that customarily, people don't value the organizations that serve them and in a case like this, she added, it's difficult to put a value on the CBC and what it does.
Ronald Hampton, a retired police officer with D.C.'s Metropolitan Police Department, is unequivocal that in the Age of Trump, the CBC should be more effective.
"They could have been more engaged with getting criminal justice reform, real criminal justice reform while the Democrats were in control," he said. "Democrats have to be more involved in the process in terms of the outcome in (the) 2018 (midterm elections). Where they were impotent, now they can have some power."
Mr. Hampton, a former executive director of the National Black Police Association and who serves as a consultant-educator to the Carter Center of Emory University Human Rights Program, said decent Americans have no choice in the Age of Trump but to fight and resist the forces of regression and racial animus. He said he was pleasantly surprised at the CBC's recent resolve.
"I've gained new respect for the CBC because they refused to do a bulls*** photo op," he said. "That's a good beginning. I'm so godd**** glad that they didn't fall for that bulls***. The White backlash is still working itself out. This is like a throwback to the time when we didn't have anything."
Dr. Elsie Scott, former president and CEO of the Congressional Black Caucus Foundation, characterized the CBC as being "somewhat effective."
"We need more Congress people and men and women of color. We also need more of them in chairmanship positions," she said. "I think a lot of people don't think they're effective."
Dr. Scott, founding director of the Ron Walters Center, which honors the work of her late husband, said Blacks used to be aware of what was going on with Capitol Hill because "Jet magazine used to have two pages of what was going on."
She also said changes in ethics rules enacted by former House Speaker Newt Gingrich disallows the CBC from pursuing a robust advocacy agenda.
"I'm sure it was intentional," she said of the ethics changes. "Also, in the early days, CBC members represented major-Black districts. The CBC has the ability to strengthen but I am concerned that so many of them represent diverse populations. They have to speak for all. Who speaks for Black people?"
"Another problem is that the Democratic Party focuses too much on national elections. We must put emphasis, and concentrate on, state and local elections. I think the CBC will be around. I don't think all of them will get pushed out. It will survive this and be here for a while—we're like the Phoenix."