The Final Call |
National News
Made by Elijah - Farrakhan speaks on the life and times of Muhammad Ali
By
Richard B. Muhammad
- Editor | Last updated: Jun 19, 2016 - 9:04:53 AM
What's your opinion on this article?
Minister Farrakhan shares truth about Muhammad Ali—and man who made him
CHICAGO (Mosque Maryam)—Days after the country and world paid tribute to Muhammad Ali for his great accomplishments in and outside the boxing ring, Nation of Islam Minister Louis Farrakhan recounted personal experiences coming up inside the Muslim movement with the man known as "The Greatest" and the extreme value and importance of his teacher.
"We can't talk about Cassius Clay or Muhammad Ali or Malcolm X without talking about Elijah Muhammad because there wasn't nobody in America giving out X's and giving people names but Elijah, Elijah Muhammad," Min. Farrakhan told the crowd that packed Mosque Maryam. Several news cameras in the balcony recorded his words from the upper level of the mosque, which is also the National Center for the Nation of Islam.
While perhaps 2,000 were squeezed into the mosque, Min. Farrakhan's message was trending June 12 on the Twitter social media platform. Listeners in the mosque and Believers and supporters watching via internet webcast were sending his words and pictures literally around the globe.
"But White folk have never liked Black people who stood up to them for themselves and for our people," the Minister said. So there is an intentional effort to whitewash Mr. Ali's history by not mentioning the Nation of Islam patriarch who taught and bestowed an Islamic name on a young Black Muslim sports hero.
Those who want to go along to get along, who crave White acknowledgement and acceptance today and yesterday have a difficult time speaking of Elijah Muhammad, he said.
"The Negro leaders didn't like Elijah," said Min. Farrakhan.
In the 1960s, the heyday of a cry for racial integration, Messenger Muhammad taught separation, the Nation still advocates separation, the Minister said.
Whether it's Chinatown or Jewish, Irish, Polish or Greek neighborhoods, these ethnic enclaves allow these groups to progress and control their community, he noted. And, he said, the police departments in those communities serve those communities.
Black neighborhoods, however, are beset by those who come in and take money out of the community to build their part of town, never developing the community where the money comes from, the Minister said.
"Separation means we control where we live," said Min. Farrakhan. "But a punktified, cowardly people—talk to me—don't you think we should own where we live, control where we live?"
"It's about time you meet a real man. And by the way, that's why they don't want you to know Elijah because when Elijah gets ahold to you, you might have been a boy yesterday, but from the moment you come into contact with Elijah Muhammad like Malcolm X did, like Muhammad Ali did, you become a world leader," he thundered. The audience exploded into applause.***image5***
Education has not solved Black problems, not led to productivity or an end to Black suffering, he said. American education has left Blacks as beggars, appealing to Whites for jobs, the Minister said.
Elijah Muhammad only completed the third grade in school but met a man, Master Fard Muhammad, the Great Mahdi of the Muslims and the Messiah of the Christians, one prophesized to come with great power to usher in a new world order. His teaching went to the origin of the Black man, expounded on the measurements of the planet and its origins and produced Black men and women unlike any in the history of America. The Nation's history of reforming people and building pride, intellect and economic strength is unmatched by any other movement or teacher in the United States.
Elijah Muhammad taught his teacher was God in Person and dispensed Supreme Wisdom, including the truth of the reality of God. The White man's accomplishments, with limited knowledge from the Original People, proves Man is God, said Min. Farrakhan. Whether space exploration, atomic weapons or other Caucasian accomplishments, these things were achieved by human beings, he said.
"You want to know why we talk about Master Fard Muhammad? You want to know why we will never give him up for no damn Mystery God? You want to know why we will move heaven and earth and die on his name and kill those who don't like that name if you bother us?" he asked.
Elijah Muhammad met Master Fard Muhammad, who taught him night and day for three years and four months in the 1930s, said Min. Farrakhan. The wisdom of Master Fard Muhammad unlocks the god force inside of Black people and made Black men great, he said. Malcolm X only went to the eighth grade, Muhammad Ali was a high school graduate and Louis Farrakhan never finished college, the Minister said.
The teachings of Elijah Muhammad woke Malcolm X up in prison and made him a terror fearlessly speaking truth to power, he said. "That's the Malcolm that shook the world."
"What moved all of you was what was heard from Malcolm as a student of the Hon. Elijah Muhammad," he added. Muhammad Ali's entry into the Nation of Islam is erroneously attributed to Malcolm X, but it was Capt. Sam X of Miami, who fished in the boxer into the mosque. Capt. Sam, now known as Minister Abdul Rahman Muhammad and a Muslim pioneer in his 80s, shared that story before the Minister spoke.
Brother Malcom defeated the best Negro that Harvard could produce but you have another one in the White House now, said Min. Farrakhan. The White man selected Barack Obama and we elected him, he added. "That was the enemy's last chance to give you hope America will fulfill its promise to you. He's (the White man's) planning our death as we speak. You are dying in droves as we speak because they know it is your time. It's your time to rule," Min. Farrakhan stressed. "The forces of your rise are taking him down, he's fighting your rise because your rise is the end of him. It's written in the Bible and the Holy Qur'an, he's got to keep you in your grave of ignorance."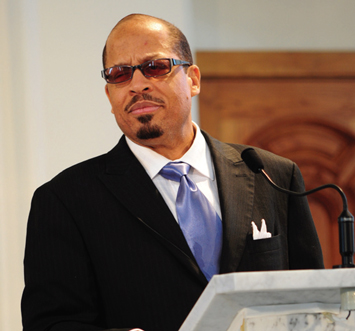 Moral degeneracy, self-hatred, fratricide and frivolous living are all part of that grave, the Minister said in a two-hour address. "You make a dog out of a man born to be god," said Min. Farrakhan, exhorting women to dress modestly. He also warned men involved in violence and drugs that God would exact a terrible price if they refused to change. God has come for the Black man and Black people to remake them into God, said Min. Farrakhan.
The Minister shared his depression in hearing about the passing in early June of Mr. Ali, who was a fellow Believer, brother, solider for Islam and Muslim minister. Young Ali was "brash but highly intelligent, he loved his teacher," Min. Farrakhan said. As Malcolm X was exiting the Nation, the young champion was entering in 1964. When he met Malcolm X, the Olympic champion was already Cassius X and had been learning Islam for two years, said the Minister. Mr. Ali came to Saviour's Day in 1964 as a Muslim and heavyweight boxing champion, he said. "He was sharing in the greatness of his God," said Min. Farrakhan.
The Muslim World accepted Mr. Ali, who went to Africa, met with President Gamal Abdul Nasser and the president gave him a gold Mosque to give to Elijah Muhammad, said Min. Farrakhan. "Ali was our champion now. And in the Esquire magazine there's a picture of Ali with arrows sticking in him all over his body, arrows that White folk was shooting at him because they never met a Black man like that. And if you listen to his interviews with some of the brightest and the best he handcuffed them— this ain't just a dumb boxer and all he knows how to do is fight. This is an intelligent thinker."
When Mr. Ali refused induction in the U.S. Army, it was a bold step but he was not alone, nor the first to refuse. "He was one of many (Black Muslims) that told the enemy, 'we're not going to fight your war, we're a conscientious objector. You can't send us 9,000 miles to kill some poor people in Viet Nam and we're dying in America on the streets from police bullets and Ku Klux Klan and hanging and lynching and burnings,' " said Min. Farrakhan.
In 1969, Elijah Muhammad disciplined the champion and published his decision in the Muhammad Speaks newspaper. It took back the "holy name" bestowed on the pupil by his teacher and put the boxing champion out of the Nation for a year. Min. Farrakhan said he was at the table with Elijah Muhammad as the article was prepared for publication and felt pained by it. And, he added, Messenger Muhammad told him, "I am doing this for you brother."
That lesson only became clear a few days ago and the lesson was do not forget your teacher when you reach the pinnacle of success in this life, said Min. Farrakhan. Elijah Muhammad, who would reinstate Muhammad Ali, was displeased because his student had spoken of returning to boxing to make money, he explained. Elijah Muhammad wanted his student to give up boxing and had taught him, taken care of him and sent him to teach on college campuses as a Muslim minister, said Min. Farrakhan. The speaking engagements earned financial support for Mr. Ali and his family, he explained.
"Do you want the truth? Can you take the truth because it knocks out a lot of that foolish propaganda that's in your head but I am going to set the record straight by the help of God," said the Minister.
The memorial services for Muhammad Ali omitted any mention of his teacher and Min. Farrakhan himself was disrespected and mistreated. At one point during the Muslim prayer service June 9, when the Minister, an elder statesman in Islam and the Black struggle, came forward to pay his respects a phalanx of officers stood in front of him. On the other side of the officers was the casket of his brother and comrade in arms for the cause of Allah and the Nation.
Living and reciting true history
"The world of White people never liked Malcolm," Min. Farrakhan pointed out. New York newspapers rejoiced at his death, said Min. Farrakhan. Malcolm X was also called the leading Black anti-Semite in his time as was any Black man who pressed for Black economics. Anyone who tries to break Jewish control is called anti-Semitic and even today entertainers are like puppets under their control, he said. "You die broke with nothing," said Min. Farrakhan.
Since Malcolm X left his teacher, Blacks have been taught more about Malcolm X from the White perspective, Min. Farrakhan said. Malcom X was a great brother who was tried and turned on his teacher, he said. "I had to oppose him because he came against the teacher," said the Minister. It's like the suffering of the child of a divorce torn between parents, he continued. Malcom X had been his mentor in New York. But Malcolm's interpretation of the Hon. Elijah Muhammad's domestic life was "absolutely foul," the Minister said. Elijah Muhammad married additional wives as a Muslim leader but that was misconstrued and misrepresented as the Messenger taking advantage of young women inside the Nation.
Those who loved the teacher stood against Malcolm's attacks on Elijah Muhammad, Min. Farrakhan said.
The White man offers Malcolm X to you in his rebellion to his teacher and the will of God, which is to make Blacks an independent people, he said.
"You can receive Malcolm now because he's been sanitized," he said. "During Black History Month, I understand that in Chicago, that they come right to you and they tell you … 'you can talk about anyone that you choose to talk about for Black History Month, but Elijah Muhammad and Louis Farrakhan you can't talk about them.'"
Muhammad Ali had a beautiful heart, though he did not agree to help rebuild the Nation, said Min. Farrakhan, who expressed love for his brother and longtime friend. He shared personal memories of times spent with Mr. Ali and his family in the early years and at the champ's 70th birth anniversary a few years back.
The Fruit of Islam and Elijah Muhammad protected Mr. Ali from the mafia and Jabir Herbert Muhammad, the son of Elijah Muhammad, managed the boxer's career, negotiating unheard of purses at the time and business opportunities. At a memorial service in 2008 for Jabir Muhammad, Lonnie Ali said, "It was a friendship made of stone to the end. No matter what their differences were, they were friends to the end—like brothers, like blood brothers."
But Muhammad Ali left his teacher and sustained vicious blows in the ring that ended up debilitating him, the Minister said. And when Min. Farrakhan sought to rebuild the Nation in the late 1970s, Mr. Ali kindly declined to join the effort.
"We did lose a great one but I hope out of all of this, you will see the Elijah that made Malcolm, the Elijah that made Warith Deen (Mohammed), the Elijah that made Muhammad Ali and the Elijah that is still making Louis Farrakhan," Min. Farrakhan said.
"Elijah Muhammad told me, 'You are going to reach the pinnacle of success in this world's life.' That's what I saw of my brother Muhammad Ali. He definitely had reached the pinnacle of success in this world's life. When my teacher said, 'I did that for you' because he knew where I was going. And he said to me, 'Brother, when you reach the top of the mountain, I hope you will remember who brought you there.' Malcolm forgot, may Allah forgive my brother. Warith Deen forgot. Muhammad Ali forgot."
Min. Farrakhan described the scene as he tried to quietly enter through a side, back door of the Freedom Center in Louisville, Ky., for the June 9 janazah, or Islamic prayer service for Mr. Ali.
"And when I walked in that place, it was like a mob scene. The people jumped and ran to Farrakhan, the living. The people ran to get a snapshot of Farrakhan. The unbought and unbowed," he said. "The people ran to shake the hand of Farrakhan who never bowed to this evil, wicked devil and by the grace of God I never will bow and I'm going to remember when I reach the top of the mountain that it is Elijah and his God who brought me there."
"As I once heard the Honorable Minister Louis Farrakhan say that the unanswered lie resembles truth. There have been a lot of lies, a lot of falsehoods that have been going around, people have been misled, misinformed and misguided. He is the one best qualified to set the record straight and he did," commented Jackson X, who represents Min. Farrakhan in Newark, N.J. He came to Chicago to hear his teacher at Mosque Maryam.
Nasir Malim, a visiting medical student from Los Angeles who majored in African American history as an undergraduate, said, Whites have tried to dilute Mr. Ali's legacy as they have other strong Black leaders after they have died. If Malcolm X and Muhammad Ali went a separate way from their teacher, "it was from a very conscious decision and I respect that, but in terms of their origin and who shaped them to become great figures, I think it's necessary to recognize the importance of the Hon. Elijah Muhammad," he said.
Thomas Jehad, who came up with Malcolm X, Muhammad Ali and Min. Farrakhan in the Nation of Islam, joined the movement in 1953. He met Cassius Clay in St. Louis between 1960 and 1961 when the Olympic champion came to the city to hear the Honorable Elijah Muhammad speak. He was a kindhearted and humble young man, said Mr. Jehad, who was a Muslim minister at the time. He attended the second fight against Sonny Liston at the boxer's invitation and was part of an historic limousine ride with Min. Farrakhan and Muhammad Ali that the Minister talked about. It was all part of the loving brotherhood of Islam, not celebrity worship, Mr. Jehad explained. "We loved him when nobody loved him. We were with him when everybody turned their back on him. We loved Muhammad Ali."
"The Honorable Minister Louis Farrakhan tells the truth," he said. "I listened to all of the memorial for Muhammad Ali, (Min. Farrakhan) didn't take out anything. He told the truth whereas others take part of the truth and hide the rest," Mr. Jehad said. The Minister loved Muhammad Ali and Malcolm X but he has to stand on the side of truth and will always be on the side of the Hon. Elijah Muhammad because of what he did for all of us, he added.