The Final Call |
National News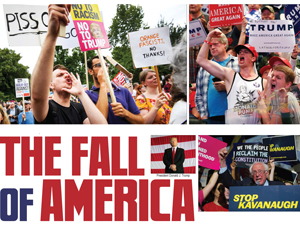 by Final Call News
Donald Trump called a traitor after meeting with Russia's Putin, FBI agent testifies, shouting match erupts in Congress while turmoil grows over president's high court pick. America's hard times, ugly... »
FEATURED STORIES
Activists use civil disobedience in a battle to stop violence...
The Fourth of July: whose freedom, whose independence? There is...
The city of Pittsburgh is on edge and boiling hot...
Social media attacks on the truth and Nation of Islam...
The Nation, family and friends remember the life and contribution...
Man jailed as "Black identity extremist" shares his troubling story...
Minister Farrakhan goes to the root of attacks on the...
On the first day of the Muslim holy month of...
Black women are often described as the backbone, soul, conscience...
The popular Philly rapper is no longer in prison and...
The mother of a young Black woman whose body parts...
WASHINGTON—United States military forces, joined by the United Kingdom and...