Reparations resolution passed in Chicago
---
by J. Coyden Palmer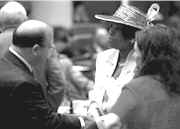 History was made here May 17 as the cityís aldermen approved a resolution asking Congress to hold hearings to consider paying reparations to descendants of African slaves.
The city council voted overwhelmingly to approve the measure after Aprilís emotional testimony by scholars on how the effects of slavery are still manifesting themselves in the lives of Black Americans today.
Chicago Mayor Richard Daley also came out in support of the measure. Mayor Daley has had a bittersweet relationship with the Black community. His comments on reparations drew praise from many Black political leaders. Ald. Dorothy Tillman, who sponsored the resolution, called Mayor Daleyís stance "courageous."
"Other cities in the country are now looking at Chicago," Ald. Tillman said. "We are taking the initiative and setting the trend for other cities in this nation to follow suit. Chicago has taken the lead on the whole reparations issue."
The measure was approved with a 46-1 vote. The lone vote against the measure came from the councilís only Republican member. "Slavery was a terrible thing," Ald. Brian Doherty began, "and it is something none of us are proud of. But the fact of the matter is none of the people in the 41st Ward participated in this tragedy so I couldnít vote in good conscience for this measure."
Other white aldermen didnít agree with Mr. Dohertyís theory. Ald. Bernard Stone not only voted in favor of the measure, but also issued a public apology to the Black community. Ald. Stone said during hearings held in April that he realized how important it was for Blacks to hear the words "Iím sorry."
"Slavery didnít end with the Emancipation Proclamation," Ald. Stone said. "The residuals of slavery are still being felt today."
Mr. Stoneís apology opened up a wealth of condolences on the part of other white aldermen and even included an apology by the mayor.
"You apologize for a wrong," Mayor Daley said. "You apologize because itís the thing you were taught to do when you were young and you committed a wrong. It doesnít matter the race of the person, you just apologize because what happened was wrong."
Critics say the vote was more of a symbolic gesture than anything meaningful. Mayor Daley responded by saying it still could serve as a catalyst for getting Congress to hold hearings on the matter to determine if reparations should be paid and if so, how.
The how question was raised by several aldermen, even those who voted in favor of the measure.
"I want to go on record as saying I am in support on paying reparations to a people who have been disrespected for far too long," said Ald. Burton Natarus. "My only question is how do we determine who should be compensated and where do we get the resources to do it?"
Ald. Tillman also conceded that she didnít know how to find the resources for reparation payments. "However," she said, "sometimes you have to just do what is right and feel your way along as you go."
Others are concerned about what will happen to the Black community should a measure to approve the payment of reparations be approved by Congress. Speaking at a program commemorating the 75th birthday of Malcolm X in Chicago, City Colleges of New York professor Dr. Leonard Jefferies raised another issue of concern.
"There is no need to give reparations if the people arenít educated on how to use it for their best interests," Dr. Jefferies argued May 19. "You must combine your economic and political power under an umbrella of culture and invest in your own communities."
It is not yet known whether or not Congress will address the issue in its next session, but Ald. Ed Smith said it is time the federal government wakes up and takes notice to what is happening.
"The issue of reparations is being talked about all over the country," he said. "Why isnít it being talked about in Congress?"
City councils in Detroit, Cleveland and Dallas have passed similar measures urging Congress to hold hearings on reparations.
Photo: Alderman Dorothy Tillman (3rd Ward) talks wit fellow alderman during approval of Chicago City Council resolution seeking congressional hearings on reparations. Ald. Tillman was the sponsor of the resolution.