Racial profiling, police abuse still alive in America
by Saeed Shabazz
Staff Writer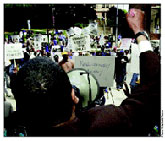 NEWARK (FinalCall.com)—Like a number of domestic issues, racial profiling and police brutality have taken a back seat to the war on terrorism since September 11, 2001. Activists, however, say a lack of media focus does not mean serious violations have ended.
A major demonstration against police abuse is scheduled for Jan. 19 in Washington, D.C., where the Rev. Al Sharpton, of the National Action Network; Southern Christian Leadership Conference President Martin Luther King III; the American Civil Liberties Union; the Arab American Institute and other organizations will try to highlight ongoing problems.
While calls for national unity and a focus on terrorists have blunted much criticism, or at least coverage of such criticism, New Jersey's racial profiling problem is so bad Governor-elect James E. McGreevey, who had yet to officially take office, recently appointed Newark's "no-nonsense" police director, Joseph Santiago, to head the beleaguered N.J. State Police.
Mr. McGreevey wants a reformer to tackle a force proven guilty of illegally stopping motorists because of race. "Racial profiling is immoral and illegal and we're committed to eliminating it," said the Democratic governor. Incoming state Attorney General David Samson has also vowed to deal with the problem.
But activists like Larry Hamm, of the East Orange, N.J.-based People's Organization for Progress, bitterly complain about the lack of action against illegal actions by officers. In particular, he points to a federal plea agreement that allows two state troopers who fired 11 shots into a van carrying four young Black men on the N.J. Turnpike to plead guilty to official misconduct. Under the deal, the officers will not serve jail time for the April 23, 1998 incident that made front-page news. The federal government has also declined to try former troopers James Kenna and John Logan for civil rights violations. As The Final Call goes to press, the plea agreement—which says the men can't work as troopers, must admit to racial profiling, and will keep their pensions—was undergoing final approval.
"Nothing is happening to these cops in Jersey," complained Mr. Hamm, who has led several demonstrations in front of police headquarters in Irvington, N.J., where a grand jury dismissed charges against a white patrolman for the April 2000 shooting of an unarmed Bilal Colbert, a Black man.
New Jersey, the state for which the term "Driving While Black" was coined, has widespread police abuse, said De Lacy Davis, of Black Cops Against Police Brutality, based in East Orange. He pointed to a case in which two young Black women were stopped by White officers, maced and arrested for resisting arrest.
Norma Randolph, 68, the victims' grandmother, said the Monmouth County prosecutor's office is still deciding whether to charge the officers for the July 2000 incident.
According to Ms. Randolph, her granddaughters Ziyadah Perry, 24, and Zurenaha Perry, 21, visited their mother and began walking to a friend's home. A Freehold, N.J., police officer pulled up alongside and asked where they were going. Ziyadah told the officer they were going to a friend's house and refused to come over to the officer's car, Ms. Randolph said. The officer got out of the vehicle, maced the girls, called for backup and the two sisters were arrested, according to their grandmother.
"Not only were they maced, Ziyadah had her blouse ripped off and both were held in a holding pen for hours, allowing officers to view her unclothed body," added Mr. Davis, who is a police officer.
The Peoples Organization for Progress heard other horror stories during a Jan. 12 meeting at Newark's Mt. Pleasant Missionary Church. That night a 60-something Black grandmother shared how East Orange police officers invaded her home, as she jumped out of the shower. Charges against her were dropped. But she is still afraid, doesn't know why officers invaded her home in the first place. Charges she filed against the officers have been dismissed, the woman added.
"If this is happening in New Jersey, a state under the microscope for wide-spread police abuse, imagine what is happening in the rest of the country," Mr. Davis told The Final Call.
"What I am hearing from my people is that in the post September 11 environment, racial profiling and police brutality problems are getting worse," said Ron Hampton, president of the National Black Police Association, who is based in Washington, D.C. In particular, he has heard of increased profiling of Blacks at airports and at border crossings between Canada and Detroit. It's troubling that some Blacks apparently feel racially profiling Arabs is acceptable, Mr. Hampton added. "The danger is that some of our people think this is fine, and do not realize the danger to Blacks and Latinos down the road," he said.
Police stop data already shows Latinos are more likely to be stopped than Blacks in New Jersey, said Richie Rivera, a Peoples Organization for Progress member and local ACLU board member. Latinos, who often face a language barrier and are in the country illegally, quietly suffer the harassment, he explained.
"People are talking about these issues, but under their breath. What happens if racial profiling becomes the norm?" asked New York-based journalist Gil Noble, who lives in New Jersey and says he has been stopped by police.
It isn't just ordinary people who are worried:
• Detroit's new mayor says documents from the city law department files detailing the status of a Justice Department civil rights probe of the 4,175-person force are missing. The Detroit police department has been under federal investigation for over a year because of allegations of civil rights violations, including police shootings of civilians.
• In the Nation's Capitol, the Citizen Complaint Review Board, which monitors police misconduct, wants a better monitoring system for a force accused of having the country's highest per rate for police shootings.
• The L.A. civilian review board has caused a stir by demanding a budget that allows for legal staff and researchers. It is trying to end its role as the rubber stamp for a police force with a history of corruption scandals and reputation for brutality. Last November, a federal consent decree mandated that LAPD document all police stops because of past racial profiling and other abuses.
Progressive police organizations, such as New York City's 100 Blacks in Law Enforcement Who Care, fear targeting from within their own departments. The N.Y. group is suing NYPD for $80 million, alleging they were secretly monitored for over two years. "The goal of our lawsuit is to find out who authorized this illegal investigation," said Lt. Eric Adams, the group's co-founder.
Sgt. Anthony Miranda, president of the NYC Latino Police Association, says NYPD's action is chilling for those who are reform-minded. "We have guys saying that they want to join us, but we are hot, and some community activists admit the same thing," he said.
Mr. Hampton says Black police executives have to take a more proactive stance against police abuses. Some like Andrew Kirkland, the Black acting police chief in Portland, Oregon, who refused a Justice Department request to interrogate some 200 foreign students, deserve support, he said.
Larry Hamm. wants to see laws enacted that make racially profiling a crime and the New Jersey Assembly will re-introduce such a bill, according to former Essex County assemblyman LeRoy Jones. Mr. Jones believes that the new assembly, with a Democratic majority and even-divided State Senate may pass the legislation.
A similar federal law against racial profiling isn't as likely. In an August hearing, as a U.S. Senate Subcommittee debated such a law, and Steve Young, national vice president for the powerful Fraternal Order of Police voiced opposition to the bill. "We oppose such a bill because there is a mistaken perception that the ugliness of racism is part of the culture of law enforcement," Mr. Young told senators.