Mohammed, Farrakhan unity at congregational prayer service
by Askia Muhammad
White House Correspondent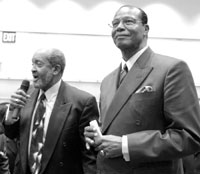 LOS ANGELES (FinalCall.com)—Prayer heals wounds, and it was during the traditional Friday Muslim prayer service Feb. 15 that the continued healing of the Nation of Islam was manifest by the unity of two of Black America's principle Muslim leaders, Imam Warith Deen Mohammed and the Honorable Minister Louis Farrakhan.
"We are very happy to be here today," said Imam Mohammed, leader of the Muslim American Society at the Nation of Islam's Saviours' Day observance. "It is made truly beautiful by the coming together of the Nation of Islam under the great leader Minister (Louis) Farrakhan, and his brother and friend, Wallace D. Mohammed. We embrace him, and we're going with Min. Farrakhan all the way to the Promised Land," he said, referring to himself by his birth name of Wallace.
Min. Farrakhan was equally effusive. "Let us build an exemplary Islamic community so that when (the world) looks at us, they will see what Islam really is and why they should accept Islam and follow Prophet Muhammad, (Peace Be Upon Him)," Min. Farrakhan said.
Imam Mohammed's message was the keynote sermon to more than 4,000 Muslims gathered for congregational Ju'umah prayer service held in the West Hall of the Los Angeles Convention Center.
The two men and their followers—who once were united behind the leadership of Nation of Islam patriarch, the Hon. Elijah Muhammad—often traded criticism before a reunion in Chicago two years ago.
Muslim American Society adherents contend that the Nation of Islam does not carefully enough follow the "sunnah" (traditions) established 1,400 years ago by Islam's Holy Prophet Muhammad of Arabia (PBUH). Nation of Islam members in turn accuse Imam Mohammed of turning away from the principles taught by Mr. Elijah Muhammad, Imam Mohammed's father.
The founder of the Nation of Islam was a man like the Good Samaritan of the Bible, Imam Mohammed said, describing Master W. D. Fard, the somewhat mysterious Arab man known as "The Saviour," who taught Islam in Detroit's Heavenly Valley neighborhood until he met Elijah (Muhammad) Poole in 1930.
Mr. Fard, also known as Master Fard Muhammad, unlike others who knew of the power of Islam to transform the lives of its converts, tried to uplift the condition of Blacks in America by teaching Blacks in America who were once slaves to be Muslims.
Mr. Fard's concern, Imam Mohammed explained, was like that of the Good Samaritan. He wanted to take the Black man in America "on the road of personal development that God created for him, until he establishes his own social contract, and respects his brother, and respects his parents, and respects his God who created him, and respects his calling to be a community builder, to be a society builder," Imam Mohammed said.
"We were taught not to believe in anything except the objective, material world and man," the Imam said of his father's methods. "We were taught two teachings. One was a strategy to attract us because he knew that the religion we were under was really oppression. It kept our pockets empty. It kept our neighborhoods in bad repair. It kept our men drunk. It kept our women serving the White community and not the Black community. It left our communities in bad shape," he continued.
The Imam also explained his understanding of why members of the Nation of Islam were kept apart from the larger Muslim society, long a sticking point among those who criticized Mr. Muhammad and his message of "separation" as a solution to the racial hostilities which have torn at the seams of the entire American society.
As a result of Mr. Muhammad's careful, restrictive policies, his movement—also known as the "Black Muslims" in America—was able to grow strong, to develop and to mature. "We have moved forward to get the admiration and respect of people throughout the world," Imam Mohammed said of the development that occurred under his father's system. "Now the biggest gift that America can get, and the West too, is to embrace Islam and respect it and not go against it, and let it thrive."
Imam Mohammed's growing sensitive understanding of his father's message and the cooperation of the two leaders, opens the door for possible unity in the future, Min. Farrakhan said. "You cannot have a Nation of Islam without proper recognition of Prophet Muhammad (PBUH) as the foundational stone, and the Qur'an as the foundational stone upon which to build that Nation," Min. Farrakhan said.
It is important that Muslims around the world restore the example of Prophet Muhammad (PBUH) in their lives, Min. Farrakhan said, because "Islam today is off the straight (path), and some are trying to get back to the straight path, and making a mess of it. They're making a grotesque image of what Islam really is.
"But since we live in America, and America is the world leader, then out of America should come a light that would guide the world and make the world see Islam as Islam really is. What we have is the solution to America's problems. But we have to present an example that makes scientific minds want to wonder, 'what made them the type of men and women that they have become under Islam?' So that is our job.'"
"We want the world to know that Islam does not oppress women. So our women have to be examples of what Allah wanted for women and we have to be examples of what Allah wanted for men, and I don't believe that guidance is to come from the East. That guidance is to come out of the West, and Imam Mohammed and myself and others, we will produce that community that the whole world needs and is looking for," Min. Farrakhan concluded.
Photo: Imam W. D. Mohammed, left and Minister Farrakan at Ju'umah prayer during Saviours' Day 2002.