War on terror, or freedom
New fear broader FBI powers are another blow to civil liberties
by Eric Ture Muhammad
Staff Writer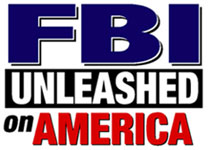 (FinalCall.com)—New Federal Bureau of Investigation terrorism guidelines that allow agents to monitor religious services, political organizations, and public meetings of Americans and non-citizens drew sharp criticism from some politicians, civil libertarians and activists.
The new rules announced May 30 by U.S. Attorney General John D. Ashcroft represent a loosening of restrictions placed on the agency in the 1970s as a result of the late FBI director J. Edgar Hoover's Counter-Intelligence Program against Black Power leaders, civil rights groups, leftist organizations and anti-war activists. COINTELPRO, a domestic covert operation, used informants, agent's provocateurs, secret surveillance, and smear tactics to foment violence and distrust, disrupt and destroy voices of political dissent.
The "new FBI" rules, according to the attorney general, will allow agents to enter public places to detect or prevent terrorist activities. Agents are also free to visit Internet websites, libraries, mosques, churches and political organizations to "pre-empt" terrorist strikes in America.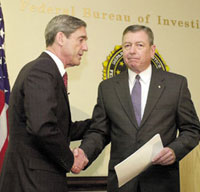 The Ashcroft guidelines came a day after FBI Director Robert Mueller unveiled reorganization plans to focus the FBI on the so-called war on terrorism.
While some praised the Bush administration for extending surveillance powers, critics say the war on terrorism is now a war on freedom, dissent and a secret war against religion, particularly against Islam, Muslims and Arab Americans.
Many also suspect the rules are designed to mask U.S. intelligence failures in light of post-Sept. 11 evidence that the FBI and White House failed to properly process information concerning potential terror attacks at home.
"The administration's continued defiance of constitutional safeguards seems to have no end in sight," said Rep. John Conyers Jr. (D-Mich.), of the House Judiciary Committee.
"This decision decimates the Fourth Amendment. The Justice Department is intent on another power grab when it has become clear that a lack of competence—not law enforcement authorities—prevented the administration from connecting the dots before Sept. 11," charged the Black lawmaker. Mr. Conyers wants the White House to halt efforts to expand surveillance authority and consult Congress before further intrusions on civil liberties.
"Any government effort to institutionalize the same powers that allowed the FBI to wrongfully spy on the activities of the civil rights organizations and disclose information on the private affairs of Martin Luther King, Jr. would constitute an embarrassing step backwards for civil liberties in this country," Rep. Conyers warned.
Threats to religious freedom emerged with these new policies, constituting "a war on freedom, not a war on terror," he said.
New rules to wiretap religious organizations and places of worship will further alienate the American Muslim community, Rep. Conyers said.
These are not changes in law, or changes in constitutional rights, but changes in procedures designed for the 1970s to meet challenges of the year 2002 and beyond, countered Atty. General Ashcroft, speaking June 2 on CNN's Late Edition with Wolf Blitzer.
It's strange that allowing the FBI to search bomb-making websites is seen as a violation of individual rights, Mr. Ashcroft said. He said old procedures prohibited FBI agents from surfing the web for such sites, unless there was evidence of a crime. These types of rules needed to be revamped, said Mr. Ashcroft.
The new regulations also admonish against keeping dossiers on public officials, cultural and religious leaders and current privacy laws reinforce safeguards against old abuses, but do not tie the hands of agents, the attorney general said.
The changes within the FBI include:
Establishing an Office of Intelligence to coordinate intelligence analysis.

Permanently shifting resources to counterterrorism, including expanding the Counterterrorism Team to more than 3,700 FBI Agents/Joint Terrorism Task Force resources.

Building a national terrorism response capability ("flying squads") to be deployed temporarily from headquarters to address terrorist threats and incidents around the country.

Upgrading analytical capabilities by establishing a new Espionage Section in the Counterintelligence Division and improving recruitment, training, technology, and career opportunities for analysts.

Establishing a "Cyber Division" to address threats to the American high technology infrastructure.

Strategically managing resources to maintain appropriate involvement in traditional law enforcement, such as drug crimes involving violence or public corruption and other criminal activity that may also constitute state crime.
"The government is rewarding failure," said Laura W. Murphy, director of the American Civil Liberties Union in Washington, D.C.
"When the government fails—as it increasingly appears to have done before Sept. 11—the Bush administration's response is to give itself new powers rather than seriously investigating why the failures occurred," she said.
The FBI reorganization follows scathing allegations in a May 21 memo from veteran Minnesota FBI agent Coleen Rowley, sent to Mr. Mueller, charging FBI headquarters in Washington hindered efforts by the Minneapolis office to investigate suspected terrorist Zacarias Moussaoui, a Black, French-born flight school student.
Mr. Moussaoui was arrested on an immigration charge about three weeks before the Sept. 11 attacks, but authorities said they believe he was the intended "20th hijacker." Mr. Moussaoui has been charged with six conspiracy counts in connection with the hijackings and is on trial for his life in a Virginia federal court. Ms. Rowley's memo charged the agency's leadership with "a delicate and subtle shading/skewing of facts" that continues in "a rush to judgment to protect the FBI at all costs."
"The sweeping draconian surveillance powers have been initiated as a result of one man's (Attorney General Ashcroft's) abuse of rule-making authority," said researcher and activist Steve Cokely, in a telephone interview from his Los Angeles office.
"The last attorney general to unilaterally abuse authority was William French Smith, who served under former President Ronald Reagan, who drew 'rules' authorizing the Los Angeles police force in South Central to sell narcotics as a part of the Iran-Contra Affair," he said.
"The FBI throughout the decades has attacked Black organizations—particularly Muslim—consistently. To suggest that a mosque should be surveyed without indicator of criminal activity results in preferential treatment for particular religious groups," Mr. Cokely said.
"Did the FBI survey all Catholic churches? It is the Catholic Church who supported the Irish Republic Army's (IRA) efforts in England. We must close ranks against 'NOW-INTELPRO,' and not allow any disagreement amongst any of us to serve as shelter for the hatred of government officials," he added.
Bush defends FBI changes
President George Bush defended the FBI policy changes, saying reform is necessary and protects civil liberties. "We intend to honor our Constitution and respect the freedoms that we hold so dear,'' the president said. "Our most important job is to protect America. And the initiative that the attorney general (outlined) will guarantee our Constitution," Mr. Bush said.
The changes allow the FBI to use commercial data mining services and engage in online research, even when it isn't linked to an individual criminal investigation.
The guidelines will also push decision-making for an array of investigative steps away from FBI headquarters and down to field offices around the country. Special agents in charge of each office will hold keys to setting investigative steps in motion.
"The FBI now wants to purchase data from commercial enterprises. Thus, any time you write a check, use a credit card, buy something on credit, make department store purchases, surf the web, use an e-z pass to buy gasoline or pay a toll, the FBI may be permitted, under the new guidelines, to purchase this information to build a profile on you," said Marvin J. Johnson, ACLU Legislative Counsel. "This information is used to target consumers for products they have no interest in receiving. Should it be relied upon to open a terrorism investigation of a person that could change his or her life?" he asked.
Jason Erb, governmental affairs director for the Council on American-Islamic Relations, said Americans support the investigation of terrorists or those who are suspected of planning terrorist acts. Anyone having information about such attacks should immediately contact the FBI, Mr. Erb said. "But America must not respond to past intelligence failures by adopting a 'round up the usual suspects' approach to counterterrorism," he said, in a statement.
"Remember when President Reagan rallied for the tearing down of the Berlin Wall and the reform of the Soviet Union? It was then Soviet President Gorbachev who said, that there will always be this kind of totalitarian police state and that as Russia became more like America, America will become more like Russia," said former FBI agent Dr. Tyrone Powers in a telephone interview with The Final Call from his office at Anne Arundel College in Maryland.
Mr. Powers, director of the Institute of Criminal Justice, Legal Research and Public Studies, said prior to 9-11, Mr. Ashcroft was already seeking to expand the surveillance powers of the Bureau and that Sept. 11 gave him the license to do it.
"Remember, Ashcroft brought Mueller in as director, a former assistant district attorney given the task of reforming an agency that has been in existence since 1909, to deal with counterterrorism and do it within a few months. Mueller has never taken a class on counterterrorism, let alone counterintelligence. Ashcroft brought someone in with absolutely no experience so that he could in fact run the FBI solidly from the attorney general's office," he charged. Mr. Powers said the new guidelines are of particular detriment to Blacks and Black organizations because the agents and informants recruited to perform these tasks will primarily be placed in Black communities, which are already divided "and will be divided even further trying to figure out who they can trust," he said.
PHOTO CAPTION
Federal Bureau of Investigation Director Robert Mueller (L) thanks Attorney General John Ashcroft for his statement as they make a joint announcement for a new FBI strategic focus at the FBI headquarters May 29 in Washington, D.C. Mr. Mueller announced that hundreds of agents would be reassigned from drug enforcement and white collar crime units to fight terrorism. Photo: AFP