Can the issue of accreditation kill Black colleges?

Fighting to survive
by Eric Ture Muhammad
Staff Writer
Just one year after its centennial celebration, Louisiana's Grambling State University, one of Black America's premier learning institutions has until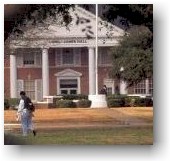 September 16 to submit acceptable audit records to a national financial accrediting group or lose its official certification. Loss of accreditation would be catastrophic and include the loss of federal funding, degree-honored programs and the displacement of thousands of attending Blacks with worthless transcripts.
The Grambling situation has brought to light the fragile existence of many of the Historically Black Colleges and Universities. The demands of financial, specialized or professional accreditation are deemed ruthless by many campus provosts, presidents and chancellors. Combined with standards set by state boards of regents across the country, accreditation teams visit these institutions anywhere from two to four times a 200-day academic year. Often viewed as intimidating, these visits can result in the imposing of standards and severe penalties when deadlines are not met.
"Accreditors, particularly accreditors of specialized and professional programs, have been criticized widely for various reasons, including driving up costs, interfering with institutional autonomy, and stifling innovation," commented David Werner, immediate past chair of the Association of Specialized and Professional Accreditors. Mr. Werner said that college university presidents and provosts are frequently heard to say that their campuses are continually "overrun" with accreditors and that "they are constantly meeting with site visitors."
"Even though much progress has been made, the workload continues to be tremendous. Our (financial) team will be putting forth the same efforts as it has in the past. This means more hard work and extended workdays. We are, however, optimistic that we will meet future deadlines," Grambling's Acting President Neari Warner told The Final Call in a statement.
The Grambling deadline, imposed by the Decatur, Georgia-based Southern Association of Colleges and Schools (SACS), is a result of the institution's failure to meet the consecutive auditing requirements that are generally reviewed every 10 years for continued accreditation, the group said. SACS officials told The Final Call that the institution has not provided financial statements deemed acceptable for a state audit since 1997. They are now more than two years overdue in meeting this requirement, officials said.
Despite its financial woes, Grambling receives nearly 20 percent more in state funding per student than the average Louisiana four-year campus, largely due to a civil rights settlement that required the state to compensate for years of spending more on predominantly White than historically Black colleges.
According to the Louisiana Board of Regents, which oversees all state universities in Louisiana, thus far Mr. Warner has shown determination to take tough measures, including the firing of 126 employees, mostly administrative. They further believe the institution's deadline—once deemed nearly impossible to meet—might actually be realized.
After having only three presidents in its first 90 years, Grambling has had six in the last 10. In addition, accusations of theft, scholarship mismanagement, nearly $350,000 in uncollected debts and a $3 million deficit are among the press citings in recent years. Other institutions within the HBCU network find themselves with similar problems.
Recently, the Department of Education's accreditation team walked out of a site review at Southern University at New Orleans when, according to published reports, the university was found "too unstable to evaluate." Southern University at Baton Rouge found itself embroiled in an embezzlement scandal in its Financial Aid Department where reportedly a worker is now serving a two-and-a-half year prison sentence.

The University of Arkansas at Pine Bluff (UAPB) is a historically Black institution founded in 1873. Formerly known as AM&N College, UAPB over the years has struggled to fulfill its mission in an environment described as "benign neglect" by attending professors. After being led for 30 years by the same CEO, the institution experienced a leadership change on an average of every three years. In 1990, UAPB also faced a $3 million deficit, an upheaval of its award winning football program and imminent accreditation visits.
When contacted by The Final Call on the matter of accreditation and the problems the standards appear to pose, the office of William Gray III, executive director of the United Negro College Fund (UNCF), declined comment.
"The greatest challenge for HBCUs to overcome in the accreditation process is the lack of documentation, and the lack of policies and procedures about how they do what they do, and how well it is done," said Kathaleena Edward Monds, assistant professor at Albany State University College of Business in Albany, Ga. "The history of an organization is only as strong as that organization's ability to document its history. As corporate experience has taught, 'writing it down' is the only evidence that something has taken place."
Colleges with a mission
HBCUs were created as early as 1837 to provide Blacks access to higher education. Under the Higher Education Act, a college or university may be considered to be a HBCU if its primary mission was and is the education of Black students and if it was established prior to 1964. Currently, there are 116 HBCUs located in 24 states, the District of Columbia and the U.S. Virgin Islands. They enroll more than 370,000 students. In large metropolises and small rural towns alike, these institutions include public and private schools, two- and four-year schools, graduate and professional schools.
HBCUs are unique in that they grant the highest number of degrees to Blacks. They possess positive student/faculty mentoring programs and attractive admissions standards that provide opportunities for many disadvantaged youths to gain a quality education and to be a part of an enriched legacy of Black achievement. They also single-handedly produce more Black educators for Black students from pre-K through college.
"I think HBCUs serve the same function as Women's Colleges," said Phyllis Thakis, director of the Center of Academic Achievement at Clark Atlanta University. "The voices of minorities and women tend to be overlooked and/or silenced in majority co-ed institutions. I don't think it's an accident that so many African American leaders come from HBCUs or that so many women leaders are products of women's colleges," she said.
The thirst for accreditation became more apparent in 2000 when the Higher Education Act of 1965 approached renewal, combined with the new Republican control of Congress. The overwhelming need to qualify for higher, more consistent funding and diversifying academic alternatives, particularly in the area of technology, found HBCU presidents and provosts appealing to accreditation boards to certify their institutions, but at the same time making them vulnerable to standards foreign to HBCU histories, thus placing greater demands for compliance.
"Federal policy concerning higher education has enjoyed broad bipartisan support due to common interests in making higher education more accessible and affordable to any student wishing to pursue a college level degree," said South Carolina Democratic lawmaker James C. Clyburn, a member of the Congressional Black Caucus. "Sadly, bipartisan cooperation evaporated when Republicans took control of the House of Representatives.
"From the very beginning, the new Republican majority showed contempt for the continuation of a federal education policy. Their initial effort to exert control was an attempt to abolish the Department of Education. Recently, the Republican House leadership began a new partisan effort aimed at dismantling federal involvement in higher education policy," he warned. All seven HBCUs in South Carolina are within Mr. Clyburn's sixth district.
While White institutions—referred to as majority schools—struggle with the lack of racial and ethnically diverse faculties, administrators and staff, HBCUs struggle with the lack of Black faculty. Generalizations and negative stereotypes about how poorly HBCUs are run provide additional challenges in overcoming the assumption of accrediting agencies that size, status and race translates in meaning to a lower standard of education.
"Accreditation is about mission-driven standards that define high quality and continuous improvement," said Prof. Monds. "The history of most HBCUs is directly intertwined in the mission of the schools—to educate African-American students. While majority institutions can write-off their lack of diversity as their inability to 'find qualified African American professors,' HBCUs are struggling to maintain some level of cultural identity among faculty/student balance by the overwhelming surge of non-African American faculty to its business schools," for example she said.
"Besides, like at majority institutions, our students also look to their faculty as more than just imparters of knowledge, but as role models—individuals who know and live the many challenges of being an African American business professional."
Can racism be ignored?
An unfavorable assessment by the Accrediting Council of Graduate Medical Education (ACGME) earlier this year of the residency programs at Howard University Hospital (HUH) in the nation's capitol has generated harsh criticism from the national medical community. Some allege foul play, that the group's decision to close three of the hospital's residency programs in July—emergency medicine, family practice and pediatrics—place another four on probation, a fifth on warning and a sixth under "provisional accreditation" are designed to discredit the nation's leading Black teaching hospital, which, like so many other academic medical centers, is struggling to maintain its educational mission amid the pressures of managed care.
"We should have been prepared. We should have expected that someone would come about and try to discredit one of the major institutions responsible for training so many African American physicians," said Dr. Lucille C. Perez, president of the National Medical Association.
Dr. Perez believes it is more than a coincidence the ACGME findings came just weeks after the Institutes of Medicine (IOM) released a report stating that Blacks felt they receive higher quality health care when treated by Black caregivers. The IOM report, "Unequal Treatment: Confronting Racial and Ethnic Disparities in Health Care," found that Blacks and other non-Whites tend to receive a lower quality of health care than Whites, even when insurance status, income, age and severity of conditions are comparable.
If the problems identified by ACGME are not addressed within their respective deadlines, the council could take measures to begin shutting down all 25 of the hospital's residency programs as early as next year. Currently, HUH residency programs are responsible for training hundreds of new physicians annually and through its university and hospital system employs hundreds of professionals.
Hospital officials are appealing the findings.
How to win the battle
While White institutions are gaining support from local Boards of Regents to develop more and more programs, HBCUs are having to shutdown programs because Boards of Regents cannot see the benefits of having duplicate programs at HBCUs and majority institutions. Regents in several states have proposed mergers particularly where eight or more HBCUs exist with White institutions. These states include Alabama (13), Georgia (10), Mississippi (9), North Carolina (11), South Carolina (8) and Texas (8).
According to SACS, central to the accreditation process is the self-study aspect. Each institution applying for accreditation or renewal of accreditation is required to conduct a comprehensive study of its purpose, programs and services. On each campus, faculty, administrators, staff, students, trustees, and others serve on committees that study all aspects of the institution, report their findings, and offer advice on improvement. This process results in a document evaluating the institution's effectiveness in reaching its stated goals and its compliance with the "Criteria."
At the culmination of the self-study, accrediting groups send a visiting committee of professional peers to the campus to assess the educational strengths and weaknesses of the institution. The written report of the visiting committee helps the institution improve its programs and also provides the basis on which they decide to grant, continue, reaffirm or withdraw accreditation.
"Presidents and provosts who are concerned about the amount of accreditation and its associated time and resource requirements need to take a strong leadership role on their own campuses. And, they need to take a leadership role in accreditation of campus as well," said Mr. Werner of the Association of Specialized and Professional Accreditors.
He added that HBCU board members should be encouraged to join accreditation groups and become a part of the assessment committees because their input can bridge the gaps in understanding the role and difference of approach in respect to Black Colleges. On campus, he said, board members need to take charge of accreditation by, first, placing someone in charge of accreditation matters who is thoroughly familiar with the standards of all the agencies that accredit the institution. Secondly, board members should review all submissions of self-studies and reports to accrediting agencies.
"Without that responsibility, knowledge and engagement vested in a university-level administrator, the institution leaves accreditation matters in the hands of deans and program directors who may have very narrow views of institutional priorities. But, while they need to have someone in charge, they can not totally delegate responsibility for accreditation," he said.
Others contend that government should be mindful of the evolving role of HBCUs in American life. While still serving predominate Black student bodies, the enrollment in many of these schools have become more diverse.
"The student bodies of HBCUs increasingly reflect the multicultural demographics of the 21st century," said Cecil N. McKithan of the National Park Service's National Register Programs Division. Mr. McKithan's office is responsible for the preservation of buildings as historic monuments on HBCU campuses.
"That is why the preservation of HBCUs represents the preservation not just of African American heritage, but of our national heritage," he said.
(Michelle Folami Muhammad contributed to this article.)