Rain, hail, snow and earthquakes
Min. Farrakhan issues divine warning, calamities wreak havoc on U.S. cities
by Nisa Islam Muhammad
and Eric Ture Muhammad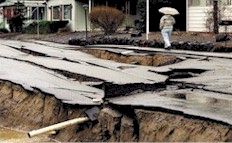 WASHINGTON (FinalCall.com)—He warned the nation to watch the weather and for calamities that would soon engulf America with great intensity. And shortly after the Honorable Minister Louis Farrakhan delivered his Feb. 25 Saviours' Day warning to the world at Christ Universal Temple in Chicago, acts of God were felt in a blistering fury as two major storm systems—a wet one moving through the South and a frigid one coming down from Canada—were on a collision course at Final Call press time, threatening to create a massive snowstorm along the eastern seaboard, the like of which has not been seen since 1966.
According to the National Weather Service (NWS), heavy snowfall blanketed an area from the Virginias to southern Maine with over two feet of snow in areas such as Boston. NWS meteorologist Michael Eckert called the late-winter storm highly unusual in that it represented the combination of two mighty weather systems. "You combine the extreme wetness of the system coming up from the South with the really deep, cold air of the North, and you've got the ingredients there for a major storm," he said.
"That doesn't happen every day," a shocked Paul Kocin, a winter weather expert at The Weather Channel, said of the storm. The weatherman warned travelers and motorists to stay off the roads, store plenty of water and announced area school, government and business closings.
Violent storms damaged dozens of homes in Ocala, Fla., Lake and Marion counties March 4 blowing over trees, pulling up roof shingles, knocking out power for hundreds of residents and temporarily closing off at least one busy roadway.
Almost 60 homes just east and west of Ocala sustained the most damage at about 9 a.m.—almost entirely from high winds and flying yard debris. One area west of the city lost power for almost 10 hours while utility crews scrambled to clear damaged wires and poles.
Heavy rains across the New Orleans area began early March 3, the day immediately after its Mardi Gras celebration, causing minor flooding, closing some streets and trapping thousands of the two million visitors to the city.
Waves of heavy thunderstorms blew through southeastern Louisiana starting about 3 a.m. accompanied by strong winds and lightning. The unexpected heavy rains brought three St. Tammany Parish rivers to dangerously high levels, dropping more than 3 1/2 inches of rain—mostly in the morning hours.
"Tons of water was being pulled from the Gulf and being dumped in the area," said Carrie Wotten, a meteorologist with the Weather Services Corp., which produces The Times-Picayune's daily weather page. "It was coming down too quickly and there was no place for it to go," she said. Across northern Louisiana, floodwaters began to seep over levees, across roads and into homes, where unrelenting rain pushed numerous rivers, lakes and bayous to or slightly above flood stage. Flash flood watches were in effect across the central and northern parts of the state.
Thunderstorms battered inland areas from Mexico to Fallbrook, blanketing counties just south of San Diego, Calif., with an inch of dime-size hail that fell nearly 30 minutes. It stopped briefly and then fell steadily again for another hour, accompanied by thunder and lightning.
Contamination-warning signs were posted at Ocean Beach after a blockage sent 1,810 gallons of raw sewage into Alvarado Creek and San Diego waterways.
Arkansas Gov. Mike Huckabee shook his head in disbelief on Feb. 27 as he stood in the parking lot of Sandstone Church of Christ. The church was a tornado relief center in 1997. Now it is a pile of rubble strewn from its foundation, with parts of the structure cast into surrounding pine trees. Six tornadoes carved through the state Feb. 24-25, leveling houses in 13 counties and killing an 18-month-old child.
"There's just no explanation," said the governor. Bud Harper, director of the Arkansas Department of Emergency Services, described the tornadoes as "wagging their tails."
The state has not been declared a disaster and according to Mr. Harper, the governor cannot sign a declaration until all 13 counties declare disasters. Damage assessment teams with the state Department of Emergency Management criss-crossed the state estimating the cost of damage to public buildings and uninsured homes and property.
Gov. Huckabee extended his stay in Washington, D.C., after that weekend's National Governors' Conference to meet Feb. 26, with President Bush and Joe Allbaugh, director of the Federal Emergency Management Agency (FEMA), about disaster relief for the state. President Bush "does understand how bad our situation is," he said.
Ice storms, recent flooding in the south and tornadoes have taken a huge toll on the state, he said.
"Locusts are next," Mr. Huckabee said, adding that the need for more federal aid is urgent.
Weather matches divine warning
"The Bible says He stored up snow in the north. You haven't seen snow like you are going to see it. You like cold. The Bible says He will bring cold out of the north. It will be so cold that it will freeze your lungs; hail stones the size, not of golf balls, but blocks of ice. "Earthquakes," predicted Min. Farrakhan, during his Feb. 25 address. "You're going to know that God is in the world and He's not to be denied," he said.
It was as if the weather pattern heard a call to cadence as each calamity unleashed practically in the order it was announced.
A 23-mile long, three and a quarter mile wide tornado touched down across several states directly after the Minister's speech carrying torrential rains, hail, lightning and snow. The tornado boasting of wind gusts over 60 mph, ripped through the city of Pontotoc killing at least eight people and destroyed or damaged hundreds of homes. Dozens more were injured.
Mississippi Gov. Ronnie Musgrove left the same governors' conference in Washington the evening of Feb. 25, to see the damage. He declared parts of the county a disaster area and called for federal assistance.
On the colder side of the storm, South Dakota, Minnesota and Iowa authorities closed miles of interstates because heavy snow and 30-mph winds created blizzard conditions.
Minnesota's highway department closed all state highways in seven southwestern counties because snowplows couldn't keep up with the drifting snow. "We're just losing ground all around," said Renard Fritz, Minnesota State Patrol dispatcher in Detroit Lakes. Northeastern Minnesota collected more than 20 inches of snow, including 23.5 at Finland.
South Dakota authorities reopened segments of I-90 the same day as snow crews plowed out drifts and removed stalled vehicles. In Huron, S.D., which has received more than five feet of snow this winter, crews are running out of room to pile the snow.
"The boulevard in front of my house is 5 feet high," city manager Ralph Borkowski said. "The street department guys just can't get the snow up there anymore. They roll it up, and it rolls back into the street. Our streets are getting narrower," he said.
"We had troopers hauling people from stalled vehicles all through the night, and we had several semis blocking the highway," Highway Patrol Sgt. Curtis Blasy said.
Three traffic deaths were blamed on the storm in Minnesota and Nebraska.
Several Missouri counties reported downed tree limbs, closed roads due to flooding—including parts of Interstate 44—and power failures.
In Manhattan, Kansas, a man drowned while his wife and son made it to safety as floodwaters swept their car off a bridge, the Jackson County Sheriff's Department said.
Major quake follows Farrakhan's warning
"In the book of Deuteronomy, the question is raised, 'How will you know when a message is spoken that it is from God?' If what a prophet proclaims in the name of the Lord does not take place or come true; that is a message the Lord has not spoken," said Min. Ishmael Muhammad, assistant minister of Mosque Maryam, and assistant minister to Min. Farrakhan.
"So if the word or the message of that prophet comes to pass, then you know that it is from the Lord. Make no mistake about it! Min. Farrakhan is from God and the word that he spoke, and the proclamation that he gave at Saviours' Day has indeed come to pass," Min. Ishmael said.
The weather continued its role as a witness bearer to the divine power backing Min. Farrakhan, with an earthquake in Seattle, Wash. The reported 6.8 magnitude quake, which hit Feb. 28, caused a reported 250 injuries and substantial damage. Transportation was a concern due to landslides and road failures; state officials said hundreds of thousands of people and businesses were left without power.
"I was in an office meeting when it occurred. I heard a banging and thought it was construction and then the floor began to vibrate. It intensified and then I knew it was an earthquake," said Gov. Gary Locke, during a live interview broadcast over CNN on March 1.
Sen. Patty Murray (D-Wash.) toured the damaged areas with Federal Emergency Management Agency Director Allbaugh, expressing gratitude that injuries appeared to be minimal.
Gov. Locke said on CNN that the damage could reach billions of dollars, "when you calculate not only property damage and the cost of repair but also the economic impact of lost wages.''
Earthquake losses in the United States add up to about $4.4 billion a year when annualized over time, according to a FEMA study. The study, released by FEMA in September 2000, was based on a new methodology to estimate earthquake risk and future losses by geographic area.
The $4.4 billion estimate is extremely conservative and includes only capital losses such as repairing or replacing buildings, content and inventory ($3.49 billion), and income losses—business interruption, wage and rental income losses ($0.93 billion).
It does not cover damage and losses to critical facilities, transportation and utility lifelines or indirect economic losses.
Despite it all, Gov. Locke said state residents were "really lucky."
The center of the earthquake was 35 miles west of Seattle and could be felt as far away as Oregon and Canada. The quake started some 30-40 miles underground which prevented it from being worse, officials said. The earth's crust absorbed much of the shock, according to scientists.
According to a University of Washington seismologist, minor aftershocks were recorded the next day at the same location as the previous quake.
"America, as I speak is under divine judgment. I want you to watch what Allah does inside America. I am His servant, make no mistake about that. I'm not boasting or bragging. I have no power, but the power is with Him," said Min. Farrakhan Feb. 25, speaking via satellite to 100 venues in cities around the country and countless homes. It was his first address since the Million Family March in October and following surgery as part of his recovery from the after affects of prostate cancer treatment.
(Stephen Jackson contributed to this report.)