Barry Bonds talks about race, religion, family
by Saeed Shabazz
Staff Writer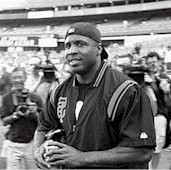 NEW YORK (Finalcall.com)–The San Francisco Giants landed in New York on August 24 for a four game series with the New York Mets. This would be the last time this season that New York would see Barry Bonds, as he tries to hit more home runs in one season than Sammy Sosa and Mark McGwire did a few years ago.
But Bonds is feeling the added pressure of the attacks in the papers and the racism from some fans whenever a Black man approaches a record held by a white player.
A headline in the Daily News Express, an afternoon give-away-paper published by the Daily News company, said: "Hard-to-like Bonds brings show to N.Y."
In the third paragraph of the story the article with no byline says, "He [Bonds] is being portrayed nationally as a player so selfish that his teammates can barely tolerate him."
"Writing something like that is so silly. None of us is perfect, that is why Christ died on the cross for us," Barry Bonds told The Final Call.
"Do they write these things because you are a Black man?"
"Probably, I mean reality is reality," he said. "Is it preventing me from succeeding, no. What they write are individual opinions or perceptions. I turn that light switch off and move on. If you allow stupidity to set you back, that makes you a little bit dumber than them."
Ken Griffey Jr. once said that Barry Bonds had become the "greatest player of his generation." Barry Bonds' domination of baseball started in 1990, when he won the first of three National League Most Valuable Player awards. He also has been selected to the All-Star team nine times, and is the second player to hit 30 home runs in 10 consecutive seasons.
A ball player has to set goals and depend on his inner strength, knowing who you are as an individual, that allows one to accomplish one's goals, Barry Bonds reflected, during an exclusive interview.
Religion plays a vital part of his life, he said, because "I think a lot of the holdback in my life, in not winning a championship, was that I always wanted the championship first, but I will never put that before God again," Barry Bonds told The Final Call.
"If you look at the success that I have had in my later life, it is because I learned to put God first in my life. Baseball is a game," he said.
Barry's grandmother always talked about the importance of God, and so did his parents, he said, opening a door into his private life.
His father, 14-year baseball star Bobby Bonds, and his wife Pat taught Barry and his brother Ricky, 31, to read the Bible. "My father said it is the most powerful book in the world today," Barry Bonds revealed.
"While we are talking about my parents, let me say something else about them," he demanded with a smile. "My parents are not racists, and they did not raise me to be a racist. They always said that there is reality and you must deal with that. But my parents also said that nothing should stop you in today's era from excelling."
"Barry is intelligent and very confident. Some reporters take that as arrogance because Black athletes are not suppose to think," teammate Eric Davis said.
When he responds to reporters a certain way, he is accused of being a racist, Davis said.
Barry Bonds has been bold enough to suggest to the press that there are those who do not want him to break a white man's record, referring to Mark McGwire's record 71 home runs in one season. There is talk that he gets hate mail, just as Hank Aaron did in 1974 when he hit home run number 715, breaking Babe Ruth's record.
"Not much has changed since then," Dusty Baker, the Giants' manager, told reporters. Dusty Baker was a teammate when Mr. Aaron hit number 715. "I get hate mail, too," he revealed. Barry Bonds has said repeatedly that he is not reading his mail.
Hitting home runs is not important, winning a championship is, Bonds admits.
"Let me tell you what else is important," he said. "It is time for the kids to go back to school. In our home it is mandatory that you do homework first before anything else." His son Nikolai, 11, and daughter Shikari, 10, both by an earlier marriage, speak Swedish and French. They will soon take Spanish. "It is important for them to learn other cultures," Barry said, adding that he helps with the homework, although as they get older, the lessons get tougher.
He currently is married to Elizabeth Watson from Montreal, Canada, and they have a daughter, Aisha Lynn. "Fatherhood is a responsibility, but the real key is parenting, and my wife and I work well together," he said.
When he is not talking about his family, he talks about his program, Link and Learn to Minority Schools, that helps children to improve their educational skills level.
"I am also interested in working with other African Americans in buying land and property in our communities, as a way of building wealth," Barry Bonds said. "We as a people need to go forward, and buying back our land is a very good start."
Photo: Barry Bonds
by Saeed Shabazz