Memorial services salute Shaka Sankofa, the fight against the death penalty
---
by Stacey Muhammad
"My father was a strong, educated Black man that I admired very much. Not for the man he used to be but for the man he was when he departed this earth."

Deidra Hawkins, Shaka Sankofa's daughter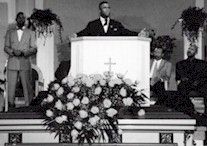 HOUSTON—Memorial and funeral services for Shaka Sankofa, formerly known as Gary Graham, were more of a celebration of his life than a sad event. And while mourners remembered his execution by lethal injection a week earlier, they also vowed to honor his dying request that they continue to work to end capital punishment.
More than 2,000 people attended the June 28 wake and his June 29 funeral attracted another 2,200 people. Mr. Sankofa was buried in a gold-colored casket, adorned in a turquoise and gold African garment.
Sixty yellow roses covered the casket, the Fruit of Islam of Muhammad Mosque No. 45 stood as an honor guard over his body. A slow drum beat echoed through the building, as mourners streamed by to get a final glimpse of the 23rd person put to death by Texas authorities this year. Ironically the same night of Mr. Sankofa's funeral, as activists, religious leaders and his family members denounced the death penalty, another inmate was killed by lethal injection at Huntsville State Prison, the site of Mr. Sankofa's death.
Questions about his innocence, charges of poor legal representation, admitted flaws in the death penalty, Texas Governor George W. Bush's quest for the Republican presidential nomination, and the state's large number of executions made Mr. Sankofa's controversial June 22 execution front-page news. Mr. Bush said Mr. Graham had received due process and access to the courts.
Anti-death penalty forces pointed out that new evidence that could have exonerated Mr. Sankofa was never heard by appeals courts, and even some pro-death penalty advocates conceded that with just a single eyewitness and other questions, there was enough concern to not put him to death. In the end, the execution went forward amid condemnation from local, national and international groups and leaders. He was put to death for the 1981 murder of Bobby Lambert outside of a Houston supermarket. In his final statement, Mr. Graham apologized for a crime spree that landed him in jail at age 17, but said he did not kill Mr. Lambert.
Several ministers and community activists paid tribute to Mr. Sankofa's life during memorial services. State Representative Al Edwards (D), activist Ada Edwards, Communist Party leader Travis Morales, Quannell X of the New Black Muslim Movement, Howard Jefferson of the local NAACP chapter, Gloria Rubic and Joann Gavin of the Texas Death Penalty Abolition Movement and Tonya McClary of the National Coalition to Abolish the Death Penalty were among the speakers. Richard Burr and Jack Zimmerman, Mr. Sankofa's attorney and others also spoke.
Written tributes came from actors Danny Glover, Ossie Davis, Ed Asner and Susan Sarandon, South Africa's Archbishop Desmond Tutu and former death row inmate Rubin "Hurricane" Carter. Letters of tribute were also sent by German, Italian and Australian coalitions to abolish the death penalty.
A three-minute video presentation highlighting Mr. Sankofa's life and protests calling for halting his execution were shown to thunderous applause.
During June 29 funeral services, Kofi Taharka, of the National Black United Front poured an African libation before an Islamic prayer by Min. Eric Muhammad of the Nation of Islam and a Christian prayer by Pastor Kirby John Caldwell at Northwest Community Church. A nun, Sister Jean Amore, and a priest who represented the Catholic Diocese for the Houston-Galveston area also offered prayers.
With Mr. Sankofa's mother Elnora Graham, sister Brenda Lee Graham Davis, daughter Deidra, brothers Kenneth Stokes, Jonathan and Michael Graham and step sister Dorothy Hawkins listening, speakers talked about Mr. Graham.
Rev. Herbert Daughtry of New York spoke on the "meaning in a name," explaining how Gary Graham chose the name Shaka Sankofa. He chose "Shaka" in honor of the great South African warrior Shaka Zulu and "Sankofa" means to go back to the past and bring to the present, Rev. Daughtry explained. The name represented linking the current struggle against capital punishment with the historical struggle Blacks have waged for freedom, justice and equality, Rev. Daughtry said.
Activist and attorney Ashanti Chimurenga reflected on the life of Shaka Sankofa by reading letters he had written her about his children and parents.
There were emotional and tense moments at both services, when Atty. Chimurenga and others questioned why some pastors and leaders, who did not speak out during the campaign to save Mr. Sankofa, were seated on the dais, or spoke.
In his letters, Mr. Sankofa expressed hope that his children would not have to endure the same struggle that he endured, said Atty. Chimurenga. He had children Deidra and Gary Hawkins before he was incarcerated. His son, 20, currently faces murder charges and a possible death sentence in connection with a shooting. His 19-year-old daughter never touched her father physically until his body was taken to a funeral home, where she kissed him goodbye and closed his casket.
"My father was a hero, he will be missed very much by Debra, Gary, Brenda, Elnora and me. But this is not a time for sorrow, but a time to keep the fight going. Because I know that is what my father wants. They took Shaka's life, but his spirit lives on," wrote Deidra Hawkins of her father in the funeral program.
"I promise you we will continue to work to clear his name," said Min. Robert Muhammad, southwest regional minister of the Nation of Islam, and Mr. Sankofa's spiritual advisor for the last seven years. Min. Robert's theme was "the struggle continues."
Disunity and the inability to galvanize more support contributed to Mr. Sankofa's death, said Min. Robert, who argued more activism and participation from the Black community might have kept him alive.
Mr. Sankofa's final statement asked for a united effort to end the death penalty and that wish must be honored, Min. Robert added.
Rev. Jesse L. Jackson, Sr., gave the eulogy, asking the crowd to support a House bill that calls for a national seven-year moratorium on the death penalty, introduced by Rep. Jesse Jackson, Jr., his son, and other lawmakers.
The enemy can't lock up faith, the struggle to end capital punishment must go forward, Rev. Jackson said.
The funeral service closed with a song. Then with uniformed members of the Fruit of Islam on one side and the New Black Panther Party, led by Dr. Khallid Muhammad, on the other, the casket was carried out.
The honor guard carried the casket to a waiting hearse, then on to a nearby gravesite at Paradise North Cemetery. The day ended with brief prayers, as the casket was lowered into the ground.
In prison, Mr. Sankofa learned to read and write, earning his GED and paralegal certification. He also co founded a prison organization and newspaper, The Endeavor Project, which were devoted to abolishing the death penalty, exposing penal system injustices and advocating for the liberation of Black people. By the end of his life, he had also written a soon-to-be-published book, "The Evolution of Shaka Sankofa."
Minister Robert Muhammad addresses overflow crowd at Rev. James Dixon's N.W. Community Baptist Church in Houston.