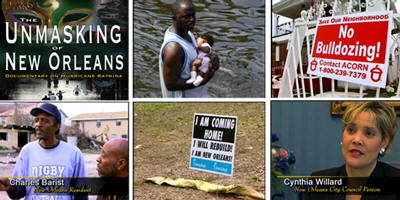 <![if !vml]>

<![endif]>he provocative documentary The Unmasking of New Orleans, produced by Final Call Incorporated (FCI) Broadcasting, includes exclusive, never-before-seen coverage and reports revealing the true nature of events in New Orleans before and after Hurricane Katrina.
The ongoing struggle of the survivors of Hurricane Katrina is being swept away from the minds of the public as swiftly as the floodwaters washed away properties and lives when the levees breached. Is there truth to the numerous reports of rapes and murders? Who is going to tell the story of the heroic acts of the young men and women portrayed as senseless looters by the mainstream media? It is important to obtain the truth.
The Honorable Minister Louis Farrakhan commissioned a crew from The Final Call newspaper to travel to New Orleans and film this documentary about the conditions and concerns that many New Orleans' residents face since Hurricane Katrina, which the world must not be allowed to ignore, as we approach the one-year anniversary of what is the worst natural disaster in U.S. history.
Included in the documentary are insightful perspectives from New Orleans Councilman Oliver Thomas, Author Michael Eric Dyson, community activist 'Mama D' and many others.