Sharpton calls on U.S. leadership to solve the civil war in Sudan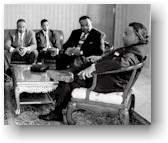 CHICAGO (FinalCall.com)—Fresh from a brief fact-finding mission to the Sudan, the Rev. Al Sharpton called for a meeting of a broad spectrum of leadership to "get to the bottom" of what is fueling the civil war in that east African nation, and what are the facts behind accusations of slavery there.
The outspoken leader made the announcement following an April 20 briefing on his findings to Nation of Islam Chief of Staff Leonard F. Muhammad at Mosque Maryam. During a separate meeting, he presented his findings to Rainbow/PUSH leader the Rev. Jesse L. Jackson.
"It is important that our people understand that when we hear about any kind of atrocity, particularly in our homeland, we have a responsibility to check it out for ourselves and come back and give our best information. We also must see these issues in the broadest context," he said.
Rev. Sharpton said that during his three-day stay, he witnessed the misery suffered by African people as a result of the civil war and that he talked to people who said they had been enslaved. He said the slavery issue was across the board, indicating that he was told of instances of servitude existing between Muslims from the north over Southern Christians and animists. He said he was also informed of instances of forced servitude by rebel groups in the south and instances where ethnic and tribal clashes lead to cases of forced servitude.
"There are those who want us to feel that the situation in Sudan was one way when it's much bigger than that. And at the same time there are those that want people to feel we will ignore some things that our people were able to be duped into. We're not going to do either. We're going to be against slavery no matter who are the slave masters, the slave traders or who are the slaves. We're also going to do it in the right context," he said.
The issue of Muslims enslaving southern Sudanese and Muslim-dominated slavery in Mauritania has been a hotly-debated topic in the mass media and on radio talk shows for several years. Some Christian groups—like Christian Solidarity International, the group that invited the Rev. Sharpton to travel to Sudan to witness a slave purchase—have adopted a policy of purchasing alleged Christian slaves from Muslims in southern Sudan. Some of these transactions have been documented on television and in print.
However, such purchases have been criticized by human rights groups who allege that the practice only fuels more activity.
While the Bush administration has not established a policy toward Sudan, he is being pressured to sanction the nation and those companies, particularly the oil industry, that do business in Sudan.
Sudanese officials on various occasions have rejected the charge of slavery.
"I did not get the impression that this was just a sectarian—Muslim against Christian—thing," observed Rev. Sharpton, adding that he wasn't there long enough to draw conclusions on any of the charges. "This is based on civil war. There are those who are using this to go through Islam bashing or Christian bashing. It's about civil war, and we need to deal with it as such."
Secondly, according to the New York-based activist, the issue of how corporations are fueling the conflict in order to exploit southern Sudan's resources, particularly its oil, must be fully examined and exposed.
"All of these people are doing business in the Sudan and Mauritania and nobody's sanctioning them," Rev. Sharpton said of western oil corporations. "Everybody has this Muslim/Christian argument, when there are other people making money off these slaves."
Chief of Staff Leonard Muhammad told The Final Call that the entire continent of Africa is in a certain level of servitude when it comes to being able to harvest its natural resources and offer them on the world market at a price that governments can get a return so they can feed their people.
"The question is, what is the role of the multi-national corporations in the outright economic rape of Africa?" he said.
"Africa needs a friend. The first friend she needs is African leaders with an enlightened self-interest. When we talk about slavery, we must also talk about the American policies that are poised against Africa that disallows her a future. What's the difference between being a slave with no future and a so-called freed African with no future because of the foreign policies of American and European governments?" he asked.
Kathy Vandergrift, a spokesperson for the human rights group World Vision Canada, said in a Canadian news report that if nothing is done about oil revenue in Sudan there will be no incentive for stopping the war.
Citing IMF documents, she said that since oilfields started operating in 1999, military spending has doubled to more than $300-million and 130,000 people have been displaced from areas around the oilfields by government troops.
"The revenue from oil is not being used for development purposes. Investment in agriculture has not increased significantly and we're facing another famine for up to 600,000 people in Sudan," she said.
Citing a pledge by Talisman Energy Inc., a Canadian oil company drilling in southern Sudan, and a company that Rev. Sharpton criticized, Ms. Vandergrift said, "Talisman said a few years ago, 'This is going to be a big benefit.' Well, that isn't the way it's turning out."
—James G. Muhammad
Photo: (L-R) Atty. Lewis Meyers, Final Call Editor James Muhammad, Nation of Islam Chief of Staff Leonard F. Muhammad and Rev. Al Sharpton meet in Chicago.