Carter's trip to Cuba reignites embargo debate
by Eric Ture Muhammad
Staff Writer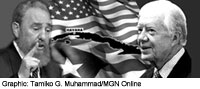 WASHINGTON (FinalCall.com)—Former President Jimmy Carter became the first U.S. head of state in nearly 75 years to visit the Caribbean island nation of Cuba. His nine-member delegation traveled at the invitation of Cuban President Fidel Castro and to the faint praise of a Bush administration.
From May 12-19, Mr. Carter, representing the Carter Center, a nonprofit, non-governmental agency that he co-founded with his wife Rosalynn in 1982, toured neighborhoods, schools, medical and psychiatric centers, AIDS/HIV sanatoriums and agricultural centers. He also met with government officials, religious groups and held two notable meetings with Cuban dissidents.
The events that gleaned the most criticism, however, occurred after Mr. Carter's visit to Cuba's Biotech Institute (Centro de Ingenieria y Biotecnologia) and his unprecedented, uncensored Spanish-spoken address to the Cuban people via national radio and television.
Mr. Carter told the Cuban people that their government should adopt democratic principles such as freedom of assembly and the press and improve their human rights record. The United States, he declared, should improve U.S.-Cuba relations by removing travel restrictions, opening trade ties and repealing the 43-year-old U.S. embargo.
The Biotech facility has been the center of controversy since the May 6 accusation by State Department official John Bolton, who labeled Cuba a "limited" producer of biological weapons technology and an exponent of world terrorism during a speech before the conservative Heritage Foundation. Mr. Carter questioned the timing of the allegations and said neither the White House, State Department nor intelligence officials mentioned the allegations to him during meetings before he left the United States.
Approximately six months earlier while addressing the Convention on Biological Weapons conference in Geneva, Mr. Bolton made no mention of Cuba as a source of concern to the United States as potential biological weapons producers.
"These allegations were made, maybe not coincidentally, just before our visit to Cuba," Mr. Carter told President Castro and Cuba's leading scientists during his visit to the Biotech facility. "I asked them specifically on more than one occasion if there was any evidence that Cuba has been involved in sharing any information to any other country on Earth that could be used for terrorist purposes. The answer from our experts on intelligence was 'no'," he said.
Mr. Castro vehemently denied the allegations of terror links and biotech capabilities, calling them lies of "Olympic-size" proportions.
"The idea of destroying Cuba, an obsession that has lasted more than 43 years, has led and still leads U.S. policy down a tortuous path filled with lies, mistakes, failures and crimes," Pres. Castro, 76, fired back in a public address after his government challenged the U.S. government to provide evidence of their allegations.
Both the White House and State Department spokesmen said the accusation against Cuba is not based on assumptions but on confidential information about the biological and chemical potential of the Cuban pharmaceutical industry.
This accusation took not only the international community by surprise, but Congress as well because several proposals to relax Washington's Cuba policy are being analyzed on Capital Hill.
Still, America remains divided over the aims, successes and failures related to the embargo. Lawmakers continue to debate its relevance while the Bush administration has announced its plans to step up the sanctions. Armed with an administration review of U.S. policy toward Cuba, penned by Mr. Otto Reich, U.S. assistant secretary of state for Western Hemisphere Affairs, Pres. Bush intends to increase aid to help bolster Cuban dissidents in hopes of toppling Mr. Castro's four-decade reign and increase efforts to ensure that U.S. government broadcasts get to the Cuban population.
For Blacks, lifting of the embargo could have a great impact. Though the possibilities of this happening under Mr. Bush appear unrealistic, there were times during the Reagan years it looked promising.
"I saw this trip by President Carter as an opportunity to open dialogue with Castro over a multitude of issues," political analyst Dr. Ron Walters told The Final Call. "America now sees beyond the resentments and views formed during the Cold War. Americans now see hope on the horizon and Pres. Bush should punctuate that hope by abandoning the already failed embargo.
"The U.S. obsession with Cuba stems from the expulsion of mafia and U.S. capitalists during the Cuban Revolution (1959). The mafia and U.S. corporations owned Cuba and (the island) served as an extension of its corruption prior to their expulsion. The Cuba Missile Crisis further intensifies this, and the relationship Cuba enjoyed with the Soviet Union before their fall. Now that the Cold War is over, the only thing left is resentment," Dr. Walters explained.
"For Cuba, the Carter visit signifies that they are in charge of their government and not afraid to let someone who will be objective to come and look," said Viola Plummer of the December 12th Movement. "A political education in terms of Blacks here relating to a truly independent country—one that respects its history and relationship to Black people and Africa—would give greater meaning to our struggle here."
Ms. Plummer pointed out that Blacks and their leaders primarily are wedded to the Democratic Party. Thus, debate over the embargo may eventually drift into the Black community being that the trip reflects a political eyesore to right-wing interests and the Bush administration.
"Carter is an operative of multinational corporations. It's the multinational corps that know [U.S. Cuban] policy is flawed," Ms. Plummer said. She also noted that Mr. Carter's insistence on lifting the embargo exposes the U.S. economy's need for a new market.
Political analysts maintain that some of the president's moves are connected to his desire to further ingratiate himself with the Cuban exile community as his brother, Florida Gov. Jeb Bush, seeks re-election this year.