The Final Call |
National News
Family Matters
By
Starla Muhammad
-Assistant Editor- | Last updated: May 29, 2014 - 7:57:50 AM
What's your opinion on this article?
Uncompromising love: The amazing capacity of Black women to embrace, nurture children through adoption and foster care

   This is the conclusion of a two-part series on Black women, their capacity to love and nurture children through formal and informal adoption, challenges facing Black children in the foster care system and the critical need for the Black community to foster, adopt and take care of Black children.
   In part one, Vol. 33 Issue 32, Wanda Muhammad's husband Alec was incorrectly identified in the story and Bercola Kamaliyah's son Khaleeq was spelled incorrectly. The Final Call apologizes for the mistakes.
There is a grim reality when it comes to Black families formally adopting Black children said Paula Muhammad, a social worker for 15 years in Charlotte, N.C. Most children are adopted from within the U.S. foster care system, but not enough Black families are licensed foster parents she pointed out.
"What we have seen is that in the Black community, we don't have enough Black people registering even to become foster parents," Dr. Muhammad who holds a Ph.D. in Education with an emphasis on behavioral health, told
The Final Call
. It is a nationwide trend, she said. "There is a dire need to get Black children adopted she added.
Of the Black children adopted in the U.S., 35 percent are adopted via the foster care system, 25 percent through private adoption and three percent are adopted internationally, according to the Department of Health and Human Services. DHHS figures from 2011 indicated that of the 400,540 children in U.S. foster care, 109,775 or 27 percent are Black. According to the U.S. Census, of the over 1.5 million households that reported having adopted children 18 and under in their household between 2009 and 2011, 250,000 or 16.1 percent of those children adopted were Black. This number does not include children who are Black in combination with another race. 
On April 30, President Barack Obama proclaimed May, National Foster Care Month. "While the number of young people in foster care has fallen, those still there face many challenges, including finding mentors to guide their transition into adulthood and getting the support to make that transition a success. One third of foster children are teenagers in danger of aging out of a system that failed to find them a permanent family, said the president. National Adoption Day is in November.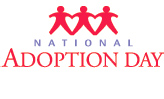 "We have a need for Black, younger babies to be adopted, ages from birth up until maybe four years old. But after that, especially from the ages of 10 all the way up, those children usually age out of foster care," said Dr. Muhammad. Aging out means placing a child back with their family is no longer an option and parental rights have been terminated she explained. 
But, nationwide, there are Black women, who have refused to allow Black children to fall by the wayside, and have through formal and informal adoption and foster care, taken in and raised Black children as part of their families
We are family
Katrina Small and David, her husband of 30 years live in Heth, Arkansas, and decided to become foster parents because they had a spacious home. One of their first foster children, a seven month old baby boy had just been released from the hospital and needed placement. He had an intestinal condition which the couple had not been told about.
"When they were saying I was getting a baby that was just getting out of the hospital, I'm thinking, Oh he's well then, they're releasing him from the hospital, he's OK," said Ms. Small. That was not the case.
"When I laid eyes on that little boy, I promise you I thought he was going to die. I was afraid to go to sleep that night because I thought he was going to pass away that very night," she added. He was being fed through a tube.
That was in 2001. Today their son Conrad, now 13 is the light and joy of their lives. They legally adopted him when he was 8.
"I knew God was real, when he made it that night. Every time I look at him, he's 13 years old now and I know God is real, every time I lay eyes on him. If I'm ever in doubt or something I get on the negative side, of things or anything, I just look at him," Ms. Small, also the mother of two adult sons, told The Final Call. 
During the Million Man March, in 1995, the Honorable Minister Louis Farrakhan called on Black families to adopt Black children. Hundreds were adopted. Many families, Muslim and non-Muslim, saw the need then and now, to follow suit. Several members of the Nation of Islam have adopted children into their families. 
Business woman, nurse and educator, Jennifer A. Muhammad and her husband Richard live in Tempe, Ariz. and are the proud parents of two adopted children.
But 19 years ago, the couple who then lived in Illinois, took in and cared for a baby boy whose mother was giving him up for adoption.
"It wasn't something we were diligently pursuing at the time, other than a need arose. Here was a young woman with a child that she is unable to care for. She was doing the intelligent thing looking for a family to embrace the child. So that's what we did. We stepped forward as the couple to adopt the child." The couple made the decision if the biological father ever stepped forward for custody, they would not stand in his way. After five days, he did, and Jennifer and Richard Muhammad gave the baby, whom they had already named, back to the birth mother, who in turn gave him to the biological father.
It was heartbreaking but the couple then decided to officially seek adoption to add to their family.
"Our son, who we ultimately did adopt, was born the same day, in the same hospital as first son that we had called ourselves adopting," said Jennifer Muhammad.  
They were one of the first families after the historic Million Man March to officially adopt as a call from Minister Farrakhan, she added. Shortly after adopting their son Christopher, now 19, they adopted their daughter. Khaleelah, who is now 18.
Adopting was a combination of meeting a community need and stepping out on what the Minister called for the nation to do, said Mrs. Jennifer Muhammad. 
"The greatest reward is just being able to be there for two people who otherwise could not provide for themselves and being blessed with the resources to be able to be there and guide them with the knowledge and understanding of our Islam," she said.
But it is also not without challenges. Normally people can look at their children's behavior, personality traits and temperaments and connect it to a biological family member. With an adopted child, it is not that clear.
"Temperament is innate so it's something they're born with as a combination of the birth parents. Not knowing their birth parents, you don't know where this child is coming from," said Jennifer Muhammad.
Mrs. Small said she always felt Conrad was a part of her family but taking in a child with medical issues also presented challenges.
"It was hard for me to get through everything he went through, to get to where he is today," said Mrs. Small. It was very emotional, but well worth it. Mrs. Small said adopting a Black child with special needs could be a rewarding addition to Black families.
"They just don't know what a child will bring to them. He brought a lot of love into our home. Even though children may have disabilities or something, they get better. I believe that he is the healthiest now that he has been in his life."
Navigating systems, facing hurdles
The economy has a big impact on Black people adopting Black children but there is no need for that to be a barrier, said Dr. Paula Muhammad. 
"If you adopt we can't say that money is the issue, because when you adopt you do get the adoption assistance for the rest of the child's life, until they're 18," said Dr. Muhammad. There is also a national program that will help send adopted children to college and other adoption assistance, she said. There are adoption fairs and conferences available as well.
Understanding and working through state systems that regulate foster care and adoptions can also be intimidating to some people she added. The extensive background checks which are in place for the protection of children that may be placed in a home are required for everyone that lives in the household.
Wanda and Alec Muhammad adopted two boys, now ages 4 and 9 and had a frustrating experience within Florida's adoption system, partly because they were non-relative care givers and were not registered foster parents. But when the boys' biological mother, who the couple knew, was no longer able to care for them, they knew they had to step forward. But it was a trial.
"We didn't know what the process was because I wasn't a foster parent. I pretty much had worked in the system as far as child care, so I knew some of the rules. But it was a totally different story when I went through the process," Mrs. Wanda Muhammad told The Final Call. The couple is also members of the Nation of Islam.  
When you go through the system and are in it, you actually see more, she added. The couple experienced having documentation misplaced multiple times and other frustrating delays. 
Navigating the system many times has to do with whether or not one is a registered foster parent or not. As a foster parent, you are already in the state system with records on file so it makes adopting a less tedious process explained Wanda Muhammad. 
But the reward of formally adopting their youngest children made it all worth it, she added.
Bercola Kamaliyah of Chicago is single, but that did not stop her from adopting her children Adrianna, 4 and Khaleeq, 2 1/2. She took the required classes through the state and sought advice and counsel from close friends and family. November 10, 2011 is a day she will never forget; as that is the day she received a call that a newborn baby boy was available. She was nervous.
"When they took me into that room to see him, to see him smile at me, it brought just tears to my eyes. It immediately felt like I just gave birth to this baby … and he looked like me!" said Ms. Kamaliyah. Though she also always wanted, "a little Bercola," the transition with her daughter who she adopted when she was 1 1/2 was more challenging.
"She needed a lot of love when I got her. I had to show her that she shouldn't have to be afraid anymore. It was rough at first. But once she sensed that she could trust, the transition went smooth," said Ms. Kamaliyah.
Fulfilling a need
The benefits to children and adults when Black families adopt formally or informally are plentiful.
Kendall and Kennady Bob, the nieces of Final Call National Correspondent Charlene Muhammad were raised by their grandmother, Aunt Toni Vernon and extended family after the death of their mother when they were six. Both girls, who are now 19, acknowledged the benefits of adoption for everyone and said they are grateful it was family who took them in.
"Immediately after her death and prior to, we were surrounded by people, everyone that loved us and there were so many mother figures in our lives, it's hard to say we were ever motherless in any kind of sense," said Kennady Bob.
When asked what adopting her children has taught her about herself, Jennifer Muhammad did not hesitate with a response.
"That I am an amazing Black woman and there is nothing that I cannot do once I set my mind, heart and spirit to it with Allah's guidance." 
Black family advocates contend that Black families adopting and fostering Black children address a critical societal need, one that Black women have both demonstrated and embraced. But more, is needed, they pointed out.
Our children need us, said Dr. Paula Muhammad. "It should not be that when a child comes into Department of Social Services, comes into foster care that we're placing them into White homes because those are the only homes that are available because we don't have enough licensed (Black) foster homes to place these children," she added.
(Charlene Muhammad contributed to this report.)