The Final Call |
National News
Real Love and God: The Root of Real Family
By
Eric Ture Muhammad
-Contributing Writer- | Last updated: Aug 30, 2017 - 11:41:03 AM
What's your opinion on this article?
Minister Farrakhan calls for 'perfect family in harmony with family for all families'
ATLANTA—
"Only God can bring us all together and make us one," said the Honorable Minister Louis Farrakhan concluding a three-day, first Family Summit Conference at the Sheraton Atlanta Hotel at the invite of the Healthy Relationship Initiative, The Winning Circle, Young People in Action International and the Center for Strong Families.
"Jesus couldn't do it. He was 2,000 years too soon. Prophet Muhammad wanted to do it. But he was 1,400 years too soon and his followers became corrupted, so they can't do it," Min. Farrakhan said  Aug. 27. "So, the Mahdi (Master Fard Muhammad), came to us. And out of my love for my Messenger Messiah (Honorable Elijah Muhammad); look at this family. Many colors, coming from many different perspectives. But we are one family because God is at the root of our family."
The Muslim Minister delivered his address to more than 2,000 attendees and untold others worldwide via live streams and internet webcasts.
In a little over two hours, Min. Farrakhan shared with the audience Allah's (God's) intention for perfection and how for trillions of years, this desire for a perfect family unit was at the very core of God Himself. "He who originated life. He who originated family. He who is the origin of all the tribes and all the families … his greatest desire is to see all the tribes, all the families become one great nation of righteousness and peace."
He spoke of the coming of Mahdi or Guide, Master Fard Muhammad, the teacher of the Hon. Elijah Muhammad, and fulfilment of prophecies in the Bible and Holy Qur'an. The 84-year-old Minister acknowledged the coming of Mahdi to rectify our condition as a people, but more than that, the Mahdi chose us, Black people in America.
"He came to choose us as the foundational stone of a universal government of peace. He came to make us the cornerstone of a nation that will never see an end. He came to perfect the Creation of God. He came to perfect the God. But from the very origin of God, He yearned for perfection. He created the heavens and the earth … but He knew as He set things in motion and became Rabb Al-Alimeen (Lord of all the Worlds); he knew that He was the origin of the existence of things and the origin of the law of evolution. And the origin of the stages of each creature and creation's evolutionary development. But the law of evolution was moving everything toward perfection," he said.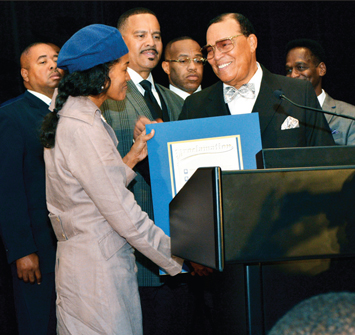 The Minister composed his words, as if perfectly weaving a beautiful fabric, and he wooed the audience with his command of anecdotes and the wisdom of his teacher, the Most Honorable Elijah Muhammad. He alternated through passages of the Bible and Holy Qur'an, cited the romance languages of today's world while offering examples of the vibrant examples found in nature to accentuate his point that God desired one great nation of righteous splendor. He spoke of perfect love. Not only how it's recognized, but how to perfectly fall into it.
"I thought what the Minister had to say today was very timely about the family and what that means," summit attendee Vincent Nzinga told The Final Call. He traveled to the conference from New Orleans. "The Black community has come back to the basics. The respect for our women, as he certainly talked about and men having to be men to make this a better world for all Black people. I really thought it was nice, how the Minister associated himself as a woman. I thought it was revealing in trying to get his point over. If you are going to be a help-meet, as he was to the Hon. Elijah Muhammad, the same (principles) is in men and women relationships," he observed.
The principles include devotion, duty, fidelity and a desire to produce for the man that is loved.
A new man, a perfected man, a perfect being
"It is written of him in the scriptures of the Bible … a man would be born who would use the personal pronoun I," Min. Farrakhan said. "God uses 'I' and then God uses 'we.' But we are taught that there is only one God and He has no associates. But wait a minute," he paused. "If there is a we involved God is associating with someone."
The "we" styled in scripture is not an associate god but part of God's evolutionary law of creation, working out of one mind. Nothing is independent of God, he stressed. "The 'we' act as one. The 'we' are of one accord. The 'we' functions from the spirit of the one. But the one He willed into existence said, 'Behold, look, listen: Behold, I will make all things new. There will be a new heaven and a new earth and the former things shall pass away,' " the Minister said. "But there cannot be a new sun, a new moon and new stars, until we first make a new man."
A new man for the world was required out of God's desire for perfection, he explained.
It would be a perfect being under the name Jesus, who the Minister said, could say to his disciples, "Be, ye perfect even as your Father in heaven is perfect. So He, set in motion that next evolutionary course, that would lead man to perfection. And from a perfect man, He would produce a perfect world."
"From a perfect man, He would have to perfect the nature of man. In perfecting the nature of man, it would cause the perfection of everything that comes from the nature of man. So, he had to perfect, the so-called religion of man," the Minister explained. "  'Cause what you call religion, all of it, has failed."
"Poor Jesus, he was the last prophet to the Jews and they rejected him. So, he told them, when He's come, the Spirit of truth; he would guide you into all truth. So, we are looking for a man. We are not looking for a spook or spirit, we are looking for a man whose truth opens the eternal door to knowledge unlimited.
"How close are we to perfection?" the Minister asked. "So, there's going to be a perfect family. As the perfect foundation to a perfect world. There has to be a perfect man to unite with a perfect woman. To produce a perfect family, that is so in harmony with the nature of God and the nature of their own creation that they would produce an exemplary family as the base of the unity of all families. I thank Allah, for His Merciful intervention. I thank Him," declared the Minister, "for wisely choosing the Honorable Elijah Muhammad. I thank Him for my mother and my father. I thank Him for that womb, that God could work in that womb and produce the perfect helper for a perfect guide. All Praise Is Due to Allah."
The Minister said the Hon. Elijah Muhammad told him that Master Fard Muhammad would climb a mountain 40 miles high to save one and would eat rattlesnakes to free Black people. "Brother, do you know what it means in the scripture where it says that Jesus fasted in the wilderness for 40 days … brother it means that I was not permitted to make a convert to myself in 40 years," he said on reflecting a conversation with the Hon. Elijah Muhammad. The kind of help Mr. Muhammad was looking for after 40 years was "one that would loosen the knot in (Elijah Muhammad's) tongue. Meaning make clear the message … so that a fool would find it hard to make a mistake."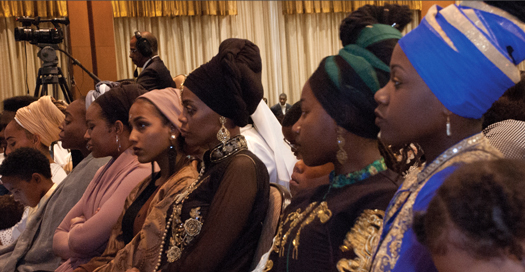 The Minister then described the connections between the perfect love, complete love Elijah Muhammad had for his teacher, the Mahdi. Their love produced me and my selfless love has produced a nation that longs for what the Hon. Elijah Muhammad taught, said Min. Farrakhan. My love began as adoration of Elijah Muhammad and as I fell more and more deeply in love with him, my works proved my love, the Minister continued. Describing himself spiritually as a woman in a divine relationship with a divine teacher and servant, the Minister offered his example and life's work as instruction on how a woman should chose a man—and encouraged males to join the Fruit of Islam (F.O.I), the men who are wedded to this teaching and truth, to learn what is and how to be a man.
"I feel honored to be in the presence of God's chosen one," said Michael Muhammad of Yuma, Arizona. "When he spoke about his personal conversations with the Hon. Elijah Muhammad, I reflected it was one god speaking to another. I am blessed to be a part and understand without worshiping them."
Summit convener Ati Hamid Cushmeer, a wife and mother herself, briefly introduced Min. Farrakhan, by thanking Allah, the ancestors, her parents, siblings, husband and children for contributions to her journey over the years. She referred to the Minister as "truly, someone you can truly tell the time by. We were originally slated to have this in Texas, this very same weekend," she told the audience. That same weekend Hurricane Harvey wreaked havoc in Texas and was causing major damage and  costing millions of dollars. "And we were about to sign the contract and the Hon. Min. Louis Farrakhan; we got a call from his office: Not coming to Texas," she said. "So, we said okay, we are not going to do it in Texas. … We are here and if we were in Houston, we would be in a hurricane."
She read a proclamation from a Fulton County, Ga., political leader declaring Aug. 25-27, 2017 Family Summit Conference Weekend. The organizers presented the proclamation to the Minister, who respectfully asked that the document remain with them for it was their exemplary work that made the weekend possible.
(Michael Z. Muhammad contributed to this report.)