The Final Call |
National News
'We Need Minister Farrakhan In This Country!'
By
Starla Muhammad
-Managing Editor- | Last updated: Aug 16, 2017 - 10:14:18 PM
What's your opinion on this article?
Black activists in the United Kingdom are vowing not to be silent and are preparing to fight against what they argue is a blatant assault on the rights of that country's Black citizens to decide their own destiny and determine for themselves who they have a right to listen to and seek guidance from. And Blacks in the UK, want to hear from the Honorable Minister Louis Farrakhan of the Nation of Islam.
These sentiments were expressed in the aftermath of a decision to prohibit a videotaped message by the beloved leader from being broadcast during the African International Day of Action, a cultural gathering to promote unity and upliftment. The event was co-sponsored by the Rastafari Movement UK and the Nation of Islam's London mosque and was held at Kennington Park. 
After months of planning, promoting, organizing and securing the required permits for the Aug. 5 event, the Lambeth Council, a locally-elected body similar to a city council, notified organizers of the restriction the night before the event. The restriction not only included Min. Farrakhan's special message but also prohibited Nation of Islam European Representative Abdul Hakeem Muhammad from speaking. His parents are from Jamaica, but Mr. Muhammad is a UK citizen, born and raised in Great Britain. Neither he nor any other Muslims from the Nation were permitted to speak or even distribute literature at the event they co-sponsored, helped organize and incurred costs for.
The UK government has had a ban on Min. Farrakhan for 30 years in which he is physically prohibited from coming into the country. This latest interference has stoked the ire of many residents, said local activists.
"I think that the Lambeth Council decision to prevent the broadcast from Minister Farrakhan was a silly exercise in the kind of differential treatment that British Black folks get over here all the time. It reflects their ongoing racism, is reactionary and their denial given the diversity and make up of Lambeth borough makes no sense whatsoever," said Lee Jasper, a longtime UK activist and founder of BlakSox, a community mobilization organization.
"It shows you the obsessional hatred that the British government and in this case a local authority has for Minister Farrakhan," he added.
Hughie Rose, co-founder of Manhood Academy, a UK-based mentoring organization, was present when Min. Farrakhan last addressed the UK by video in 2002. There were no restrictions on the video broadcast back then, said Mr. Rose. "I find it a bit strange that they did it on this occasion and sadly enough, we've got 17 African councilors … so they must have known what was happening and it didn't seem that none of the African councilors rejected or opposed what Lambeth was actually doing. They co-signed on it and that's never, ever been done on an African that wants to address an audience in the UK. Even White people wanted to hear what the Minister was going to say," said Mr. Rose who is also a member of the New Black Panther Party.  Blacks must begin to control their own communities putting them in a better position to influence, challenge local politicians and exercise their rights and freedom as citizens, he said.

What happened has been a topic of conversation among Blacks here, said Mr. Jasper.
Most view it as a tremendous violation of their rights for the council to execute the decision and believe it was authorized with the knowledge or approval of the office of the Home Secretary, he explained.
"People are saying, 'Where are we living now, are we living in North Korea?' Is there some provision that requires the silencing of every Black voice because Black leadership in the United Kingdom and in Europe more generally are under atrocious attack?" added Mr. Jasper.
It is holiday season in Great Britain so many of the politicians are out of the country until the end of August but Mr. Jasper hopes upon their return some of the Black members of parliament, some of whom have been the victims of racist attacks, will not be intimidated and will address the Aug. 5 incident as well as the decades-old ban on the Minister.  The Final Call contacted communications officials with the Lambeth Council but received no response.  
Even U.S. Congressman Danny K. Davis (D-Ill.) was surprised by the news. "It's unfortunate that a country would deny opportunity to openly and freely participate, to an individual like Minister Farrakhan. Of course, I'm the person who got the permit twice for the Million Man March to use the Capitol grounds so that kind of speaks directly to what I think his messages are and what I think his messages are about," said Rep. Davis.
"Some of the feelings and positions that countries take are based upon sometimes their own awareness of what freedom is and take the position that freedom can be defined in terms of what it means to them and not so much to what it means in a broader kind of way," he added. Rep. Davis said a member of British parliament recently completed a weekend of shadowing with him as part of a program to learn more about the U.S. political structure.
"One of our closest allies as a country has been Great Britain and so I'm a little bit surprised and perplexed and will actually make an inquiry relative to the rationale for the position and try and better understand it in terms of why they would take that position."
Rep. Davis said he planned on looking into the UK matter concerning Min. Farrakhan and the Nation of Islam further. 
"I will try to do a little bit of research and see if I can't find out more about the why and why they have taken the position that they have taken and just see if we can't better understand it and then see if there's any way to help them move beyond where they are or better still just why it is such an issue," said Rep. Davis. 
Unprecedented rates of Black unemployment, mental health breakdown, and violence in communities have increased as have hate crimes against Muslims and immigrants in the UK. A report released last August by the Equality and Human Rights Commission noted that failure to tackle deep-rooted race inequality will exacerbate divisions unless urgent government action is taken. Among other findings the report revealed, "Black people are much more likely to be victims of crime and be treated more harshly in the criminal justice system. You are more than twice as likely to be murdered if you are Black in England and Wales and three times more likely to be prosecuted and sentenced than if you are White. In addition to this, race remains the most commonly recorded motivation of hate crime in England and Wales at 82 percent."
Despite making up only a small percentage of the population Black Brits are more likely to be stopped by police than other groups, are paid less than similarly qualified Whites and are underrepresented in positions of authority and power. 
The Office for National Statistics reports there were approximately 64.6 million people living in the UK in mid-2014 and of this number, 56.2 million (87.2 percent) were White British. The most recent Census in 2011 noted that in England and Wales, 80 percent of the population was White British and Blacks made up 3.4 percent of the population.
"What people are saying is we need Minister Farrakhan in this country as soon as possible. The conditions for Black people in Europe and in UK in particular, are deteriorating at an incredibly rapid rate as a consequence of racism being amplified by the austerity measures with which we have now suffered for the last seven years," said Mr. Jasper.  
Black organizations are trying to do what they can to work together to address the needs of their communities, he continued, but more help is needed. "It's a fact that Minister Farrakhan is the only person likely to attract one million Black people to any event that he should choose to attend to in this country and his endorsement, his presence, his guidance and wisdom on these subjects would be I believe a revelation to bringing them over from their unawake states and enlightening their minds and hopefully their conviction to support self (and) Black organizations to work together in the face of this storm and to try and secure a future for our children which at the moment is receding into a mire of racism and oppression," said Mr. Jasper.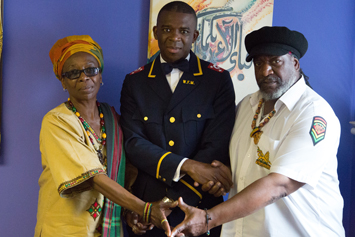 "It may be time for Black people to start thinking about leaving Europe, well certainly Britain. I think it may be time for them to start leaving Britain. I don't see how a country with 500 years' experience of racism, slavery and colonialism, now voting for Brexit which is itself is Empire 2.0, will now be expected to be a home where Black people can expect to enjoy rights and can develop to their full potential. I'm thinking of increasingly talking to Africans in Europe about leaving a sinking ship. I don't believe the European Union nor the British attempt to Brexit it is anything other than a desire to maintain a White fortress Europe which prevents Black people from entering into from abroad and places as much pressure on those Black people who reside in this its borders," he said.  
Great Britain does not have a formal written constitution that mandates freedom of speech like the U.S., which makes it difficult to legally access and enforce rights and though freedom of religion is guaranteed under the European Convention (on Human Rights) the recent Brexit vote makes difficult to know what rights may be retained once that process is complete, explained Mr. Jasper. "As with most laws in Democratic countries, they are selectively applied to their citizens and their Black citizens are routinely, whether that's the United States, Australia or Europe, find themselves not being given access to those rights and denied those rights on many, many occasions," he said.   
Attorney Abdul Arif Muhammad, general counsel for the Nation of Islam in Chicago stated that Great Britain does not have a constitution but functions by an amalgamation of different doctrines. The Human Rights Act of 1998 that was passed by the British government mirrors certain individual liberties contained in the American Constitution in the Bill of Rights such as the right to free speech, expression and religion, he explained.
Rep. Davis said from his observations and from years of interacting with the Nation of Islam, especially in the area of reentry into society by formerly incarcerated citizens, the group has had a positive impact in the community.
"I certainly hope that there can be another level of understanding and I will try in some meager way, find out more about it and find out if there are things that can patch up or change whatever the relationships are," said the congressman.
Student Min. Hakeem Muhammad said if anything, the Aug. 5 incident has familiarized a new generation of Blacks in the UK with the unjust ban on Min. Farrakhan and his heavy social media presence has introduced him to young people who are viewing his messages online.
There's a whole young generation that's been watching the Minister on YouTube that are not aware that he is banned and what this has done because of the advent of YouTube, Twitter and whatnot, and the masses now, you literally can stop anybody in the street in London and they will know something about Minister Farrakhan, particularly in the Black community," said Student Min. Hakeem Muhammad. "He's a household name and everybody sees him as a champion for our people and what the government from the council did was really to put the UK government on trial and the biggest question is now and everybody's asking is, 'what are you afraid of?'" he added. 
Blacks in the UK, need to see and hear from Min. Farrakhan because he is the only one who can speak to their plight and help promote a since of unity, activists point out. Many Blacks in the UK have roots in the Caribbean but over the past several decades many more from various countries in Africa have immigrated to Great Britain. A clash of cultures has made it challenging to unite.
"I'll tell you what the talk is on the ground here, extending an invitation to the Minister to fly into the United Kingdom and be met by one million Black people at Heathrow Airport to make sure he gets in. That's how desperate people are at the moment, for the Minister's presence." said Mr. Jasper.
(Note: The Honorable Minister Louis Farrakhan will be speaking live at Mosque Maryam in Chicago, Sunday, August 20. The program starts at 10 a.m. CST and can be viewed on www.noi.org. See flyer on page 38)