The Final Call |
National News
Paying respects to a noble woman of God
By
Starla Muhammad
-Managing Editor- | Last updated: Apr 12, 2017 - 9:31:47 AM
What's your opinion on this article?
Family, friends and Nation of Islam remember Sister Delores Ali
CHICAGO—Patient, kind, loving, and a gentle demeanor. Those were just a few of the heartfelt sentiments family members, friends and Muslims in the Nation of Islam shared about the life, legacy and character of Sister Delores Ali Malik. The Nation of Islam pioneer who served as a cook for the Most Honorable Elijah Muhammad and the Honorable Minister Louis Farrakhan and whose culinary talents and cuisine were legendary died March 30. She was 81 years old.
A host of mourners gathered to pay tribute to Sister Delores at her Janazah (Muslim funeral service), held April 4 at Seals Funeral Home on Chicago's South Side,  officiated by Min. Farrakhan.
Sis. Delores' last words before she passed away, were "Allah-u-Akbar" which means God is the greatest and "I love you" to her children, Sharon Ali Muhammad and Anthony Strong who were at her bedside, said her oldest granddaughter Nefertiti Strong reading aloud from the obituary. "What a beautiful view," she said gazing out into the small sanctuary at the crowd gathered to honor her grandmother. Sis. Nefertiti thanked those congregated inside the modest chapel on behalf of Sis. Delores' family. 
Min. Farrakhan offered words of comfort while reflecting on the valuable lessons learned through the experiences of life and death.  He also explained the significance of the beautiful simplicity of the way Muslims honor and bury their deceased loved ones and how those left behind should continue on.
"The Holy Qur'an teaches us that no soul dies but with Allah's permission. The term is fixed," said Min. Farrakhan. Sister Delores submitted to the law of birth and the law of life and in life there are so many ups, downs, trials and misfortunes but the way to go through what life presents is to go through it in the name of him who gave us life, Min. Farrakhan explained. Sister Delores will never die because she will live on through her family and through those whose lives she impacted and touched, he continued.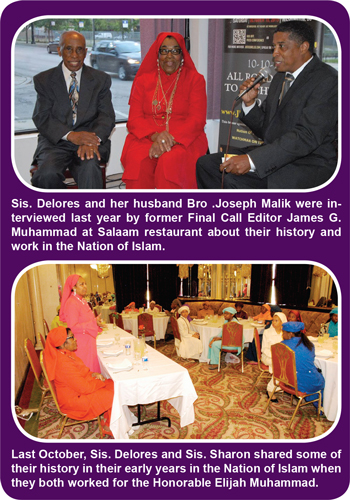 "She exists through her children. Children that are here to celebrate her life and will see what she's not here to see, and with 20 grandchildren who will go on in life, she travels with us through time. So the Qur'an says it like this 'Speak not of those who die in the way of God or are slain in his path as dead. They are alive but you understand not.' Those who live a righteous life, they never taste death. The physical body yes, every soul the Qur'an says must taste death so that awaits us all."
"So here we are to celebrate her life but to let her life be a testimony to those of us who are yet alive that have this as a destiny," said Min. Farrakhan gesturing toward the physical remains of Sis. Delores enclosed in the casket. Since all must taste of death, what are we doing with the time in our life which should be in service for God, his Christ or Messiah? he asked.  "What you do in this time is what qualifies you for the reward of your time."
God allowed Sis. Delores to see 81 years and to see her children and grandchildren which is a blessing, Min. Farrakhan continued.
"So the only reason all of us are here is because she touched us in some way … and the thought of her forced us to come from where we were. We had to get here to pay our respects to this noble woman of God. I thank Allah for her. I thank Allah for the beautiful life that she lived. I thank Allah for the service that she gave to all of us who knew her, whom she fed and all who were touched by the wisdom of her years," said Min. Farrakhan. 
Sis. Delores was born Delores Evelyn Everette in Birmingham, Ala. on Nov. 4, 1935. She was the fourth of 12 children born to Sam and Charlotte Everette. In the 1950s her family moved to Chicago and lived in Artgeld Gardens and she attended Carver High School. Sis. Delores married Donald Lee Strong and the couple had three children, Donald, Anthony and Sharon.
Sis. Delores became a student and follower of the Hon. Elijah Muhammad and joined the Nation of Islam in the early 1960s where she worked in the National Clothing Factory before eventually being hired as one of the cooks of Mr. Muhammad. Sis. Delores' experience as a cook and her daughter  Sis. Sharon's as a server for Mr. Muhammad in the 60s and 70s was chronicled in the recently released book, "Our Journey in the Nation of Islam: Cooking and serving for the Most Honorable Elijah Muhammad, Messenger of Allah." 
After the departure of Mr. Muhammad, Sis. Delores eventually moved to Oakland, Calif. where she worked as a dietary technician and also worked for the legendary Lena Horne. She returned to Chicago in 1981 to assist her ailing mother and was eventually hired as a cook for Min. Farrakhan. The Minister appointed Sis. Delores, National Cooking Instructress for the Nation of Islam.
It was in this capacity that she left an indelible mark on the hearts and minds of those she instructed within the ranks of the Nation as she traveled to various Muhammad Mosque's around the country over the years, instructing the women and girls of the M.G.T. and G.C.C., in the art and science of cooking in the manner prescribed by Elijah Muhammad.
Several Muslims posted tributes to Sis. Delores via social media by posting her pictures and images from covers of cookbooks and instructional manuals she published. Others even posted photos from delicious, creative and healthy recipes by Sis. Delores that were published for several years in The Final Call newspaper under the tagline, Inside Muhammad's Kitchen.
Known for her patience and gentle manner, Sis. Delores shared what she learned from the Messenger of Allah and passed that wisdom on to future generations of Muslim women in the Nation of Islam, particularly when it came to the proper way to make Supreme Navy Bean Soup, a staple of Muslim cuisine. 
Age did not slow Sis. Delores. Always willing to share wisdom and impart knowledge, last fall, Sis. Delores joined her daughter Sis. Sharon in sharing their experiences and what they learned from Mr. Muhammad with a group of Jr. M.G.T. from Muhammad Mosque No. 15 in Atlanta that visited Chicago. She was also an integral part of contributing to an ongoing effort of feeding the homeless in Chicago, a program spearheaded by Sis. Carmella Coqmard-Muhammad at Mosque Maryam. 
"In the past four years we've been feeding the homeless and Sis. Delores asked me one day, 'Do you all need any food to help feed the homeless?' And I was like yes! So for the past two years, Sis. Delores had been donating food and her husband (Bro. Joseph Malik), also has been helping. He'll come out and help us with security. But her food had been part of our regimen every two weeks in feeding the homeless," said Sis. Carmella.
During the repast at Salaam Restaurant, two former National M.G.T. Captain's reflected on the impacting and memorable legacy of Sis. Delores. 
"Sister Delores Ali was just such a joy to be around.  Her contribution to the M.G.T. Class is immeasurable in terms of her service," said M.G.T. Captain Emeritus Charlene Muhammad. "I think one of my fondest memories is making sure that my bean soup was the Delores Ali bean  soup because there are so many different versions," she added. "She will be greatly, greatly, greatly missed. She had a pleasant spirit, always had a kind word to say. It's just very hard for me to imagine that she is not here amongst us."
Sis. Delores was a very patient instructor and was very hands on, shared M.G.T. Captain Emeritus A'ishah Muhammad.  "You could not expect that she was going to do it for you by virtue of the fact that she helped to provide recipes for us. You knew that she was wanting to share what the Honorable Elijah Muhammad allowed her to learn. And one of the things that I loved about her in reading Sister Sharon Ali's book is that the Honorable Elijah Muhammad said he didn't hire her because she could cook, he hired her because she was honest," said Sis. A'ishah.
"She would sit with those who had a strong desire to learn and she would help to instruct them so that they could do it for themselves when she was no longer around. She volunteered to travel the Nation to go to the different M.G.T. classes to show them what it is they needed to do." 
Sis. Delores taught not just how to cook, but what pots to buy and how to shop and what things the sisters could do to make their food good and it didn't have to be extravagant, you just had to follow instructions, explained Sis. A'ishah.
"In her later years she wasn't as physically able to get around so she would sit and watch but she said 'I have the ability to sit and to still teach where I am.' So she never used that as an excuse not to teach anymore. She still was trying to get as much out of her to put it in to other sisters who would want to have it."
"I am forever grateful to Allah for bringing me near someone who was so close to the Most Honorable Elijah Muhammad. She was a very sincere, honest, and giving person. She attracted people to her genuinely," said her son-in-law Bro. Thomas Muhammad.
"Many loved her and sought her comforting advice. I thank her for bringing her daughter and me together. I am confident she is in the comfort of Allah and His Exalted Christ, the Most Honorable Elijah Muhammad. Their approval of her was shown in the love and honor expressed of her by their servant, the Honorable Minister Louis Farrakhan at her Janazah service. Inshallah, her love, beauty, and grace, will live throughout her family, forever," he added.
Sis. Delores leaves to cherish her memory and carry on her legacy, her husband Joseph Malik, son Anthony (Joyce), daughter Sharon (Thomas), siblings Gloria Carter, Bridgette (Jimmy) Travis, Essie Mobley, Timothy Everette, Danny (Toni) Everette, a host of grandchildren, extended family members and the entire Nation of Islam.