The Final Call |
National News
Looking back on the year and the work of God's man
By
Final Call Staff
| Last updated: Jan 6, 2017 - 10:54:11 AM
What's your opinion on this article?
The Honorable Minister Louis Farrakhan endured a non-stop schedule of teaching, guiding and warning America and the world in 2016, a year which had the Muslim leader traveling domestically and abroad continuing the mission and work of his teacher, the Most Honorable Elijah Muhammad. In light of many critical issues in areas of spirituality, social justice, economics, politics, education, youth and the survival of Black America, Min. Farrakhan tirelessly crisscrossed the nation last year speaking in venues large and small. 
Jan. – March: Infowars, Iran and the ADL
Never one to shy away from controversy or capitulate to the dictates of his detractors or those who misunderstand and seek to malign him because they do not have his mission, the Minister began 2016 conducting an interview with Alex Jones of infowars.com. Often called America's leading conspiracy theorist and a self-described Libertarian, Mr. Jones speaks to millions each week and is seen by many Whites as an alternative to mainstream media and someone who speaks his mind—whether others agree or not.
When Mr. Jones asked why he agreed to the interview held in January in Phoenix, Ariz., the Minister explained there is value to "the idea of dialogue, truthful dialogue that gets us past the media manipulation of persons, events, and the truths of persons and events."
In the highly respectful exchange between Mr. Jones and Min. Farrakhan, prompted by questions from the interviewer, the subjects of conspiracy, the shadow government ruling America, the country's future, God's special desire and plan to use Black people to build a new reality, abortion, U.S. policy in the Middle East, presidential politics and Donald Trump and God's judgement against America were some of the topics covered. The interview was aired on infowars.com as well as noi.org.
The year was not without sadness as Black America lost one of its great luminaries, Dr. Frances Cress Welsing. The Minister said he had to make the time to speak about the woman whom he called the "Psychiatrist of the Black Nation." He along with others, paid tribute to Dr. Welsing, author of "The Isis Papers: The Keys to the Colors" at a Feb. 6 memorial in Chicago.  Dr. Welsing whose works influenced the minds of generations of Black students and thinkers died Jan. 2. She was 80 years old.
Later in February, Min. Farrakhan once again addressed an audience of hundreds of thousands worldwide during Saviours' Day 2016 held in Detroit. His Feb. 21 message, "Divine Instructions: Commands for 2016," called for urban renewal through an action-oriented strategy and work driven by a spirit of self-determination and desire to establish safe, industrious and productive Black communities and was well-received by the over 16,000 who packed Joe Louis Arena.
One week later, the Minister continued his message in a part two address from Mosque Maryam at the National Center, international headquarters for the Nation of Islam. During his message, he discussed his recent trip along with a Nation of Islam delegation to the Islamic Republic of Iran, the contentious political scene in America and what the future holds for Black people. The visit to Iran marked the 37th anniversary of the Islamic Revolution's victory in Tehran. Min. Farrakhan was invited to Iran by the Coordinating Council for Islamic Publicity, a non-governmental organization and as a special guest at Iran's freedom anniversary. The delegation departed for Iran on Feb. 6 and returned Feb. 14.
Among other dignitaries and heads of state the Minister met with Grand Ayatollah Ahmad Jannati and former Foreign Minister Ali Akbar Velayati.
The Minister said no matter where he travels on the planet, he has always and will continue to raise the name of his teacher, the Most Honorable Elijah Muhammad.
"I have not failed to uplift his name or his teachings no matter what they offered me—and they offered me much," said Min. Farrakhan, during his Feb. 28 message, "Divine Instructions: Commands for 2016, Part 2."
In Iran, the Minister stood firm on the position that Master Fard Muhammad is the Great Mahdi, the powerful self-guided one prophesized to bring Islam back to its proper course and to sit down tyrants in the earth.
After words and sentiments the Minister shared about the presidential run of billionaire real estate mogul Donald Trump were twisted and misconstrued by the Anti-Defamation League (ADL), he conducted a March 5 interview with Final Call Editor in Chief Richard B. Muhammad to clear up the lie that the Muslim leader endorsed and supported Mr. Trump for president.
"I never endorsed Mr. Trump or any of the candidates running for nomination to lead their party," said the Minister. "I could never endorse any candidate because not one of them is saying that which would save America from the Wrath of Allah (God)," he added.
April-June: Business, Black youth and Muhammad Ali
Always one to recognize the talent and importance of young people and their contributions to nation building, the Minister spoke in 2016 on college campuses around the country.
Business is warfare and an understanding of that reality should govern how Black folk conduct their affairs, spend their money and develop and protect their institutions, the Minister said in a message delivered on the campus of Tennessee State University in Nashville in April.
The room was full primarily with students April 16 as the Minister delivered the closing address for the BUSI (Black United Summit International) conference, which is devoted to connecting students at historically Black colleges and universities, promoting entrepreneurship and inspiring students with a vision for creating a new reality for Black people.
On April 21 the world was shocked and saddened when it was announced musician and entertainment icon Prince, 57, died of an alleged overdose of opioids. In a touching letter, Min. Farrakhan noted though he and Prince never met, he admired the greatness of his struggle to gain control of his music. "He has returned to Him who gave Prince to us and I like all who have admired him and loved him rejoice that a man like that came this way," said the Minister in a statement.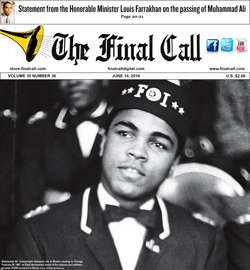 A few days later, Min. Farrakhan addressed 500 mostly Black male teens ages 13-18 at Mosque Maryam that the only way they can show their connection to Allah (God) and power is through their growth in knowledge and wisdom. He delivered the remarks in his keynote address at the Second Boys To Men Conference on April 30. "You are born warriors, but you have to know how to fight to win. Our training is to make us brothers so you don't end up fighting your brother. Our training is to make us learn to love each other," the Minister noted.
In a message delivered May 21 in Winston Salem. N.C., during the Dudley Group Mastermind Meeting, which was part of a weekend devoted to strengthening Black entrepreneurship and honoring the legacy of Samuel B. Fuller (1905-1988) the Minister spoke to 1,000 Black entrepreneurs.
"The enemy has never wanted to see us economically powerful and every effort that we have made to become economically strong, the architect of that economic strength was always labeled as anti-Semitic," the Minister explained. 
Along with the May weekend's focus on economics, Min. Farrakhan delivered a stirring message on leadership at Emmanuel Baptist Church on May 22. He was hosted by his friend and pastor John Mendez and walked the grounds of his alma mater Winston-Salem State University. The next day, the Minister addressed an audience at Metropolitan Baptist Church in Newark, New Jersey in a message, "Greater Is He That Is In Me Than He That Is In the World."
The Breakfast Club, a popular hip hop morning show, hosted the Nation of Islam minister for a second session and there was no disappointment that morning. The dialogue between the 83-year-old freedom fighter and Breakfast Club host trio Charlemagne Tha God, DJ Envy and Angela Yee went for about 90 minutes.
The interview touched a variety of subjects—the run for the White House in 2016 and candidates Donald Trump, Hillary Clinton and Bernie Sanders, Black self-determination, economics, respect for women, the successful 20th anniversary of the Million Man March, Justice Or Else! in October 2015, and a rising Black consciousness were among topics discussed May 23 in the studios of Power 105.1 in Manhattan.
The death of boxing great Muhammad Ali at age 74 sent shockwaves throughout the world. Min. Farrakhan and Muhammad Ali were both ministers under the Most Honorable Elijah Muhammad in the Nation of Islam and were friends and brothers. In addition to releasing a public statement on behalf of himself, his wife Mother Khadijah Farrakhan and the Nation of Islam, the Minister attended the public memorial of Mr. Ali held in Louisville.
Days later on June 12 at an overflow crowd at Mosque Maryam, Min. Farrakhan addressed the world on the life and times of the boxing great and the man who taught and made both of them.
"We can't talk about Cassius Clay or Muhammad Ali or Malcolm X without talking about Elijah Muhammad because there wasn't nobody giving people names but Elijah, Elijah Muhammad," he told the audience.
Closing out June, the Minister shared a special message to artists during a special trip to Boston.
Artists have the power to be an important force in the "breakup of the colonial status in the Black community," Min. Farrakhan told a group of Boston area painters, sculptors, doll makers and fabric artists at the Susie Smith Gallery on June. 25. The next day, the Minister delivered a powerful message at Muhammad Mosque No. 11, "Who is the Natural Enemy of the Original Man."
July – September: Ramadan, Colin Kaepernick and 'Made in America'
The final Jumu'ah prayer service for the month of Ramadan, the traditional Friday prayer in Islam, was observed at the Nation of Islam's flagship mosque with a powerful, inspiring khutbah (sermon), by Min. Farrakhan. Wearing a special fez received as a gift during his international travels, Min. Farrakhan spoke beautifully July 1, about the blessings of Islam and the importance and the value of the holy month of Ramadan, which consists of 30 days of fasting and special devotion to prayer by Muslims.
In September, television cameras spotted Colin Kaepernick, quarterback of the NFL's San Francisco 49ers, sitting on the bench during a preseason game during the playing of the National Anthem. When asked, the 28-year-old declared after the game that he was protesting police brutality and institutional racism reflected in stark disparities between Blacks in America and their White counterparts. His stance was met with support from many Blacks who understood and applauded his efforts. He was also met with severe backlash from Whites and others who condemned him.
Min. Farrakhan released a statement of support for the young athlete, stating he admired his courage. The statement was published in The Final Call and distributed online. "At the root of your courage is love; a love that would allow you to sacrifice yourself, your income, your reputation, to take a stand for those who are unable or unwilling to stand for themselves," the Minister wrote in part.
A greater Boston-area tribute to Minister Don Muhammad, and his wife and companion in struggle, Sister Shirley Muhammad, drew Muslims and admirers from across the country.
With a keynote address Sept. 10 delivered by Min. Farrakhan topping off the evening celebration, it was filled with acknowledgment of the impact of the life and ministry of the long time Nation of Islam pioneers.
In front of a capacity crowd at Union Temple Baptist Church in Washington, D.C., on Sept. 18 the Minister delivered a stern warning against the evil political choices in 2016 and the consequences of Black people practicing White America's demonic ways.
"It's easy for you to do those foul things to yourself and one another, because the enemy has made us unto himself. You're not yourself. You're the product. You should have it in your coat, on your lapel, 'Made in America,' " he stated.
Oct.-Dec.: A declaration of independence and the bigger picture
Atlanta was the destination for the 21st anniversary of the Million Man March where Min. Farrakhan declared Black America's independence from a system that has oppressed Blacks for centuries. On Oct. 13 the Minister met with hip hop and entertainment leaders including Rick Ross, 2 Chainz, Jermaine Dupri, Kelly Price, Ron DeVoe, Killer Mike, Benzino, David Mays and others at The Gathering Spot. "Use your gifts to sparke a cultural revolution and lead young people into a better world," he told the group.
Two days later, a huge crowd packed into the Fox Theatre auditorium and overflow rooms as well as audiences watching webcasts in Nation of Islam mosques and study groups around the country and online for the Minister's powerful Oct. 16 keynote message. It marked the 21st anniversary of the Million Man March.
As presidential election 2016 continued to draw near, Min. Farrakhan gave a final major address ahead of the contentious race. Black survival is bigger than Black voting, he told a standing room only audience at Mosque Maryam, Oct. 30.
The courageous leader said Black people are being held hostage by Whites while the country is under divine chastisement that will only get worse. White America has no more jobs for Blacks to do and the rise of police shootings, the poisoning of water in Black communities and unnecessary vaccinations is White America's way of eliminating 40 million unwanted Blacks, said Min. Farrakhan.
"My job is to warn you and then get out of the way," he said. "God doesn't want you integrated into White America. They are holding us hostage," the Minister said in his address, "If Satan Cast Out Satan, His House is Divided Against Himself; How Then Will His Kingdom Stand?"
Just a few days later, on Nov. 5 the Minister was in North Charleston, S.C. at the gymnasium at Royal Missionary Baptist Church where he spoke on the inevitable, unstoppable rise of Black people inside America.
The Minister spoke in a state that has been the site of high profile brutal crimes against Black people, including the slaughter of nine parishioners by a White supremacist during a Bible study and the shooting death of Walter Scott by a White police officer. Min. Farrakhan warned, as he did in different messages throughout 2016, that America is still under divine judgement from Allah (God) for its continued mistreatment of Black people and that punishment will continue in the form of severe weather. 
Despite being confronted with severe opposition, Alpha Phi Alpha fraternity's chapter at Rutgers University brought the Minister on campus where he addressed students on Nov. 19 on the life, legacy and impact of Paul Robeson, who was also a member of the fraternity.
The next day, during the first major Black gathering that came on the heels of Mr. Trump's election victory, Min. Farrakhan told those gathered for the Nov. 20 State of the Black World Conference in Newark, organized by Dr. Ron Daniels and the Institute for the Black World 21st Century, it is time for Blacks to have a nation of their own. It is time we separate from our former slave masters, he said.
Upon the passing of revolutionary "El Commandante' Fidel Castro at age 90 on Nov. 25 the Minister paid tribute to his friend, applauding the great accomplishments the Cuban leader was able to achieve in his country despite a decades long embargo imposed by the U.S.
When the body of Nation of Islam Student Minister Robert Dion Muhammad was found in Muskegon Lake in Grand Rapids, Mich. in September of 2014 it raised suspicion on his death that authorities immediately ruled an "accidental drowning."  The Minister dispatched Attorney Berve Power Muhammad to head up efforts to find out what caused his death. A motion to dismiss a wrongful death suit filed on behalf of Robert Muhammad's widow aimed at finding the truth about his passing was held in Kent County Circuit Court. Min. Farrakhan and some of his top aides and ministers were in court and sat through the Dec. 9 hearing.  
As the year was drawing to a close, the Minister engaged in an in-depth interview on Muhammad and Friends hosted by Munir Muhammad. The live in-studio broadcast took place at the headquarters of the Coalition for the Remembrance of the Honorable Elijah Muhammad (C.R.O.E.) and covered a myriad of topics critical to Muslims, Black America and the world as the end of 2016 approached.
His final interview of 2016 was conducted with Final Call editor Richard B. Muhammad and included an assessment of the closing year and guidance for 2017—and words about President-elect Donald Trump. "On January 20, 2017 there will be a change of the guard.  Many, many Black, Brown and Native people are worried over what may come from a Trump presidency.  Some Caucasian people are upset but many more see hope in Donald Trump, who has already broken all of the norms of what presidents say and how they say it, what they do and how they do it.  He is a huge question mark in the eyes and minds not only of many inside America but people who rely on America throughout the earth are concerned about what his presidency will bring," said Min Farrakhan. "We take this approach: Nothing happens but by the permissive or active Will of God.  Certainly the American people, 64 million of them, voted for Mrs. Clinton.  But Mr. Trump took the presidency and shocked the media, shocked the political pundits and shocked capitals around the world.  So what happened is from a power bigger than the powers that usually control.  We happened to see it as a possible lull, as the Honorable Elijah Muhammad, predicted before the storm.  But his presidency is not going to avoid the storm and therein lies the great problem and question that his administration faces in the upcoming years of his tenure in office."
He added, "So Mr. Trump is a part of that wind and his way will signal other winds to blow on the bones.  But in the end he will probably be the best news for the future of a united Black people by the attitude that is taken toward our rise." (See full interview.)