The Final Call |
National News
Min. Farrakhan speaks on 'the art of the deal,' the Trump presidency, harsh winds for Black America, what is to come in the New Year 2017
By
Richard B. Muhammad
- Editor | Last updated: Jan 3, 2017 - 2:13:47 PM
What's your opinion on this article?
CHICAGO—
While the year 2016 brought pain, suffering and struggle to Black America, the new year will bring more of the same and take the United States further along on a course of revolution, "if wisdom does not prevail," warned Nation of Islam Minister Louis Farrakhan in
an exclusive year end interview
.
Calling in from the Nation of Islam's headquarters in Phoenix, Min. Farrakhan spoke for about 30 minutes, offering words filled with guidance, passion and an unshakable faith that despite dark times the ultimate complete liberation of Black people is certain and unstoppable.
The National Representative of the Honorable Elijah Muhammad, patriarch of the Nation of Islam, spoke with Final Call editor-in-chief Richard B. Muhammad Dec. 28 about the rise and impact of the election of Donald J. Trump to the White House, what his election means and could mean for the future of Blacks in America, disappointment over the change of guard and tone in U.S. politics, the country's political and social whitelash, police abuses and injustice, the socio-political reawakening of Black athletes and celebrities and challenges Blacks face to accept the reality of their perilous position in White society.
In what is likely the biggest political upset in American history, Mr. Trump destroyed his opponents in the GOP establishment by breaking every rule of strategy and conduct during Republican primary campaigns. He spouted a divisive message that's widely seen as racist but readily heartily accepted by White voters who put him in office over Democrat Hillary Clinton. Mr. Trump has continued with his unorthodox, unpredictable and unapologetic ways with some political appointments and dismissing Obama administration charges that operatives of the Russian government interfered with the 2016 presidential election. While some Republican members of Congress denounced the attack, Mr. Trump and his supporters challenged whether the conclusions of U.S. intelligence agencies were correct or could be trusted. Seventeen U.S. intelligence agencies declared the Russians hacked the Democratic National Committee and other political entities but Mr. Trump put little stock in their findings. When President Obama sanctioned the Russians, shutting down two summer houses where Russians were based and expelling Russian diplomats, Mr. Trump said it was time to "move on."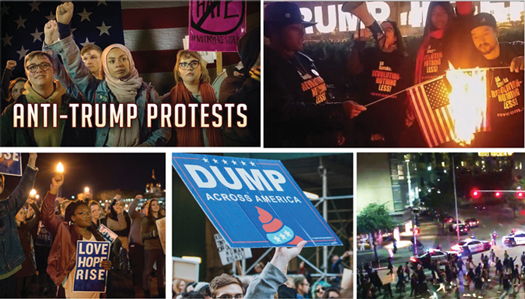 Earlier the incoming president, who will be welcomed by demonstrators during his January 20 inauguration, riled feathers with China over relations and overtures to Taiwan. He raised concerns about connections between his international business holdings and how he would deal with foreign governments. Then there was his stand with Israel and repudiation of the U.S. government's decision to abstain from a UN Security Council resolution condemning Israel for continued settlement building in occupied Palestinian land.
The most strident voices against Mr. Trump, however, have come from those at home, who like First Lady Michelle Obama, believe he has quashed feelings of hope found with the choice of Mr. Obama to run the country for eight years. Why the loss of hope? asked Min. Farrakhan. The feeling of hopelessness comes from the belief that under Mr. Obama some progress and inclusion was made and that progress and inclusion would continue under Mrs. Clinton, who was expected to win the presidency, he said. But the progress for some sparked a whitelash from Caucasians who feel a loss of power and position, he explained.
Mr. Trump tapped into that feeling and the mask of White civility is coming off so racial discord and conflict will grow, not decrease, he warned. The uptick in Black activism will also cause more clashes as Whites try to keep Blacks in their place but Blacks will not go backward, he declared. That brings the country to a serious question of what to do with millions of Blacks, who America has no use for; millions of Latinos, whose population is growing and several million Native Americans, Min. Farrakhan continued. The thought in rulers today, as the thought was in the mind of rulers described in prophecies in the Bible and Holy Qur'an is to destroy these groups—especially Black people—who have been chosen to rise by God, he said.
Mr. Trump has the opportunity to change the domestic and international scene by taking the proper action, which is letting Black people go to start an independent reality, Min. Farrakhan boldy stated. God will continue to punish America with natural disasters, introduce great famine and break America's power through war, if she does the bidding of Israel in the Middle East, opening the door to the global war of Armageddon, he warned.
All of these turbulent "winds" will blow on Black people forcing unity in the face of efforts to destroy an entire people, he said.
The way out is the divine solution of separation and conflict inside America and threats from without will bring things to a head, Min. Farrakhan predicted. "So at some point the art of the deal will have to come to the table. And no cowardly Negro who doesn't know what justice looks like can be at a table negotiating for us," he said. The Minister added, "So they have to either beat us all the way down and kill us or let us go. There's no other alternative because they can't stop the rise, they can't stop the awakening—they can't."