The Final Call |
National News
'Eid Mubarak!' Muslims mark end of Ramadan, celebrate close of holy month
By
FinalCall.com News
| Last updated: Jul 29, 2014 - 10:50:42 AM
What's your opinion on this article?
CHICAGO - With the sighting of the new moon, the fast of Ramadan ended for Muslims July 28 and around the world the hearty greeting of "Eid Mubarak!" which is often translated as "Blessed Festival!" or "Blessed Celebration!" was given. The month where Muslims refrain from eating, drinking and intimate relations with their spouses during the daylight hours concluded.
The end of Ramadan is marked by prayers, celebrations and feasts. An Eid Al-Fitr prayer with the Nation of Islam in Chicago and the late Imam W. Deen Mohammed's Association of the Chicagoland Shura Council at Veterans Park in South Holland, Ill., was planned at Final Call press time for July 29.
"The majority of the Muslim World has confirmed authentic sightings of the Hilal or New Crescent Moon and will celebrate 'Id in various locations tomorrow marking the completion of The Ramadan Fasting. Celebrations will continue Tuesday for the 3 days of 'Id and beyond," announced Sultan R. Muhammad, the resident imam for the Nation of Islam, via Facebook on July 28.
Imam Muhammad and the wider community of Muslims whose Islamic journey began with the Nation of Islam and under the Honorable Elijah Muhammad enjoyed an evening of discussion and fellowship July 26 at a community meal, or "Iftar."
In his monumental book "Message To the Black Man," the Most Honorable Elijah Muhammad wrote in a section titled The Significance of Prayer, "In the first place, this gathering of all people living in the same vicinity five times daily in the Mosque, is a help to the establishment of healthy social relations. In the daily service these relations are limited to a narrow circle, i.e., to members of the same neighborhood. But the circle becomes wider in the weekly Friday service which gathers together all Muslim members of a particular locality and becomes still wider, in the two great 'Id' gatherings. Thus, prayer promotes social relations between the different sections of the Muslim community."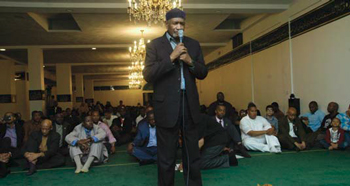 In the final evenings of Ramadan, "the Night of Power" was observed July 23 at Mosque Maryam and included words and prayers with Student Minister Ishmael Muhammad, resident Imam Sultan R. Muhammad and Imam Darnell Karriem of Imam Mohammed's community. Imam Karriem was among the first students to study Arabic in the Nation and his father was imprisoned with the Honorable Elijah Muhammad for holding strong to their religious beliefs and refusing to fight in WWII. Imam Karriem tightly embraced Imam Muhammad and Student Minister Ishmael Muhammad and expressed great joy at having the Muslims come together. He encouraged the Muslims to learn Arabic, to read and study their holy book, in its original language as the Hon. Elijah Muhammad desired.