The Final Call |
National News
White fears arise again
By
Richard B. Muhammad
| Last updated: Jan 28, 2014 - 10:15:51 AM
What's your opinion on this article?
The Education of Richard Sherman: Racial attacks, insults reflect need to control Black men, say experts and analysts
(FinalCall.com) - Seattle Seahawks cornerback Richard Sherman, a self-described awkward, nerd, seen as cool because he plays football, felt the racial insults on Twitter just like he felt the indignity of watching 23 others who play his position picked ahead of him in pro football's draft.
His testosterone- and adrenaline-laced interview after the NFL National Football Conference title game brought race, sports, and notions of proper Black behavior to the forefront of America's psyche and media—again. A clear signal was sent, experts and analysts told The Final Call: Fame, wealth, and athletic prowess are fine, so long as a Black man stays docile, quiet and in his place. 
It began with reporter Erin Andrews, the dream girl of FOX Sports holding the mic, asking cornerback Sherman for reactions to a win over the San Francisco 49ers and his game-saving pass deflection away from on-field nemesis Michael Crabtree.
"The final play, take me through it," said the blonde-tressed reporter, running up to the dreadlocked All-Pro as he left the field and confetti flew in the background. "Well, I'm the best corner in the game! When you try me with a sorry receiver like Crabtree, that's the result you gonna get! Don't you ever talk about me!" said still-hyped victor Sherman. "Who was talking about you?" Ms. Andrews asked. "Crabtree! Don't you open your mouth about the best, or I'm gonna shut it for you real quick! LOB!" he declared. LOB is the nickname for Seattle's hard-hitting secondary defense, "Legion of Boom."
"Back to you," said a shaky-voiced Andrews, at the order of a Fox Sports producer, who felt the 30 second interview was straying into "dangerous" territory. The cornerback later said receiver Crabtree was disrespectful at an off-season event and refused a Jan. 19 post-game handshake.
The All-Pro won some fans for his raw—no cursing, no obscene gestures—gridiron gladiator tirade. But a quick, obscene response erupted as the Stanford grad and masters degree candidate was labeled a "monkey," a "thug" and a "n-gg-r" on social media.
"Well I've learned we haven't come as far as I thought we had come. And if—if that's all it took to bring that out of people, then it might have already been on the surface. But these people were acting like I attacked them in some way, like I went after them," the pro football player said on CNN three days after a public wave of racial insults. "But this was on a football field, I wasn't committing any crimes or doing anything illegal. I was showing passion after a football game."
"The only reason [being labeled a thug] bothers me is that it seems to be the accepted way of calling somebody the n-word now, and they say, 'Oh, that's fine.' And that's where it kind of takes me aback … there was a hockey game where they didn't even play hockey. They just threw the puck aside and started fighting. I saw that, and I'm just saying, 'Aw man, and I'm the thug? What's going on here?' " the fifth round NFL draft pick continued in a scheduled press conference Jan. 22.
"He was being called a monkey and a gorilla and ungrateful which relates back I think to this very difficult terrain that the Black athletes and Black pro athletes, in particular, have to tread. If they show any type of behavior or activity that deviates slightly, then their lives can be subject to very harsh, social sanctions," explained Ben Carrington, PhD., of the University of Texas-Austin. Dr. Carrington's research includes the politics of race and sport and masculinity.
Most major U.S. sports were segregated until the 20th century, Dr. Carrington observed. "There was slow acceptance of Black athletes into these sports, which meant that they did come into these sports but obviously behaved in a particular way."
Proper behavior was quiet and respectful, not like loud, confident Jack Johnson, the first Black heavyweight champion back in 1908, he said. Today's athletes still play in the shadow of boxer Johnson, who broke social taboos, like publicly romancing a White woman, he said. Those who broke the color barrier in sports, like Jackie Robinson in baseball and Johnson successor, boxing champ Joe Lewis, acted in accord with White expectations, despite insults and suffering, said analysts.
"It's been very hard ever since for Black athletes to enter into sports unless they would be the anti-Jack Johnson," explained associate sociology professor Carrington.
NFL Commissioner Roger Goodell shared his displeasure with young Sherman's reaction on CBS This Morning. "He took away a little bit from the team. That was what he said yesterday. I thought that was a very interesting comment and I think it's fair," Mr. Goodell said.
A $7,875 fine was imposed after the league found the cornerback guilty of a choke gesture toward 49ers quarterback Colin Kaepernick, who threw the futile, final pass. But the Sherman taunt followed losing receiver Crabtree's refusal to shake hands and pushing him in the face. No other fines were levied and the NFL had billed the game as a bruising match between two teams with bad blood and points to prove.
Black excellence, confidence forbidden?
"You have this very intelligent college graduate from an institution that is regarded as one of the finest higher education institutions in our country who is a stellar athlete, who exemplifies pride in his craft, who is considered to be the best in his position in professional football, is now being denigrated simply because he claims what everyone else knows—that he is the best," said Walter Fields, executive editor NorthStarNews.com based in New Jersey.
"And the reaction to it is a reaction that many of us get in this country when we dare demonstrate that we are proficient in our professions, that we are intelligent, that we are articulate, that we are then reduced to a thug as Richard Sherman was called.
It's one of those moments in America when you're a Black man and I think you realize how far we still have to go," he said. "Black men aren't supposed to be that confident. Black men aren't supposed to be that articulate. Black men aren't supposed to be that bold. Black men are still supposed to be docile."
"I really do hope he pays the fine, but he should pay it in pennies to spite the NFL," added Mr. Fields.
'You are still a Black man'
Daniel "Danny" Buggs, a two-time All American, played 10 years as a wide receiver for the NFL's Washington franchise, the New York Giants, the Canadian Football League and the U.S. Football League. He was drafted by the Giants in 1975 from West Virginia University.
"I think it's a great discussion for America," he said. Once again there was an attempt to make Black men look angry, but it backfired. Just because a Black man speaks out, it doesn't make him a time bomb, said the former pro who works with youth in Atlanta. From boxing champs Muhammad Ali and Sugar Ray Leonard to basketball Hall of Famer Bill Russell, these Black men spoke out and more Blacks in politics and entertainment need to speak on serious issues, he said. 
Mr. Sherman told CNN that tapes of "The Greatest" inspired him, the Ali intellect, off-cuff-remarks, competitive drive, self-definition, and destruction of opponents influenced his approach to pro sports. Raised in Compton, Calif., by hardworking parents, the Phi Beta Sigma fraternity member and History Channel fan, is nowhere near a thug. He was a top student in college and high school. He is vocal, confident and unforgiving on the football field as champion Ali was dominant in the ring and had a social impact.
The game of football hasn't changed, but social media technology and non-stop sports networks feed rivalries and controversy, said Mr. Buggs. In his day, the battles were on-field and games televised perhaps on television once a month.
In the post-game press conference, Mr. Russell was calm, well-dressed and well-spoken, Mr. Buggs noted. The cornerback will also earn more money coming out of this experience, he said.
Blacks are 80 percent of NFL players but no Black owners and only four Black head coaches, so now the NFL, NBA, NCAA can see why some people are angry, Mr. Buggs explained. The high numbers of Black players in college get no compensation, few Black coaches lead major programs and universities can earn enough to pay for four years of athletic scholarships in one year, he said.
Young people can be taught how Mr. Sherman succeeded in the classroom and on the field, grew up in Compton but doesn't have a ghetto mentality, he said. Youth can be taught great talent can be overlooked but if you are an entrepreneur, you can make as much money as you want, said Mr. Buggs. "As the Minister (Louis Farrakhan) said when he was here years ago, you have to come out of college and create a job," he added. His program is called The Winning Circle: Teaching Boys to Become Men and Teaching Girls to Become Women.
"The playing field is not level for the Black man. At the end of the day, you can be a Richard Sherman, you can be a Tiger Woods, you can be a Magic Johnson, but at the end of the day, you are a Black man," said Mr. Buggs.
The Ali effect: America's love-hate relationship
Dr. Ray Winbush, director of the Institute for Urban Research at Morgan State University in Baltimore, saw shades of hatred and death threats aimed at Hank Aaron pursuing Babe Ruth's homeroom record with 70,000 people watching and reactions to boxing champ Ali, who America wished a Great White Hope or Great Black Hope would defeat. Trash talking isn't new in sports, but the Seahawk is painted negatively for doing what Whites do but never admit doing, he said.
Justin Bieber was arrested and the White media presented his plight as a young singer who had gone astray a little bit, Dr. Winbush added, pointing to the difference in media coverage and tone in dealing with Black and White celebrities.
America's language is race coded, but it accelerated when President Ronald Reagan used the infamous phrase welfare queen, he said. Using words like drug dealer, thug, inner city dwellers is another way to denigrate Black people, said Dr. Winbush. "Somebody said in the tweets that immediately followed this incident there were over 400 mentions of the word 'thug,' that tells you it's successful dog whistle for coding the word nigger," he added. A website counted 600 uses of thug on television after the initial FOX Sports interview in Seattle.
"Black culture is simultaneously loved and hated," said Dr. Winbush, a trained psychologist. "Something that is so universal is perceived as being very, very powerful by a White world. Something viewed as that powerful, and it is by the White world, is also viewed as dangerous."
White supremacy demands control of total Black people, not only what is said, but body language and conduct, he said. "White people don't like us to be who we are, which is a beautiful, creative, wonderful, great people."
But, Dr. Winbush argued, the deplorable thing is not White responses but Blacks who argue if Mr. Sherman had just been quiet nothing would have happened. It's almost like saying submit to White constraints and be safe, "but that's a lie. It's delusional for Black people to feel that we can control White peoples' racism toward us," he said.
Mr. Sherman did not apologize and called out racism, noting vile expressions of hate the day before Dr. King's birthday. By saying the word thug was a replacement for nigger, "he is going to constrain White folks from using that term. So they are getting more angry at him."
"I think this may be the most racialized Superbowl in American history," said Dr. Winbush. "It is going to have racial undertones and it is going to be funny to me to see sports reporters who rarely, but are going to be forced to deal with race because of Brother Sherman." Blacks are already defecting from the side of Denver Broncos and White quarterback Peyton Manning to the Seahawks and identifying with the Black Seahawk cornerback.
Writer Jared Ball points out that proper behavior and management of Black men isn't limited to sports. President Obama had to act a certain way and denounce Rev. Jeremiah Wright, one of his mentors, distance himself from the civil rights tradition and disavow Min. Farrakhan of the Nation of Islam, added the communications professor at Morgan State.
Not only are Black males expected to conform to non-threatening roles, but researchers have shown colonizers used sports to channel Black aggression, he said. There is always a fear that Black aggression will leave the field and be seen in society, he added.
The Black brute, the White female and White survival
Analysts also said the interaction between the White female sportscaster and the animated Black male likely invoked old fears and myths of Black male sexual prowess and the conquering of White women. "I had a class earlier this week and speaking to my class about this, one of the women in the class said that when she was watching the interview she got scared. It almost suggested that at any moment Richard Sherman could break through the TV screen and start attacking people. There is a dynamic there of a White blonde woman interviewing a Black male athlete who was speaking assertively and with passion. And the social context of the U.S. means that he gets looked at being a threat even as he pointed out he never swore," said Dr. Ben Carrington, author of "Race, Sport and Politics: The Sporting Black Diaspora."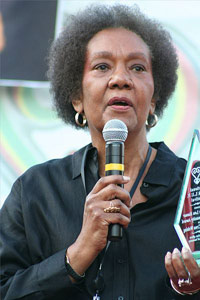 "What we are talking about is patterns of perception, whether consciously or subconsciously determined, in all areas of activity," said Dr. Frances Cress Welsing, noted author and researcher. Whites see everything through the eyes of their genetic survival and avoiding genetic annihilation, consciously or subconsciously, she stressed. Whites are a worldwide minority so even a blonde political leader asking President Obama to take a photo at the funeral of South African leader Nelson Mandela causes an uproar.  "It is Black men who are perceived by White people, consciously and, or subconsciously,  as the threat to White genetic survival because it is only men who can impose sexual intercourse," she explained. Football with a brown ball going through White upright legs, White cheerleaders in short skirts and White men watching is full of sexual symbolism as are all sports, Dr. Welsing added.
And, the psychiatrist stressed, Blacks must understand racism is part of an ever-present White system for self-preservation that colors everything. It's not just rain drops, or individual incidents, falling here and there—it is a storm, or a racial storm system, said the author of The Isis Papers. Richard Sherman "expressing his manhood" is the definition of White genetic annihilation, that's the critical mix, consciously or subconsciously that was working here, said Dr. Welsing.
Follow Richard B. Muhammad (@RM finalcall) on Twitter and Facebook and visit www.finalcall.com for more from interviews and analysis.