The Final Call |
National News
Severe weather: God's weapon against America
By
Brian E. Muhammad
-Contributing Writer- | Last updated: Jan 7, 2014 - 12:07:44 PM
What's your opinion on this article?
(FinalCall.com) - Sub-zero temperatures rake the country, school shutdowns amid potentially deadly conditions of snow, ice and wind. America is suffering from the "wrath of God," not just random "acts of God," but an assault by the divine Supreme Being intent upon bringing this modern Rome and modern Babylon to her knees.
       News Analysis      
Since the 1930s, the Honorable Elijah Muhammad, patriarch of the Nation of Islam, has taught that America has been judged by God and condemned to destruction for her enslavement and cruel oppression and mistreatment of Black people. He has taught and his National Representative, the Honorable Minister Louis Farrakhan, has repeated his words, and his warning that the weapons God Himself would use are snow, rain, heat, wind, earthquake and nature.
"One calamity after another is befalling America and when she thinks that one calamity is going out, another is just entering. These constant calamities will continue until America is on her hands and knees admitting that God is the Greatest. Remember the words of the scripture, 'every knee will bow and every tongue will confess that Jesus Christ is Lord.' Not the Prophet Jesus of 2,000 years ago but that one that would rise from us in the last days and be taken up into The Wheel with the Great Mahdi," said the Minister in  Jan. 4 message webcast over NOI.org/TheTime. He cited economic and other problems America faces and her final destruction by the manifestation of Ezekiel's Wheel of the scripture, a huge ship with destructive capability. See related coverage on page 3 and beginning on page 20.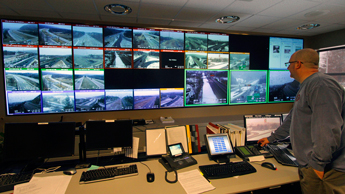 "Yes, every prophecy of prophets prophesying of destruction is aimed at America.  This dreadful and awful trouble that is divinely focused at America, I say to you my Black brothers and sisters, seek refuge in Allah. Fly to Allah and come and follow me to the Honorable Elijah Muhammad and the God that he represents," said Min. Farrakhan, in the 52nd installment of his weekly lecture series, "The Time and What Must Be Done."
"The end of the war desolations are determined. Remember this: Keep waiting with your disbelief and doubt and you shall soon come to know that what Elijah Muhammad has said to you and written in his articles and books to us, is most certainly the truth," he warned.
The Minister recorded the message prior to a major and destructive storm gripping America and a frigid cold snap not seen in decades. The severe weather follows his repeated admonitions to "watch the weather" to see if his words were true or false.
His words have certainly proven true.
"I told you to watch the weather that the distress would come—the fall of your dollar and the weakness of your economy! This is what the Honorable Elijah Muhammad has said, and this is what his faithful minister has said," Min. Farrakhan said two years ago in an address titled "Guidance for Our President."
"Watch the weather! Because God doesn't fight with your cheap weapons! God fights with the forces of nature: Rain, hail, snow, wind, drought. He uses the insects and the animals, and turns nature against you. You can't win in a war against God."
More than 140 million people were affected by arctic blasts complete with crippling snow, deaths and destruction of property. From the Midwest to the Great Lakes and Northeast was catastrophic snowfall in the first few days of 2014. Cold socked the country, North, South, East and West. Schools were closed in districts from Minneapolis, Minn., to Atlanta, Ga. Airports were closed and flights cancelled.
Meteorologists, scientists and natural disaster experts explain the phenomena as "unprecedented." Others pointed to Divine Providence. 
"I would not as a student of the Honorable Elijah Muhammad ever say that it is unprecedented. The precedent was set when God's mouth told the Honorable Elijah Muhammad exactly what would happen," said Robert Muhammad, an urban planner and Southwest student regional minister for the Nation of Islam.
"It's written from cover to cover in 'Fall of America,' particularly these weather related calamities. So it's not unprecedented, it's just that we had not experienced the fulfillment of prophesy," added the Houston-based student minister.
"These are some of Allah's (God's) weapons, the storms that we see going on," Mr. Muhammad  wrote in his enlightening book, "
The Fall of America
."
 "The fall of America is now going on! She is falling! The cause of her fall is universally known, as it was with ancient Babylon," he said. "Righteousness, justice and freedom are despised and fought against regardless to the clear knowledge of God's hourly punishment and destruction of America by His divine plague of storms," he further explained in Chapter 34 titled "The Judgment of America."
Temperatures at Final Call press time were startling: 25 below zero in Fargo, North Dakota; minus 31 degrees in International Falls, Minnesota, 15 below zero in Indianapolis and up to 40 degrees below in Chicago.
At those temperatures, exposed skin can get frostbitten in minutes and hypothermia can quickly set in as wind chills hit 50, 60 or even 70 below zero.
The deep freeze and heightened anxiety among residents are often accustomed to adverse conditions, but not these horrible realities.
Meteorologists described the condition as a "polar vortex" caused by a counterclockwise-rotating pool of cold, dense and frigid air piled up at the North Pole then pushed down onto America funneling as far south as the Gulf Coast.
It's a "forceful deep freeze," said Tallahassee meteorologist Ryan Maue in an AP article. "All the ingredients are there for a near-record or historic cold outbreak," he said. "If you're under 40 (years old), you've not seen this stuff before."
The events are wreaking havoc on already strained city, state and federal government economies. According to InformationPlease.com, the U.S. has sustained 123 weather-related disasters from 1980-2012 in which overall damages and costs reached or exceeded $1 billion at the time of each event.
Twelve events occurred during 2011 alone—the most for any year on record, with total damage costs hitting about $52 billion. The total regular losses for 99 events were over $725 billion.
"Allah is going to break the back of Pharaoh's economy" and exacerbate an already crumbling and vulnerable infrastructure of America, said Student Minister Robert Muhammad.
According to the 2013 report card from the American Society of Civil Engineers, America earned a "D+" in overall quality of infrastructure.
The report noted infrastructure connects the nation's businesses, communities, and people, driving the economy and improving quality of life. For the U.S. economy to be competitive worldwide, infrastructure systems that move people and goods efficiently and at reasonable cost by land, water, and air must be intact. 
The severe weather also strained transmission systems, energy sources and water systems that drive industrial processes as well as daily functions in American homes.
Disaster Management expert Arealia Denby told The Final Call a trickle down affect cuts across class, color and gender lines. Unforgiving weather doesn't discriminate when choosing its victims. "It affects the poor, the rich, it doesn't matter—nobody moves," she said. "Unfortunately this bad weather is worst on the poor," she added. City and state resources to handle disasters get exhausted quickly with major weather assaults and the livelihoods of average people are affected.
An estimated $50 billion was spent on disaster relief and recovery from Super Storm Sandy, which hit the East Coast in October 2012. For the calendar years 2011 and 2012, including some costs from "Sandy" the total price tag was $188 billion. Private insurance, individuals and businesses paid for damages not addressed by federal disaster aid, said Reuters.
America spent nearly $62 billion on disaster relief 2011 to 2012 to help Americans recover from severe storms, droughts, heat waves and wildfires, according to federal data.
The Agriculture Department accounted for more than half of all federal disaster spending for those two years, with $28.2 billion going to the crop insurance program, according to a report by the Center for American Progress, a progressive think tank. 
As in the days of ancient Babylon, Rome and the scriptural Egypt, every nation has a term and its longevity is tied directly to the level of submission to God and practice of righteousness, freedom, justice and equality.
"If there is anything like a God of Righteousness—if there is anything like a God of Truth should not He raise himself up and take His place and put an end to such evil as is now going on in America? People cannot walk the streets of America today without subjecting themselves to robbery, murder or rape. America is a wicked land...everyone is against the other," wrote the Hon. Elijah Muhammad.
"Righteousness, justice and freedom are despised and fought against regardless to the clear knowledge of God's hourly punishment and destruction of America by his divine plague of storms. But this is as it is written of America in the Book of Revelations, in the Bible ... they continue their evil way and did blaspheme the God Who has power over the plagues. They hated the name of Allah, the Great Mahdi ... they hated the name of His Messenger ... but nevertheless that does not stop the judgment and the destruction of America."
(Brian E. Muhammad can be reached at brianmuh@hotmail.com. Follow him on Twitter: @Globalpeeks.)