The Final Call |
National News
Million Man March anniversary Commemoration comes to Tuskegee
By
FinalCall.com News
| Last updated: Oct 15, 2013 - 12:59:06 AM

What's your opinion on this article?
TUSKEGEE, Ala. (FinalCall.com) - The Honorable Minister Louis Farrakhan of the Nation of Islam, thousands of Muslims and guests will mark the 18th Anniversary of the Million Man March, Holy Day of Atonement in this historic town. The Minister will deliver a keynote address titled, "Muhammad's Economic Blueprint: Ending Poverty and Want," Sunday, Oct. 20, at Tuskegee Square, located at the corner of Main and Rosa Parks Avenue. Doors open at 12 noon and the free program which starts at 2 p.m. will also be webcast live.
Noting the critical hour and challenges facing Black America, Minister Farrakhan will present a clear plan for social and economic progress and survival. "Because of Booker T. Washington's views on economic thrift and advancement, and George Washington Carver's scientific discoveries and innovations, it is only fitting that the Nation of Islam would return to Tuskegee to launch the process by which Black people can achieve economic strength," said Minister Farrakhan.
According to the Census, the Black population increased by 15.4 percent between 2000 and 2010, and while Blacks comprise nearly 13.6 percent of the U. S. population, 27.4 percent are living in poverty.
Census projections show the Black population will increase to 65.7 million by July 1, 2050, representing 15 percent of the total U.S. population.
According to the market research firm Nielsen and the National Newspaper Publishers Association, Black buying power will hit $1.1 trillion by the year 2015. That money can be harnessed for collective action and Doing For Self to solve problems. Since last February, Minister Farrakhan has been calling for Blacks to place less than $1 a week in a national treasury to purchase farmland and build an independent economic base.
"(Tuskegee) is the place from which I will announce the bank and the accounts that you can begin sending your monies to, that we will begin to start the process of economic development not for a group, but economic development for a whole nation of people," said Minister Farrakhan, who called Tuskegee University "a prime university" among the historically Black colleges and universities. For more information, please visit noi.org/hdoa2013.                    
During the weekend a "Building A New World Student Conference," with students from Tuskegee University's Black Belt Deliberative Dialogue Group; the Alabama NAACP Conference; North Carolina A&T University NAACP Campus Chapter; Morehouse College Student Government Association; Saint Augustine University; and a host of other HBCU's will be convened. The conference is free.  The student conference will take place at Booker T. Washington High School, 3803 W. Martin Luther King Hwy, from 9:00 a.m. to 10:00 p.m.
Conference topics will include "The Proper Education for the Black Student to become the Architect of a New World;" "Agriculture;" "Bridging the Gap;" "Student Loan Debt;" "New World Leaders;" "Organize, Organize, Organize;" an "Arts and Culture Talent Exhibition" and the weekly "The Time and What Must Be Done" lecture series by Minister Farrakhan. Visit buildinganewworldconference.com for more info.
Also join the Minister, the #FarrakhanTwitterArmy and thousands more for an unprecedented Tweet-up on Saturday, October 19, 4:30 p.m., at Booker T. Washington High School. A Tweet-up, or Twitter party, is a face-to-face meeting of Twitter users. Tweet-ups are great opportunities to engage people beyond 140 character interactions. Attendees at tweet-ups generally have never met in person before, but are acquainted in some way via online conversations. Don't have a Twitter account yet? Don't know how to tweet? No worries. Everyone is invited!
Minister Farrakhan will also deliver a special message to attendees. For the past two years, he has answered thousands of questions via #AskFarrakhan chats on his tweet feed @LouisFarrakhan. The purpose of the Tuskegee Tweet-Up is to do live tweeting during Minister Farrakhan's weekly broadcast, "The Time and What Must Be Done." To show appreciation for the #FarrakhanTwitterArmy, there will be Twitter Army Awards presentations, live performances, giveaways and more. For more info visit http://TweetUp.NOI.org or email AskFarrakhan@NOI.org. Follow hashtags #TU4HDOA #Farrakhan #TheTime.
The Nation of Islam Ministry of Agriculture and Independent Black Farmers will convene "The Future of Farming and Food in America" farm conference Saturday, Oct. 19, 9 a.m. to 4 p.m., at Booker T. Washington High School. Conference attendees will include Gary Grant, Black Farmers and Agriculturalists Association; John Boyd, National Black Farmers Association; Ralph Page, Federation of Southern Cooperatives; Rose Sanders, Pigford lawyer and attorney for many Black farmer lawsuits; Shirley Sherrod, Southwest Georgia Project; Dean Walter Hill, School of Agriculture at Tuskegee; Hezekiah Gipson, United Farmers (South Carolina) and Ministry of Agriculture members.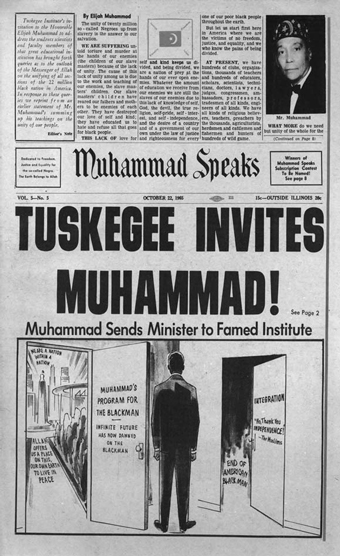 Presenters and participants will discuss historic discrimination against Black farmers, the perils of genetically modified food, the need to produce the next generation of farmers, agricultural scientists, manufacturers, store, and restaurant owners and how to exert greater control over healthy food through Black farmers. Conference topics will include "A New System for Food Production;" "Financing and Distribution;" "Value Added Processing for Farm Commodities; Developing New Farmers and Agricultural Entrepreneurs for Our Future; Legal Issues with the USDA;" and "Strategies to Reunite Our City and Country Cousins around Food Issues." For more information, contact Dr. Ridgely Muhammad at drridge@noimoa.com or call (229) 995-6619. 
The Liberated Sisters Feedback Line will offer its first live remote broadcast Oct. 19 as part of Holy Day of Atonement activities. Student Minister Ava Muhammad will be joining host and Final Call national correspondent Charlene Muhammad, who produces the L.A. based program, and co-host Sherrita X as special live guest for the 2-hour show, which will air immediately following Minister Farrakhan's lecture. Attend the live remote at Booker T. Washington High School or listen online at www.blogtalkradio.com/sion4life.