The Final Call |
National News
Farrakhan: 'Our way of thinking about money must change'
By
Richard B. Muhammad
-Editor- | Last updated: Aug 20, 2013 - 8:08:14 PM

What's your opinion on this article?
CHICAGO (FinalCall.com) - While Blacks may be the leading consumers in America, the habit of quick spending isn't surprising when the country's history of financial abuses is taken into context.
"Our whole way of thinking about money has to change," said the Honorable Minister Louis Farrakhan in the 32nd installment of his lecture series The Time and What Must Be Done, which aired Aug. 17 at http://www.noi.org/thetime. The broadcast focused on the Economic Blueprint of the Hon. Elijah Muhammad and the need for collective savings, investments and production to advance and for Black America's very survival.
"How can a poor man or woman with bad habits save anything? asked Min. Farrakhan. There has to be an understanding of the connection between being God-centered and cultivating the values of savings and moderation, he added. Living a life with the "moral component" offered by the teachings of the Honorable Elijah Muhammad allows one to live for less and accomplish more, the Minister noted.
But, he continued, Black consumerism is "learned behavior from our experience in slavery, and then, the sharecropping system … When the enemy saw us building those 60 towns, did you know they helped to destroy all 60 of those towns, and began to set up a series of laws that came to be known as Jim Crow laws? Their purpose was to return Blacks as close as possible to the state of slavery that we had previously been in; and most importantly, to force us back into the cotton fields to keep the cotton-based economy from collapsing. Under these wicked laws, money in the hands of Blacks was treated as though it was a weapon of mass White destruction. Under Jim Crow, Whites made it illegal to sell property to Blacks, and Blacks were forbidden by law to sell their own farm products without written permission from a Caucasian, thus criminalizing Black business enterprise.  We couldn't get justice in the court system because they came up with a law that said, 'Negro testimony would not be accepted unless that testimony was verified by a White man.' A White man could walk into your home, take whatever he wanted, including your cotton or corn harvest—or your daughter, or your wife—and we had no legal recourse," said Min. Farrakhan.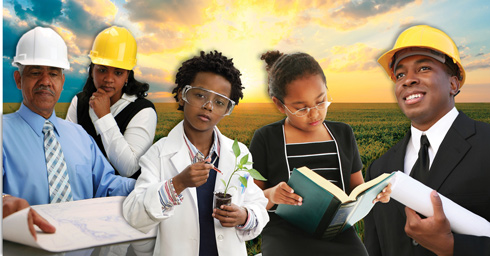 He explained how Blacks were cheated out of earnings, savings and property and lost assets worth $4 million that were deposited in the post-slavery Freedman's Bank. "W.E.B. DuBois estimated that in the time from the so-called Emancipation Proclamation in 1865, to the end of the 1800s, three-quarters of the wages due to Blacks—that's 75 cent of every dollar—was simply stolen from us. Blacks responded to this oppression in what appeared to be a very logical way, by becoming fast spenders. So, the moment we got our money, we knew that if we could quickly turn our wages into some commodity, we had a better chance of seeing value for our labor. Blacks couldn't trust banks to hold it, so every Friday we spent all our wages with the overpriced merchants who left us with nothing. We wanted to use our money wisely, but the economic and legal system punished us when we did," he said.
In a landmark series, the Associated Press delved into "a pattern in which Black Americans were cheated out of their land or driven from it through intimidation, violence and even murder.
"In some cases, government officials approved the land takings; in others, they took part in them. The earliest occurred before the Civil War; others are being litigated today," AP reported in a series first published in 2006.
"Some of the land taken from Black families has become a country club in Virginia, oil fields in Mississippi, a major-league baseball spring training facility in Florida," AP reported.
"The United States has a long history of bitter, often violent land disputes, from claim jumping in the gold fields to range wars in the old West,­­ to broken treaties with American Indians. Poor White landowners, too, were sometimes treated unfairly, pressured to sell out at rock-bottom prices by railroads and lumber and mining companies. The fate of Black landowners has been an overlooked part of this story."
While detailing the pattern of behavior and exhorting Blacks to back the economic program of the Hon. Elijah Muhammad by having 16 million wage earners put 35 cents a week in a national treasury, Min. Farrakhan warned Black behavior as a "consumer nation" must end.
Africa and the world is waiting to do business, but Black America must change her financial habits and become productive to take advantage of the opportunity, said Min. Farrakhan.
Native Americans control vast deposits of natural resources that need to be properly developed and developed with a sense of morality that prohibits robbing those who own the resources, Min. Farrakhan added.
Just six cents of every dollar is spent with Black businesses, but if that could be doubled to 12 cents per dollar, Black unemployment could fall by three percentage points according to a study by the Gazelle Index, he said. Building Black economic strength opens the door to political power and the ability to affect change in U.S. policy toward Africa, The Caribbean and Central America, Min. Farrakhan said.