The Final Call |
National News
Not your ordinary Science Fair project
By | Last updated: Jul 18, 2013 - 12:10:36 PM
What's your opinion on this article?
Lessons on going press green, saving energy and dunking a CPU
CHICAGO (FinalCall.com) - About a month before the Muhammad University of Islam Science Fair, Timothy Muhammad the N.O.I.'s Information Technology guru, his wife Nadiyah, two of their children, 5th grader Elijah, and 6th grader Na'imah were YouTube surfing and happened upon a project that blew their minds.
A video showed how a man had developed a way to cool a computer's CPU that used less energy than traditional cooling methods. He had a fully functioning computer operating in a fish tank full of, what they came to find out was, mineral oil. It looked like water. It was a sight to see because it goes against all of the warnings not to mix liquids with electricity. The children decided they wanted to engineer a similar computer project for their science fair.
So why and how does this work? The Muhammad family did the research and discovered mineral oil, much like plastic, does not contain particles necessary to carry electrical charges. Simply put, it does not conduct electricity. Therefore, you can stick your finger into the tank with the computer plugged in and operating and you won't get shocked. Their research also showed since this method of CPU submersion consumes less energy, it is better for our environment.
With most science fairs, one walks into gymnasiums filled with poster boards, mini replicas of volcanoes, and underdeveloped plants. Na'imah and Elijah decided to forgo these traditional experiments and offered their unique experiment complete with a PowerPoint presentation.
They purchased a few supplies, like a 5 gallon fish tank, and  got busy.  Bro. Timothy supervised the children with the technical aspects, which included building the "project computer" from some old computers in a closet, and mounting and submerging it in the tank. Sis. Nadiyah was charged with finding 5 gallons of reasonably priced, mineral oil. (Not as easy a task as one may think ... Lol!)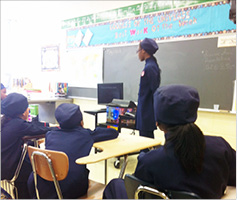 Na'imah and Elijah worked extremely hard, staying up late to assemble and test their computer several nights in a row. They also stayed up late rehearsing their presentations and fine tuning the PowerPoint slide show. Their hard work paid off and they are happy to have won their division. They were asked to participate in a national science fair competition and recently submitted their project for that contest. Both desire to study and work in the field of technology. Na'imah wants to make animated movies and Elijah wants to be a computer programmer. They have already started studying in their respective fields. And we are certainly proud of them. The video presentation can be found on www.youtube.com by typing in the words "Submerged CPU MUI."