The Final Call |
Entertainment News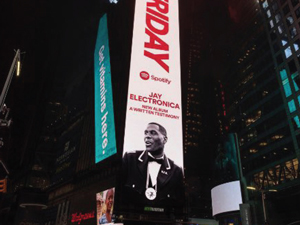 by by Vaughn Muhammad -Guest Columnist-
Jay Electronica is the manifestation of the "less is more" ideology reminiscent of hip-hop's version of Sade. You might have to wait awhile, but when that plate hits the table,... »
FEATURED STORIES
Star power, social responsibility and controversy surfaced again over a...
(FinalCall.com) - When she performs, her stage afro seems larger...
Jay Electronica is the manifestation of the "less is more"...
The motive of the entertainment industry today is to use...
The dramatized biopic Harriet was released on November 1, 2019,...
Just knowing the power that you have with your platform...
Over a million people heard those lyrics when Neelam Hakeem...
One year ago, on May 23, 2017 Hip-Hop DetoxX Live...
The headlines exploded and Twitter erupted with discussion and debate...
CHICAGO—The Ministry of Arts and Culture presented a Cultural Revolution...
Days before its release, the movie about comic book hero...
Black music has been a vessel for political consciousness throughout...